8 easy ways to make iPhone X more Microsoft-friendly
If you're a Windows fan on an iPhone, you can make Apple's phone more ... "Microsoftified." Here's how.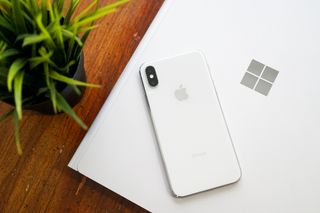 (Image credit: Al Sacco | Windows Central)
Windows Phone is dead, so I switched to an iPhone X. The experience is surprisingly great for people who use many services from Microsoft. Here are eight ways I use my new iPhone X as a 'Microsoft Phone.'
See at Apple (opens in new tab)
1. Outlook is an excellent app on iPhone
My main email and calendar app on the iPhone X is Outlook (opens in new tab), and I absolutely love it. My favorite feature is Focused Inbox, which filters our important email, so I don't waste time scrolling through spam and newsletters I didn't subscribe to. Outlook on iPhone isn't just about email either. I like that my calendar is built-in and I also have quick access to my files stored in the cloud for fast email attachments. I've added Outlook to the iPhone's widget screen, so I can quickly look at upcoming calendar events when swiping right from the home screen.
2. Automatic photo backup with OneDrive
Speaking of the cloud, Microsoft OneDrive (opens in new tab) is fantastic on the iPhone X. First, I use OneDrive to upload my photos for backup automatically. This feature is especially helpful when switching devices or saving storage space on your phone. The iOS app itself is easy to use and very handy to access files in the cloud. For example, I store important documents, like my passport, there so I don't need to go looking for it in my office whenever I need to fill out travel documents. And since I also use Google Drive and Adobe Creative Cloud drive, I love how I can open Apple Files, which combines the three services into one app.
3. Organized notes and lists with OneNote
I'm a big user of Microsoft's OneNote (opens in new tab). It's where I create my shopping and to-do lists. It's also where I write my notes during meetings. I use 3D touch to instantly create new lists instead of the usual note format. Whatever I write on my laptop is accessible on the iPhone, and vice versa. It's great.
4. Office apps on the go
Office apps like Word, Excel, and Powerpoint are all available on iOS, but I rarely use them on my phone. I can't see myself writing long documents or creating spreadsheets on a small screen, but it's good to know these apps are available if I need to view my documents or slideshows on the go. And they're fairly full-featured on iPhone.
5. Cortana vs. Siri
Pressing and holding the right button on the iPhone X brings up Siri, but unfortunately, you can't replace it with Cortana. I am still able to use Cortana (opens in new tab), and the fastest way to use the assistant is by swiping right from the home and lock screen. I don't use Cortana often, but it's handy when setting reminders because notifications pop up on both my PC and iPhone.
6. From phone to PC with Continue on PC app
Microsoft Edge is also available on iOS, but since Apple doesn't allow me to use it as the default iOS browser, I still prefer to use Safari. However, an excellent tool that you can use is called Continue on PC (opens in new tab). It lets you quickly send web pages from the iPhone to your PC. It's accessible from within the share button on Safari. Tapping "Continue on PC" on the iPhone opens the same page on my PC within Edge.
7. Messaging on multiple platforms with GroupMe
I use several messaging apps, but my favorite is Microsoft's GroupMe (opens in new tab). It's available on both Windows 10 and iOS so I can continue conversations on either device. Unfortunately, some of my friends use WhatsApp, while others use Facebook Messenger, and others use iMessage. I wish I ccould convince everyone to use GroupMe ...
8. Xbox app as TV remote with keyboard
Another app from Microsoft that I like to use on the iPhone is Xbox (opens in new tab). While it has several features like buying games, watching recorded game clips, or using as a remote to control video playback, I like using the app to send and reply to messages after playing online games. Typing on the iPhone is much better than typing with the Xbox controller. (My gamertag is @markguim if you'd like to challenge me on FIFA 18, BTW. But I must warn you … I'm pretty good at it.)
Final Thoughts
My experience from switching to the iPhone X from Windows Phone was surprisingly painless. I'm able to continue using my favorite Microsoft services, while also benefitting from the iPhone X's excellent camera and vast app ecosystem. Could the experience be better? Of course. I wish I could replace the Siri button with Cortana and change my default browser to Edge. These setbacks are not deal-breakers though, and I think Windows phone users who are considering the switch will be happy with this phone.
See at Apple (opens in new tab)
Inability to change default apps makes Android a better choice in my opinion...

Better in that aspect, yes. In other aspects... for example, I find apps on iOS look/perform better.

Me... a lotta actions require much lesser steps with Android.
e.g. switching between AppA → AppB → A → B.
Task manager stacks horizontally on iOS, try closing 10th, 9th, 7th, 5th, 3rd app from the list. It's faster/ more efficient to perform such task on Android cause it stacks'em vertically.

Switching apps on the iPhone X is just swipe left or right at the bottom of the screen. In regards to closing the 3rd, 10th, or 9th app... I never ever have to do that.

For #7, I would recommend you stay away from GroupMe or disable contacts sync. If you have some contacts with old numbers that they they are not using and have been assigned to someone else that also uses GroupMe you are stuck with those contacts. You can not delete them from the app without contacting support. And you can't delete them from your contacts because you do not know which contacts they came from.

Not another stupid writting. You know we do have iMore forum right? If anyone wants to get into iPhone or Android, they know which forum they will go to. Or if you want to write more on iPhone stuffs, why don't you just apply to be writer for iMore. This is Windows Central. Users come here, so they can read or find information on Windows Platforms.

I agree with u as he looks like apple promoter.

Stop trying to push this.

Google Assistant > Siri > Cortana.

You switched from windows phone to iPhone? You were a WM user 😁

Or you could sell it and buy 2-3 x3's.

Or you could sell it and buy 10-15 Windows phones. What's your point?

HP Elite X3 is awesome. My wife uses iPhone X and I see ZERO reason to change. X3 much better size screen because of width, beautiful screen, fast, longer battery life, Windows! Blah blah blah....

Glad the x3 works for you. To me, the iPhone X is faster, has better apps, better camera

How about an article of how you changed back to WM after defecting to the opposition and then found out they suck???

I bet that happens like 1 out of.....1000 or 1 out of 1,000,000 or 1 out of......trillion! LOL. I had a Wp7, 8, and 10. Wp is just to limited at this time. I got my first iPhone 2 years ago(6splus) and i cant see going back until there's a big change! And not just a new big new phone. I love my pc and enjoyed all my WPs. But after having a phone that's not app limited, has a great camera, is really fast, and about as secure as a phone can be....I am happy! I have a brand new android (for work) running 8.something and its good but I prefer iOS much better.

I use GroupMe as my OS agnostic messaging app. Despite it's quirks (reading a message on one device does not automatically mark it as read on another w/o manually refreshing), removed features (the ability to have a audio conference call w/members of a group) and missing features (video conferencing, either one to one or one to many), its the messaging app that my friends and family all use.

okay... setting aside the "I need fancy new hardware" fetish that the companies promote, how is any of this better than using my 950? The camera is marginally better (fake background effect is crap, just going to say it), but only a few other aspects have evolved. My 950 has perfect compatibility with Office365, a better than average camera (with a hardware button), QHD AMOLED screen, wireless charging, perfect handfree use in my Ford, USB-C, responsive UI, etc..

I remember when I got done with WindowsPhone, Surface etc and decided to go all Apple. I tried using Microsoft apps for various things on the iPhone and I stopped after a couple of weeks. Everything just works better using the Apple apps. iMessage, iCloud, Safari and so on. Even if I switched to Android I would probably have moved over to Google's apps.

You are onthe wrong forum I would say.

I would not be: (1) I don't pay 1000€ for a phone (2) I would not buy a phone > 5" (3) Need of an Apple Account (4) The iOS UI is simple, but also very limited.

Guess I'm a Traitor. Love My iPhoneX. WTH is with all this negativity!!! Lol Maybe WP will make a comeback in the next couple years, fingers crossed!
Windows Central Newsletter
Thank you for signing up to Windows Central. You will receive a verification email shortly.
There was a problem. Please refresh the page and try again.