8 Zip, a powerful file archiver for Windows Phone and Windows 8, is this week's myAppFree deal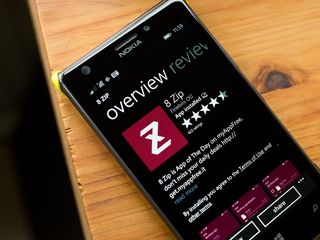 8 Zip is a feature rich file archiver that is available for Windows Phone and Windows 8 devices. The app allows you create, open and manage a wide range of archive formats.
The app also supports transparent Live Tiles and theme customizations to give 8 Zip a personal touch. 8 Zip is also this week's myAppFree deal, which can save you a good bit on this Windows Phone and Windows 8 app.
Cutting to the chase, here are the key features of 8 Zip.
Create archive file in a variety of formats that include ZIP, 7z, TAR, GZIP, BZIP2 and XZ
Open archived files in RAR, ZIP, 7z, ZipX, ISO, BZIP2, GZIP, TAR, ARJ, CAB and other formats
Strong AES-256 encryption in 7z and ZIP formats
Multi-volume archives extraction support
Extract files from archives
Add and delete files from archives
Open files in archives
Options include compression methods, compression levels and turning on/off archive encryption. 8 Zip also provides the options to customize the app's appearance with a pair of color themes. Language support covers twenty-three languages that includes English, Arabic, Hindi, French, Greek, Persian and more.
The Windows Phone version of 8 Zip is normally priced at $3.99 and the Windows 8 version at $9.99. Through the myAppFree deal, both versions are now free for the next 24 hours. If you've been on the fence on picking up a copy of 8 Zip, now is the time to save a bundle.
Note: 8 Zip is already reflecting the myAppFree deal but it may take a bit before the game appears in the myAppFree app. Additionally, you may have to pick up the free Windows Phone version first, before the Windows 8 version becomes free.
myAppFree
Windows Central is proud to be partnering up with myAppFree, a free app and service that highlights special deals for software on the Windows Phone Store. Make sure you download their app to keep track of all the specials they run weekly, as you'll never know what you may find.
Windows Central will continue to highlight select apps and games from myAppFree on a weekly basis as a benefit to the community.
myAppFree - Windows Phone 8 - 4MB - Free - Store Link
George is the Reviews Editor at Windows Central, concentrating on Windows 10 PC and Mobile apps. He's been a supporter of the platform since the days of Windows CE and uses his current Windows 10 Mobile phone daily to keep up with life and enjoy a game during down time.
doh! .... I bought it a few days ago .... lol :(

Look at it like this> You are supporting the developer! :)

Me too! :( I just purchased this app a few days ago.

Can you manage "others" in storage?

Was thinking of buying it few days back and now this deal!

Great app thanks !!!!!!!!

What were they thinking while pricing Windows 8 version for $9.99 ? :P

Ahhh I'm not home to get it on my PC but I got it on my windows phone right now! I see its a universal app does that mean downloading it on my phone (even now that its free) will make it available on my PC as "owned" too?

Was wondering the same. Then the unequal pricing doesn't make sense though

I was thinking about this too

I just installed it to my phone then check on computer and it's said that I have purchased this app would I like to install on computer.

Fuck logic. If you buy it on pc, it is more expensive lol

I get the same thing. Guess its not free on windows 8 systems today. I did get it for free on the phone although

I got this a while back so now I'm just gonna share this.

Is this by the creators of 7zip?

I guess not. Why would they not have the same name

There is a mistake after "Note": 'a bit before the GAME appears' or 8zip is just a game? :D

Sometimes zipping up a bunch of files is a game. :D

8 Zip must be more powerful than Z Zip because it's 8.

Great app - just hate it can't be installed on the sd card. It's a feature. If the sd card is present then the user should have the choice.

I'm always a bit confused on why I would need apps like this on my phone. What's with the ugly background color? I will download it now in case I come up with some reason for it... but probably uninstall right after until that time. :-)

That's what I've been trying to figure out, what do I need to be zipping and unzipping on my phone?

The default color theme is horrible. Luckily it can be changed. Settings -> Personalization -> Color Themes: System theme (curious as to why that option isn't shown in the screenshot within the article, I have the System theme option when installed on my phone in addition to their two built in themes)

Says I've purchased windows 8 version already. Don't remember doing that

How do I get it without a windows phone ? no myfreeapp for win 8.1 ? in windows store its still chargeable ! is there a link or something ?

There also one special for Surface but that is not free. Can I also use the windows 8/Rt version. And bye the way why is it special for surface?

You can use 8 Zip on your Surface 8 Zip is the same as the 8 Zip Surface Edition without special color themes

They have a web site: http://www.myappfree.it/ but you should be able to just go to the store and download for free.

Lumia 1520, Win 8.1 Update 1...app doesn't work. Settings grayed out except for theme colors... try to create archive and all folders show"empty" even though they're not. Maybe problem is Update 1?

Settings are working only if archive is opened. We will change this in the next releases. When you create an archive, system shows you only archive files (.zip, .rar, etc) While archive is created you can add any files to it.

Call me crazy, but i will wait 24 hours and purchase the app. I love supporting developers (being ex-developer myself for Windows Mobile), especially for productive apps like this one. :)

I was waiting for the app to go free. Grabbed it the moment I read this topic. :)

Every lite of file managing appd are free?!?!?!?

Guys my points doesn't increase after downloading/sharing the app, since Last day and today. Why? Any solution guys?

Hi, we are working to fix it today!

App install on SD card will have been better .... ;)

download starts and just stalls out. both over wifi and cellular.

Downloaded it. What now? Would I be able to share it somehow? Mainly by email?

Yay! I've been waiting for this! Thanks to the devs!

Does not allow to install on SD, so, no go for me. But, since I was already in the neighborhood, I installed Archiver ( http://www.windowsphone.com/en-us/store/app/archiver/d061135a-5aaf-4033-...)

Windows Central Newsletter
Get the best of Windows Central in in your inbox, every day!
Thank you for signing up to Windows Central. You will receive a verification email shortly.
There was a problem. Please refresh the page and try again.