About that Sprint Touch Pro 2 price drop ...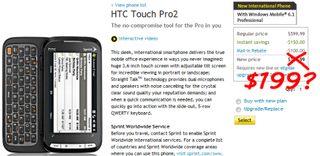 Yeah, that $199 HTC Touch Pro 2 on Sprint ain't happenin', at least not for us normal customers, according to a Sprint rep who spoke with Brighthand.
Don't know about you, but we sure don't fall into that category.
Phil is the father of two beautiful girls and is the Dad behind Modern Dad. Before that he spent seven years at the helm of Android Central. Before that he spent a decade in a newsroom of a two-time Pulitzer Prize-finalist newspaper. Before that — well, we don't talk much about those days. Subscribe to the Modern Dad newsletter!
Wah wah wahhh... You'd think they'd want some subscribers.

I'm not sure it makes financial sense for Sprint to offer some of the cheapest plans *and* eat a huge subsidy on this phone. Verizon can get away with it because of their higher plans.

True, but in the broad scheme:
-Their plan prices were already the lowest, then they introduced the any mobile any carrier plan. That wasn't what was broken in the first place. Lack of new, hot phones was though. They will lose a lot more on people not going over on their minutes/etc on those plans than they would have on subsidizing the TP2 a little. In other words, making plans cheaper makes less sense than showing you have comparable phones, when the latter is the problem.

Among the effects will be lower ebay prices. A large number of those are via brighpoint. OI think you will find the 100 corporate line claim is, well, a line. There are always hungry Sprint business distributors who sell individually, and they have been able to existing consumer accounts.

Not really news since it only affects corporate users. Now, if they sold the phone at this price to regular joes like us, then it'd be very interesting. Now, gimme that Blueant headset

Sounded too good to be true. My premier member discount goes into effect on the 1st...Sprint holding the line on that crazy price will make it easier for me to wait and see what happens Oct 6th...and when that Hero comes out. Or maybe I'll break down and call Retention. No! Give me the Blueant please.

does anyone know when this will be available to to us normal people?

I have a UPS employee discount on my plan. I will try and call to see if they will give me the $199 price.

hey let me know how that works , I have that same discount . Come back and let me know how that works . thanks

I love my TP2 and I would love to have it at the cheaper price but oh well. It would be great to have a Blueant headset though.

To get a refund, be sure to call Sprint and ask for retentions. They have already started selling for the reduced price online and have (I heard) started giving refunds to those who request it. If you don't ask, you probably won't get one.

I was really hopiing this was true and it would motivate at&t to sell the tilt2 at a lower price. Rumours say it may be deleayed past the 18th. I hope not.

Just checked Sprint's website and the TP2 is still listed at $349 after rebates and 2year contract! Dag - I would like to get the TP2 but not at that price...

Glad my company has 178 lines with sprint. Hopefully now I can convince them that I need the tp2 LOL.

It sounds like any business account is getting the $199 price, you don't need 100+ lines. Not that that helps most of us....

yes they made the exact same claim on deeply discounted treo pros and touch pros and individuals were able to get them -- in fact some of those business sellers actually advertised them on deal sites. They may have eventually been reigned in by Sprint, but it is clear the commission system gave them reason to do it.

I just got lucky. I work for a big company and I had to activate a BB for one of my users. The guy asked me if there was anything else at the end of the call.
I asked him for the $199 price for my personal phone and he said OK. Didnt ask him to match price or anything, he just said first I would get the phone for $449.99 with a $150 credit + a mail in rebate, then came back with just straight up the $299.99 with mail in rebate of $100.

Just called retentions, mentioned that I had "3 friends" get the TP2 for 199.99 and he put me on hold and told me that I will have a $150 credit on my account soon, the longest being about 2 billing cycles.
-CFay

I would like to also give further testament that YOU CAN GET AN SPRINT TOUCH PRO 2 for $199.99. After a few calls, albeit with various Sprint 888-, 866-numbers, I finally hit the right one, and talked to a gentlemen who even noted in his notes on his part, that we had this conversation, and that I can get the Touch Pro2 for $199. I was very skeptical, and I am aware of the business-users-only offer, where if you go to sprint.com as a business user, the $199 price will pop up. However.... at least it worked for me, Sprint will sell the Touch Pro2 for that $199. Now if only I had the money to buy the frekain' thing. :(

I have a business account (not over 100 lines) and it was listed online for $349

Why the price drop? Is it Spring going broke or is it the TP2?
Windows Central Newsletter
Get the best of Windows Central in in your inbox, every day!
Thank you for signing up to Windows Central. You will receive a verification email shortly.
There was a problem. Please refresh the page and try again.