Porsche wants you to spend $2500 to sit on your butt
Cost of living crisis? More like cost of sitting crisis.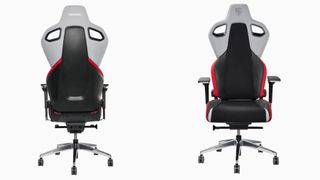 (Image credit: Recaro)
Have you ever felt that gaming as a hobby just wasn't expensive enough? After spending a thruppence on your new RTX 4070 Ti upgrade for your rig, you may be left puzzling over where to spend all your hard-earned spare dollars. Well wonder no more, Porsche is here to lighten the load from both your feet and your wallet. To the tune of $2500 for their supreme gaming chair made in collaboration with RECARO.
You can check out the limited edition Porsche Gaming Chair here to see it from all its sexy angles, but is it worth the $2500 asking price? Porsche are definitely appealing to a niche market with this chair, and as an ode to the iconic and influential Porsche 911, there are only 911 of these chairs made.
Gaming PC deals: Dell | Walmart | Lenovo | Best Buy | HP | Amazon
The RECARO x Porsche Gaming Chair comes in at the price of a few Porsche driving experience days, and for $2500 you can get the feeling of sitting in a Porsche seat at home, but we can't promise you it will make you any better at Forza Horizon. The main selling point appears to be it's 5D armrests, what that means we aren't sure. Height, depth, length, weight and passage to the fifth dimension?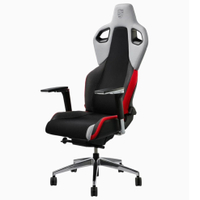 For your $2500, you're mainly paying for a prestige item here, but it is of course a functioning gaming chair. The chair has an adjustable backrest, a max load capacity of 330 pounds, and is ergonomically optimized with firm lumbar support. Whether you're gaming or sat in your office making "vroom vroom" noises, you should be pretty comfy.

Perhaps unsurprisingly, this wasn't the most expensive we found in the accessory section on Porsche's website, if you really wanted to go the whole hog, and bankrupt, you could pair your new gaming chair with the 911 Soundbar 2.0 Pro, at the bargain price of $12000.
The chair itself does look well-made and will certainly appeal to collectors with its limited run. If you're in the market for a new gaming chair, and have a more modest budget, then perhaps give our Best Gaming Chairs a gander for some inspiration. If you're really intent on blowing $2500 feel free to buy each on the list.
Get the Windows Central Newsletter
All the latest news, reviews, and guides for Windows and Xbox diehards.
Jen is a News Writer for Windows Central, focused on all things gaming and Microsoft. Anything slaying monsters with magical weapons will get a thumbs up such as Dark Souls, Dragon Age, Diablo, and Monster Hunter. When not playing games, she'll be watching a horror or trash reality TV show, she hasn't decided which of those categories the Kardashians fit into. You can follow Jen on Twitter @Jenbox360 for more Diablo fangirling and general moaning about British weather.