The Alienware Tri-Mode Wireless Gaming Headset is well-featured, and the surprisingly decent active noise cancellation is great to see at this price. That, plus solid touch controls and Bluetooth connectivity, make it an awesome multipurpose headset. As a pure gaming headset, though, it's just average.
Pros
+

Solid active noise cancellation and transparency mode

+

Fun, darker sound profile great for music and media consumption

+

Well-featured with good touch controls, RGB lighting, and Bluetooth connectivity
Cons
-

No multi-source audio mixing or wireless Xbox support

-

Not the most comfortable headset to wear

-

There are better gaming headsets at this price
Why you can trust Windows Central Our expert reviewers spend hours testing and comparing products and services so you can choose the best for you. Find out more about how we test.
The Alienware Tri-Mode Wireless Gaming Headset (AW920H) may be the strangest gaming headset I've used yet. Alienware has deliberately designed this headset to be multipurpose, an all-in-one wireless pair of headphones built for gaming that's also great for everything else. In my weeks of testing, I ended up using it to listen to music even more than I used it for gaming.
This isn't the first wireless gaming headset I've reviewed with this positioning, as the SteelSeries Arctis Nova 7X is also a worthy alternative for a multipurpose headset. The Alienware AW920H leans more into this niche, though; with active noise cancellation, reliable capacitive media controls, and a lovely darker sound profile, it actually is a solid option for those who need one headset to do it all. It's not perfect, of course, but Alienware has designed a pretty good headset here.
Disclaimer: This review was made possible by a review unit provided by Dell. The company did not see the contents of the review before publishing.
Alienware AW920H: Pricing and availability
The Alienware Tri-Mode Wireless Gaming Headset (AW920H) is priced at $179.99, making it surprisingly accessible given its feature set. This is a modest price cut from its original retail price of $199.99. Now, the Alienware AW920H undercuts many other headsets and pairs of headphones that boast active noise cancellation and is a well-round wireless gaming headset in the price range. If you don't need ANC and just need a great wireless headset for PC gaming, there are some other very competitive options, but this headset is well-priced if you also want something good for media consumption, music, and even traveling.
In the box, you get the Alienware AW920H headset, the USB Type-C 2.4GHz wireless dongle, a USB Type-C to USB Type-C adapter, a USB Type-A to USB Type-C charging cable, a 3.5mm wired audio cable with a built-in mic, and even a simple cloth carrying pouch with a built-in pocket for your cables. The Alienware AW920H should have widespread availability, thanks to the size of Dell and Alienware's distribution networks.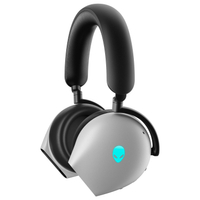 Alienware Tri-Mode Wireless Gaming Headset (AW920H)
Especially with its lowered price, Alienware's flagship wireless gaming headset is reasonably priced. Active noise cancellation and a great media consumption experience make the AW920H very compelling as a multipurpose wireless headset.
Buy from: Dell (Lunar White) | Dell (Dark Side of the Moon) | Amazon (Dark Side of the Moon)
Alienware AW920H: Design, build quality, and comfort
As expected, the Alienware AW920H wireless gaming headset employs Alienware's distinct "Legend 3" design language. It's unique, and potential buyers will either love it or hate it. I don't mind the design but admit it's far from subtle when you're out and about and using the headset as a regular pair of wireless headphones. Available in white and black colorways, you also get customizable, RGB Alienware logos on each earcup to add a splash of color.
Price: $179.99
Connectivity: 2.4GHz wireless, Bluetooth, 3.5mm audio
Drivers: 40mm, 20-40,000Hz, 32 Ohm
Microphone: Unidirectional boom, AI noise canceling
Battery life: Up to 55 hours, USB Type-C fast charging
Extra features: AlienFX RGB lighting, touch controls, active noise canceling, transparency mode, Dolby Atmos
Weight: 300g (0.66lbs)
Platforms: Windows PC, mobile devices, consoles (wired)
You get circular earcups, faux leather padding, a traditional headband style, and a unique forward-facing "vent" that is mostly aesthetic, but also houses the USB Type-C fast charging port on the right earcup, and the 3.5mm audio port (for the boom microphone or for a wired connection) on the left earcup. At least you're never in doubt about which way the headset is oriented — It's immediately obvious every time which side is right and left.
On the left earcup, you get a physical switch to change between 2.4GHz, Bluetooth, and Bluetooth pairing modes, plus a mic mute button and a switch to enable active noise canceling. On the right earcup, you get a simple power button and an LED indicator light, plus capacitive touch controls over the Alienware logo (I'll talk more about these later).
It's all very functional and works well, and the headset is very nicely constructed. It feels every bit like the $200 headset it is, and I have no doubt it'd live a very long life of regular usage. Comfort-wise, though, the Alienware AW920H leaves some to be desired, especially when compared to the more affordable Alienware Dual-Mode Wireless Gaming Headset (AW720H).
The AW920H utilizes faux leather on its headband and earcup padding for a more premium feel, but it's also very stuffy. If it's hot in your environment or you do any kind of physical activity, expect to sweat around your ears thanks to the unbreathable nature of this padding. The headband features a simple cushion that rests on your head, but you can experience discomfort after long listening sessions because of how thin it is. The aforementioned AW720H features far more breathable fabric cushions on the earcups and a more ergonomic suspended headband design. It looks better (in my opinion) but is also far more comfortable.
I feel that the earcups of the AW920H wireless gaming headset are a little too shallow, too, and I generally prefer an oval earcup shape versus the more cramped, circular shape Alienware employs here. It's not an uncomfortable headset, don't get me wrong — I still had no issues using it for plane trips, walks outside, and long gaming sessions. When compared to other headsets from Razer, SteelSeries, and even Alienware, though, the AW920H struggles to compete.
Alienware AW920H: Sound quality
The 40mm drivers in the Alienware AW920H are exactly the quality I expect from a $200 gaming headset, which means they sound great. More importantly, it sounds fun. The low-ends and bass is prominent and booming, while highs are slightly drawn back to create a darker sound profile that sounds incredible when listening to music. You still get a fairly wide, clear soundstage and a great stereo effect, too.
The default sound profile does not work as well for gaming, though, or at least for competitive games like Valorant. The wrong areas are accentuated, causing you to lose detail and miss important information. Fortunately, this can be improved on PC with Dolby Access, which allows you to tune various Atmos sound profiles to your heart's content. There's no quick way to switch between these sound profiles, unfortunately, but as long as you're willing to open Dolby Access while on your PC you can optimize the Alienware AW920H headset for your current task.
You don't have the same options (or any options at all) on mobile devices, but the Alienware AW920H's default sound profile sounds so good for music that I really didn't mind. Overall, I'd place this Alienware headset slightly above competitors like the SteelSeries Arctis Nova 7X, which is more balanced but sounds less interesting and lacks low-end oomph no matter how you tune it. Versatility still goes to Razer and its 50mm TriForce Titanium drivers, but Alienware did an excellent job making sure this headset sounds as good as it's supposed to.
Alienware AW920H: Microphone quality
The Alienware AW920H isn't going to move the needle on better gaming headset mics, but it's at least not terrible. This unidirectional boom microphone is fairly standard but is bolstered by Dolby Atmos noise canceling and is more than fine enough for most gamers. Sure, other headset companies like Razer are investing in making their mics a lot better, but the Alienware AW920H is serviceable.
It can lack clarity, depth, and detail at times, but I never had any complaints in games, meetings, or even phone calls using this headset. The background noise cancellation also does a great job, ensuring your voice is always at the foreground. There aren't any settings to customize this mic, though, as you're limited to Dolby Atmos and its lack of additional options, even for audio mixing and volume normalization. If you're wanting to use the headset while plugged in, you're also out of luck and will need to use the inline microphone on the 3.5mm audio cable, which just isn't good.
Alienware AW920H: Battery life
Alienware quotes the AW920H as having a battery life of "up to 55 hours" with Bluetooth and "up to 30 hours" with 2.4GHz wireless, and ANC and RGB lighting turned off for both modes. This feels a little optimistic to me, but Alienware's premium wireless gaming headset can boast impressive endurance when you need it, provided you're willing to turn some of its features off.
Most players won't be doing that, though. To be frank, if you're not going to use the active noise canceling, you're probably better off getting another headset. The Alienware AW920H takes a big battery life hit when you're using ANC, understandably, but it's still decent. I used this headset to listen to music around the house or the neighborhood and during two 2+ hour plane trips via Bluetooth, and played 10+ hours of Valorant via 2.4GHz. The entire time I had ANC enabled, and I often had the RGB lighting enabled, too.
By the time the headset died, I had used it for around 25 hours of solid listening. This is a far cry from the best ANC wireless headphones or wireless gaming headsets, but I don't have any complaints here. The Alienware AW920H is a reliable, long-lasting headset, and it's comforting knowing that, when I need to, I can disable ANC and squeeze out a lot more battery life. With USB Type-C fast charging, it's also very easy to top off the headset when it does die.
There is one problem, however. This headset is weirdly bad at telling you how much battery life it has left. After over a week of use and getting off the plane for my vacation, my phone reported the AW920H as having 50% battery life remaining. "Alright, I thought, that's pretty decent." I used the AW920H regularly over my vacation to play games with ANC enabled, and then checked the battery life when I was about to head back home... Huh, still 50% remaining? That's odd.
When I got back home and the headset was still chugging along (at 50%, supposedly), I checked Alienware Command Center. After a few minutes of waiting for it to show up (more on that later), Alienware's official software showed that the AW920H had around 50--60% battery life remaining. Well, I know that wasn't right, because it died a day later. Unfortunately, because of this bug, you may not know the headset is about to die until it does.
Alienware AW920H: Wireless connectivity
Alienware touts the AW920H as being "Tri-Mode." What does this mean? This headset can connect to your devices via 2.4GHz wireless (Windows PCs), Bluetooth (Android and iOS), and 3.5mm wired (everything with a headphone jack). That's cool, but there are some caveats and limitations to be aware of. First, there is no simultaneous source mixing here. You can connect via 2.4GHz or Bluetooth, never both at the same time. This will be an immediate dealbreaker for some users, as it means you can't, for example, play games on your PC while also listening to music or being on a call with your phone.
It's also great to have a 3.5mm wired mode, but it comes with a huge weakness — you can't be plugged in and also use the unidirectional mic. There's only one 3.5mm audio port on this headset, which means you have to choose. Do you want the far nicer headset mic with a wireless connection, or do you want to be plugged into your device directly and rely on the inferior inline mic on the cable? If you wanted to use this headset with your console, that'll pretty quickly dampen your experience.
Connection-wise, though, the Alienware AW920H is very solid. It sounds great over both 2.4GHz and Bluetooth (other gaming headsets often experience audio degradation on Bluetooth), it connects quickly and reliably without manual input after initial pairing, and the only time I experienced any stutters or audio hiccups was when the headset was on the verge of dying (that's actually the only way I knew it was about to die, thanks to the issue I detailed above).
Alienware AW920H: Extra features
The headlining feature for the Alienware Tri-Mode Wireless Gaming Headset (AW920H) is the inclusion of active noise canceling. So, how does it work? Surprisingly, really well! There's a simple switch to enable or disable ANC on the left earcup of the headset, and it turns on immediately with noticeable effect. This isn't the most effective ANC I've ever experienced, but it's genuinely quite good, and is bolstered by the headset's solid passive noise cancellation. Background noise is considerably dampened, with only sporadic, random noises able to temporarily break through the ANC. It made my plane trips far more comfortable and is more than capable of blocking out background yard or construction work.
If you need to hear, a long press of the right earcup enables transparency mode, which also works surprisingly well. This transparency mode is subtle, but it does allow you to hear almost like normal, without the artificial feeling that many other headsets exhibit. Considering the price and the focus of this headset, I'm very happy with the performance of the ANC and its transparency mode, and the ease-of-use for both. Unfortunately, there's no way to customize either in any way, other than toggling them on or off.
Outside of that headlining feature, you also get customizable AlienFX RGB lights in the Alienware logos, which you can tinker with in Alienware Command Center. These lights work with both 2.4GHz and Bluetooth, and the headset remembers your settings, which is great. Customization is simple, but so is the lighting. Fortunately, if you don't need the distracting lights or want to extend your battery life, the RGB lighting can be instantly turned on or off with a triple tap on the right earcup. RGB lighting in a headset may feel a little silly, considering you can't see it, but I like Alienware's implementation here.
I've mentioned these touch controls a few times, now, so let me quickly go over them. When this headset was first released, it was bombarded with harsh criticisms of its terrible, unreliable touch controls. I didn't experience any of these problems, though, ostensibly because Alienware has been consistently and regularly releasing firmware updates to improve the headset. For me, the touch controls were always responsive and reliable. It's still not perfect: there's a learning curve to use them, they're only on one earcup, and the touch area is a little on the small side.
With these touch controls, you can do quite a lot. They work in both 2.4GHz and Bluetooth modes, already an improvement over other headsets like the SteelSeries Arctis Nova 7X, and are full featured. A swipe up or down controls the volume, a swipe forward or back changes the track, a double tap pauses or plays the song (and picks up or hangs up a phone call), a triple tap enables or disables the RGB lighting, and a long press enables or disables transparency mode. After I remembered the various controls, it felt intuitive and made the headset a lot more enjoyable to use as a general pair of headphones. Launch woes aside, I'm glad these touch controls are here.
Alienware AW920H: Competition
There are a lot of great wireless gaming headsets in this price range, meaning the Alienware Tri-Mode AW920H is facing some fierce competition. Alienware's flagship headset stands out in two ways: the inclusion of active noise cancellation and its solid aptitude as a pair of general-use wireless headphones for music and media consumption.
If you don't care about either of those features and just want a great PC gaming headset that also features Bluetooth support, get the Razer Blackshark V2 Pro (2023). It's far more comfortable, lasts way longer, has one of the best mics on any gaming headset, sounds better for gaming, and makes it easy to tune and store custom profiles for different games. It costs a little more than the AW920H but is in most ways the better PC gaming headset. It still doesn't support Xbox, though, lacks ANC, and doesn't feature any onboard media controls besides a volume wheel.
Want a similar experience but for less? The Alienware Dual-Mode Wireless Gaming Headset (AW720H) has a similar sound profile to the AW920H and is actually more comfortable. You lose ANC, Bluetooth support, and the onboard media controls, but it's more focused as a wireless PC gaming headset and is a fair bit cheaper than the AW920H. It still doesn't support Xbox, though, and its mic situation when wired in is even weirder than the AW920H headset.
If you want a compromise between a more focused PC gaming headset and the Alienware AW920H, I suggest the SteelSeries Arctis Nova 7X. It's more comfortable, looks better (in my opinion), and is a little better overall as a gaming headset. You also get Xbox support, and it still supports Bluetooth and limited media controls using the Bluetooth button. There's no active noise canceling and it's not quite as good for use outside of gaming, but it's still a great wireless headset that compares favorably to the Alienware AW920H.
Alienware AW920H: Should you buy it?
You should buy this if ...
You really want active noise canceling in your gaming headset
You want a gaming headset that excels with music and other media consumption
You care more about a "fun" sound than one tuned for competitive gaming
You should not buy this if ...
You just want the best wireless PC gaming headset you can get in this price range
You don't need ANC or a headset that can do more than just gaming
You need Xbox support or multisource audio mixing
I really like the Alienware Tri-Mode Wireless Gaming Headset (AW920H). I should specify that I especially like it as a headset I can use for music and media consumption just as much as for playing PC games. It served me almost as well during my vacation as my trusty Surface Headphones 2, but it also doubled as my headset for playing Valorant when I got off the plane. After months of firmware updates, this headset is in a fantastic place to actually take advantage of all its features.
If you don't need that active noise canceling or multipurpose feature set, though, the Alienware AW920H loses a lot of its appeal. You can get cheaper headsets with similar gaming experiences, or similar-priced headsets with far superior gaming experiences. Those headsets won't have ANC and won't make as much sense to take as your only pair of headphones on a trip, but they'll be better for PC gaming. You have to really want exactly what the Alienware AW920H can do (and like the design, and not mind the comfort, and not need Xbox support). If you're one of the people in that niche, this is one of the best PC gaming headsets around.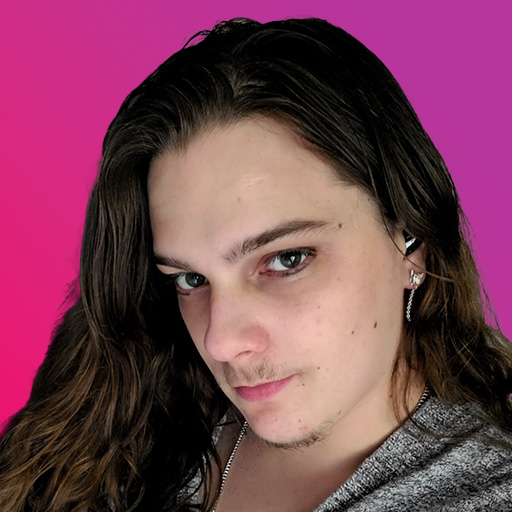 Zachary Boddy (They / Them) is a Staff Writer for Windows Central, primarily focused on covering the latest news in tech and gaming, the best Xbox and PC games, and the most interesting Windows and Xbox hardware. They have been gaming and writing for most of their life starting with the original Xbox, and started out as a freelancer for Windows Central and its sister sites in 2019. Now a full-fledged Staff Writer, Zachary has expanded from only writing about all things Minecraft to covering practically everything on which Windows Central is an expert, especially when it comes to Microsoft. You can find Zachary on Twitter @BoddyZachary.