Accessory Review: RAVPower Qi-Enabled Wireless Charger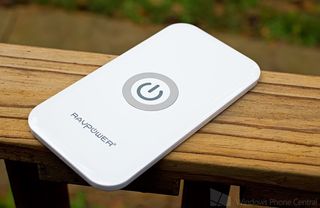 One of the fantastic advancements with Windows Phone design development is wireless charging. It eliminated the need to plug your Windows Phone up to a charging cord. Plus you have the cool factor of simply laying your Windows Phone down on a charging pad to replenish the battery.
While Nokia offers a Qi-Enabled wireless charger (the DT-900), there are a few third party options out there. RAVPower is one such alternative and the company offers their own Qi-Enabled wireless charger that may save you a few dollars at the checkout line without compromising quality or performance.
Reviewing a Qi-Enabled charger is somewhat of a challenge in that there's not much to things. The RAVPower charging plate measures 5.7 x 3.11 x .31 inches and weighs only 4.5 ounces. It is noticeably larger than Nokia's charging pad but about the same thickness and weight.
The RAVPower charger comes packaged with a micro-USB to USB cord, wall plug and owner's manual. I like that RAVPower uses a standard cord instead of a proprietary cord. It allows you to charge directly to your Windows Phone (e.g. from the computer) and if by some unfortunate accident the power cord is damaged (e.g. chewed up by your pet dog), finding a replacement cord is much easier.
The design of the charging pad has a little led light that indicates your Windows Phone charging status. It will flash green/red while your phone is charging and solid green when charging is complete. An audible chirp sounds when the connection between the charging pad and your Windows Phone is made. Construction quality with the RAVPower charger appears top notch and in using it over the course of a few days, I didn't experience any heating of the charging pad.
Again, the charging pad is larger than the Nokia pad and easily accommodates the Lumia 1020. It should match up nicely with the Lumia 1520. I did find that both the Lumia 1020 and 920 had to sit higher on the charging pad before the connection kicked in.
As far as pricing is concerned, the RAVPower is currently running $39.99 over at Amazon.com. In comparison, outside the occasional deals that crop up, the Nokia DT-900 is running in the neighborhood of $45. It isn't a tremendous savings but with an easier to replace power cord, the RAVPower Qi-Enable Wireless Charger is an option to consider. Now if we could just get AT&T to keep the wireless system in place.
You can find the RAVPower Qi-Enabled Wireless Charger here at Amazon.com (opens in new tab) for $39.99.
Get the Windows Central Newsletter
All the latest news, reviews, and guides for Windows and Xbox diehards.
George is the Reviews Editor at Windows Central, concentrating on Windows 10 PC and Mobile apps. He's been a supporter of the platform since the days of Windows CE and uses his current Windows 10 Mobile phone daily to keep up with life and enjoy a game during down time.
This might work well with my yellow 1520. Nice to have options. Now I need someone to make a truly worthy charger cover for my 1520!

You can buy these pads for as low as £7 ($12 or so?) from ebay, I've got two of them (sent from sellers in the UK as well so not waiting from china) for £9 each and they look and work exactly the same. $39 for this is a rip off, regardless of whether they have the micro USB connector or not. Mine don't have this, but quietly sit in various places around my house, and are never unplugged (they're ready and waiting for my 920) so the connector type is not a concern anyway!!

Don't forget, if you are in the US (Not sure if AT&T ships outside the US), you can get the Nokia Wireless Charging Plate (DT-900) for $24.50 with FREE shipping. Even better, if you order 2, you get 10% off, ($44.10 total), or if you order 3, you get 25% off, (55.14 total) - only $18.38 each. (And still FREE shipping). Tax would be added, depending on the state, but it's still nice, and they still have 3 colour choices. Just go to att . com and search for "nokia wireless charger"

I have one if these for my 920... http://energizer.ca/chargers/inductive/inductive-dual-charger

I had one of those too and it is a great dual charger but, it was taking up too much space on my nightstand for one phone, so I picked up a Nokia one...

I have one if those and I have the car charger by Nokia as well. I use the energizer one at night, the Nokia charger by day when I need a top up. And the car one obviously while I'm out and about listen to Daniel and JayeTBennet on there semi regular podcast ;)

Bah, I want it to roar, not chirp.

Amazon currently shows it as $42.99, the same price as the Nokia DT-900.

Why don't we have any news on Nokia's Extraordinary Meeting yet? Did it push through? (Excitedly waiting for any news....)

The Dual Charger energizer looks good where to get this in the uk?

I was looking at this for a bit because of the charging over USB, but I'm not sure how much of an advantage that really is. When I travel, I normally only take a USB charger and cable along with me. I don't really see the reason to take an inductive charging pad as well since it's an extra item. Also, at home or at the office, finding an extra outlet really isn't that big of a deal (for me at least). Also, on this topic, last week I saw that AT&T has the DT-900 on sale for 50% off ($24.50). If you've got a Premier acc't, accessory discounts are usually around 30%, bringing the cost down to $17.15 with free shipping. Just loaded up on a bunch of these for home/work.

I don't get it either. There is a cord for involved for either and inductive charging actually requires another piece (pad) so other than the few seconds it takes to plug a cord into the phone over laying on a pad, I'm not getting the appeal. More cost and more pieces. I have a feeling that if phones had required an inductive pad all along and someone came up with just a single cord to plug into your phone to do the same thing at a fraction of the price, then everyone would ooh and aah over it.

Personally I'd love more phones to have wireless charging capabilities. My prior daily driver, a cyan Lumia 900, has its micro USB port somewhat loose inside the body (it fell while plugged in onto a hard floor), so I have to apply pressure or leave the cord on something so it is angled "just so" for it to charge. If it charged wirelessly, I could just leave it on a pad like my 925. Plus aftermarket charging/data cables seem to be notoriously cheap, and while many use Sugru to fix them (or buy a replacement), they do become cumbersome to deal with

Sounds like that's more about quality than design. I've had phones and Mp3 players that didn't have that problem. You can get good quality cables now for cheap so you can have one at home, work, car, gf's, etc.

I would love this. But if QI is not built in to phones in the US for att anymore...... Aaaaasaaaaaahhhhhhhhh

Att sucks.... We love qi overe here on Verizon still!!!

One of the fantastic advancements with Windows Phone design development is wireless charging - NOT! at least not with my 1020. Boohoo... And since it's not built in and I have to use extra shell which will make the phone fatter and my Nokia Camera Grip won't fit - ... anyway... Fail Fail Fail!

You could knew that in advance, so stop crying and don't say it sucks. It does not, it's good technology.

I love wireless charging, but can't use it bedside because it shuts off and on during the night and everytime it comes back on it dings and lights up the room! Not sure, but I think this started with the Amber update. I'm hoping it will be fixed with the Black update.

I bought this charger a month or 2 ago off Amazon. Love it! I really love that I can plug it into my USB port, which can also plug into a DC USB car charger as well.

Cool. The proprietary Nokia cord is a really Apple-esque douche move. I lost the adaptor, and had to spend another 40 bucks on a new charger.