Acer decides to Switch it up for its latest 2-in-1s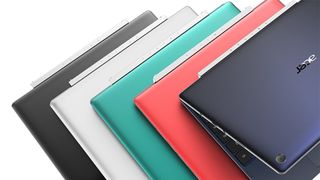 Acer has launched two new models in its affordable Switch lineup of 2-in-1s. The Switch V 10 and Switch One 10 feature detachable 10-inch multi-touch displays, quad-core Atom CPUs, and Windows 10.
The Switch V 10 (I don't know why Acer decided to put a space in between the V and the 10, but it's there) offers a wider array of color choices, a USB Type-C port for video output and charging, and a fingerprint reader that works with Windows Hello. It's powered by an Intel Atom x5-Z8300 processor clocked at 1.44GHz, and the 10.1 screen screen offers a resolution of 1280 x 800. You get 2GB of RAM and 32GB/64GB of internal storage, and there's also the option of configuring a Full HD display.
The Switch V 10 will be available in the third quarter for $249, while the Switch One 10 will make its debut in North America in July for $199. Both notebooks will be showcased at Computex, so stay tuned to Windows Central for more!
Quad core Atom in Surface 3 is quite usable. Don't know if this is close to that.

This one is just down from the one in the Surface 3. This one is the x5-z8300 while the Surface 3 has the x7-z8700. The 8300 is the one they use in all the cheapest Windows tablets. Posted from Windows Central for Windows 10

The S3 with 4GB of RAM is very smooth, with these I'm guessing you will see a little lag, but given the S3 has more pixels to push than this base resolution it might not be a big issue. From my 950

I wanna know the specs, it's way too cheap..

There's not a whole lot of information available, but I added some more details.

CPU's not as powerful as the one on the Surface 3. And it has only 2GB of ram. Posted from Windows Central App for Windows 10 on Surface 3

Low res, huge bezels, end of life chips.

What did you expect for $199? A core-i5 with 4K infinity display? And the Atom hardware is already 'here' not like it'll suddenly stop working, just like my core2duo from 2009 still works even today

Vhyr's our resident troll. Why doesn't he just buy a MacBook, iPhone, and PS4 and leave us Windows enthusiasts alone.

Its a security feature. Nobody can peek at your screen as its hidden by bezel.

Lol. May be an innovation by Acer.

$199? Same price as the after one 10 right now. I had the one 10 and got rid of it. I was going to get the Asus t100ha in a couple weeks I wonder if I should wait now

64GB, 4GB RAM, and not having to wait 6 months is probably worth an extra $50. Also, I find build quality on Acer computers to be not as good as Asus, generally. The T100HA is even available as a Microsoft Signature model, so you can get it without bloatware. The low-res screen is the only thing holding me back, but if you can live with a 1200x800 screen, the Asus is probably the one to get – the color and contrast are fantastic.

These bezels are huge. I get that on a touch device you're going to need bezels to be able to hold it comfortably with your thumb without triggering the touch screen, but these are huge. And the screen resolution is horrible, at least they offer the option for a Full HD display. I do also like the color choices quite a bit. I wonder if the keyboard has a built in extended battery again. The biggest issue, however, is that it's made by Acer. I gave Acer repeated chances to show me they can do hardware, but they always failed me. The Acer Aspire Tower PC was as loud as a vauum cleaner, My Acer Aspire Laptop died after one year (they replaced it with a higher range model for free though, so I can give them that), the replacement disintegrated after three years of regular, mostly stationary use as well and the last device I bought from Acer (Iconia W 510) had such a shody build quality that I couldn't stand it anymore after less than two years and replaced it with a Lenovo Miix 2.

2GB of RAM. I'm using a Surface Pro 3, with 4Gb and, at times, you can hit that limit. 2Gb just seems so crazy and Microsoft will ge the blame, not Acer, when the thing slows down. (iTunes, Chrome, etc)

True with that... especially when OEMs like Acer/Dell install some bloatware into it... that will make devices run slower than it should :/ Posted via the Windows Central App for Android

readyboot to save the day

Typing on an Asus T100HA Z8500. Once you have office 2016, Skype 4B, OneDrive Biz and personal, Chrome running the thing is laggy. Would not recomend stepping the CPU down another two notches for the Acer.

How is your t100 holding up? U think it's a good move to get it now ? I wouldn't be doing much besides web browsing skype , apps and downloading music nothing major

Cant see myself keeping it long term. I had to get one because an old laptop died. I might end up bouncing it back with my Amex return protection in the next 60 days or so, probably for a much more robust 15" laptop. Hoping to see some announcment for the Nvidia 1070m or 1080m by then.

Thanks for the notice, so I already have a Acer Aspire One of 2009 with Windows XP and Atom 1st generation, why would I update it to Atom last generation if it is laggy. No thanks Acer, I regret wanting to purchase a device like this. Intel Core M3 minimum or not sale. Its more money I know but its better than getting junk that lags.

Why do these companies continue to put such small screens in these 2 in 1's? The keyboard determines the size of the lid, but instead of just filling that space with bezels, they could easily have fit in 11.6" screen, which would have made it a much more usefull device. Wish these OEM's would let their engineers make the devices instead of the bean counters.

Very cheap and classy..!!

But with sub-par performance compared to Surface 3... :/ Posted via the Windows Central App for Android

With 2GB RAM and a Z8300 more like cheap and laggy. Get the better Asus T100HA right now for the extra $50 if you really must.

The black one looks so sexy I really want this to replace my Acer Aspire One of 2009 which still runs Windows XP with 1GB of RAM and 160GB of storage. The only reason I won't purchase one is because it comes with 64GB of storage. Give me a HDD of 256GB instead of SSD of 64GB and I'll get this netbook. Otherwise, Acer is doing same mistake than Chromebook OEMs, they build this machines as consumption devices instead of productivity devices.

With digitizer I'd buy it.
Windows Central Newsletter
Get the best of Windows Central in in your inbox, every day!
Thank you for signing up to Windows Central. You will receive a verification email shortly.
There was a problem. Please refresh the page and try again.