The Acer One 10 is a 10.1-inch 2-in-1 Windows laptop for $200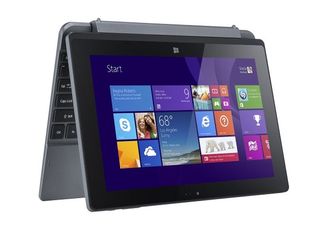 Acer has just launched, with little fanfare, a very affordable Windows 8.1 2-in-1 laptop, the Acer One 10, on the eve of the Windows 10 launch. The 10.1-inch laptop, which has a detacble keyboard, is now on sale for $199.99.
As you might expect, the hardware specs for this laptop are not high-end. It has 2GB of RAM and just 32GB of onboard storage. Inside there's an Intel Atom Z3735F quad-core processor running at 1.33 GHz, and the touchscreen display has a resolution of 1280x800. There are also 2MP camers in both the front and back.
Naturally, the Acer One 10 can be upgraded for free to Windows 10 when that OS becomes available to the general public a week from now on July 29. Acer has an even cheaper Windows 10 laptop in the works, the Acer One Cloudbook, that will be released in August for the starting price of $169.
Check out the Acer One 10 at Best Buy (opens in new tab) ($199.99)
Doesn't look any different from the Acer Switch 10. Posted via the Windows Central App for Android

This is much better than the Switch actually. Price-wise at least. Specs seem to be comparable.

More cheap machines flooding the market. Btw, 2mp Camers typo.

This would be good for the education market. Most of these families in the elementary school level just needs to teach basics to the kids and how to keyboard.

Why do all these tablets stop at 32Gb? It's not enough for Windows 8.1, not if you plan on having office as well. I'd buy this at $199 if it had 64Gb.

I'm sure it has some memory slot. What is it SD, or whatever

Its plenty when you use your 1 TB of oneDrive.

If you use that is. I can imagine that people don't want 90% of their stuff in the cloud.

I had a 32GB win 8.1 tablet. Dell Venue pro. Awesome tablet, but CONSTANTLY ran out of storage just running win 8.1, office, and only a few modern apps. The OS partition constantly grew and grew, and you cannot install modern apps on an SD card. I moved all my libraries to SD, my temp folder, everything I could. I installed all my desktop programs on the SD card. Still not good enough. It became so frustrating that I eventually sold it and bought the exact same tablet, but with 64gb. Loved the tablet, but win 8.1 on 32gb was just too painful.

I dare say you were using a full Windows installation rather than the Wimboot installations that are prevalent on more recent laptops.
With Wimboot, I had about 12GB's of free space on a fresh install.

The Dell Venue Pro is old enough that it probably isn't using the newer compressed installations. Hopefully WIn10 will switch it to that. I've the 32GB 8" model, keep running into the same issue.

Wasn't it Bill Gates who said you'll never need more than 64K of RAM?? Or some such thing. . . .

Which should have Smart Files on Win 10.. Am enjoying OneDrive on 8.1 but am afraid not on Win10.

Which you can't even sync on Windows 10.

Rubbish.
I have 3GB's of Metro apps installed (including Asphalt 8), plus Firefox, iTunes, Movie Maker, Office 2013, CyberGhost, Ccleaner, Glary, Skype, Avast, Macrium Reflect, Malwarebytes etc etc...
I have 4.91GB's free!!
32GB is very manageable.

32GB is plenty of space, in fact the 16GB tablets even have enough space - as almost ALL of them ship with Office installed. Remember, MS uses compression for the OS install, this reduces the footprint of the OS and also speeds up things when running on slower Flash based technologies in cheaper tablets/notebooks. (Windows 8.1 uses a WIM install with Windows 10 has a new selective compression install that is both faster and smaller in size than the 8.1 WIM install.) Example:
I have an Asus 32GB tablet sitting here and the internal storage still has 10.5GB free, and it has a lot of Apps and larger software installed on the main internal storage. I also use my MicroSD as a secondary drive.

The eve of the Windows 10 launch is today?

OMG this is what I've been looking for!!!

Does it have expandable memory thorough sd?

Yes it has. https://www.windowscentral.com/e?link=https2F2Fcli...

No sd card support for OneDrive or apps or I'd buy it today.

Please tell me I'm not the only one who notices that the keyboard or screen are on the wrong side...

It's detachable, so you could reattach that way if you wanted.

I keep reading glowing reviews of Chromebooks that are exactly like this, and Chromebook this, and Chromebook that..........Chromebooks have less than 1% PC marketshare.......why dont we hear that Chromebooks are dying, and death to chromebook, etc? The media's vendetta against all things Microsoft is getting comical.

In case you hadn't noticed, there were also glowing reviews for the Asus T100.
If OEM's make good devices at competitive prices, they do get recognised.

My T100 runs like a champ with 32gb. Wonderful little machine.

The Chi T100 has to be the best 2in1 under 400$ right now. (350$ online at the Microsoft Store) My little brother got it a couple weeks ago, its pretty awesome device, and the build quality WOW. Compared to the previous T100 it feels like a Surface upgrade lol. I was surprised the screen was 1080P to begin with and awesome that it has the faster Atom Z3775.

Everybody's stock is with Apple ....its a conspiracy

Think they will sell a keyboard with a battery, to last for 15 hours? Does the keyboard recharge when connected to the tablet? Is the keyboard bt or only works when physically connected?

Wow, is there a way to expand the hard drive ?

Wow... In Indonesia (and probably India) this was launched months ago. I've seen several people use it on cafés. Glad it reach worldwide.

The forgot where I read this but basically they said that Windows should come out with the Edge Browser OS . like Chromebooks have done . now I might pay money for better specs and more Security and cloud computing like a Chromebook locked into the Microsoft ecosystem... Seems like Microsoft is really pushing towards cloud computing anyways .
Windows Central Newsletter
Thank you for signing up to Windows Central. You will receive a verification email shortly.
There was a problem. Please refresh the page and try again.