Acer releases the Aspire Z3-600; a 21.5 inch portable All-in-One PC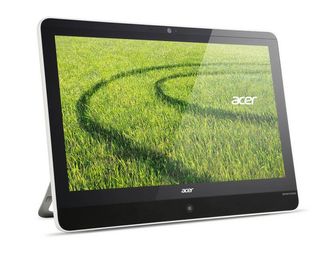 One of the submarkets that we are quite surprised to see kick off is the growth of large portable touch screen all-in-one machines. Lenovo's Horizon and Sony's TAP series of machines have sold surprisingly well, and Acer wants to get in on the fun with their latest machine, the Aspire Z3-600.
Acer announced a new 21.5 inch Portable All-in-One that will be touching down this month in the United States, starting at $779. The new machine, which Acer describes as "flexible", features a full HD touch display and can sustain over 2.5 hours of battery life when not plugged into an outlet.
Like many other Portable All-in-One desktops, the Aspire Z3 has a stand that allows you to use the PC flat down on a surface or at varying angles that cover 90 degrees of motion.
The machine itself has been designed for multimedia use and includes two front-facing Harmon Kardon speakers at 2.5 Watts each. Dolby powers the software end of the spectrum and provides "balanced sound for movies… and clear dialog during live reports".
The Full HD screen offers viewing angles of up to 170 degrees both horizontally and vertically. The unit itself can also adjust itself automatically based on ambient light in the room. An included HD webcam also sports a wide field of view for Skype videoconferencing with the entire family.
Under the hood, the machine packs an Intel Pentium Quad Core CPU, Intel HD Graphics, 4 GB of RAM, and up to a 750 GB Hard Drive.
What do you think of Portable All-in-One Windows 8 PCs?
Source: Acer
Windows Central Newsletter
Get the best of Windows Central in in your inbox, every day!
Pentium quad-core? I never knew they had those

Yep, Intel Pentium J2850 quad-core processor. http://ark.intel.com/products/76529/

I believe they're based off of the new Atom CPUs/Bay Trail architecture.

Would be better with stylus support. Get a bigger version of THIS and it would rock.

Wouldn't the Surface Pro be considered a portable all in one?

yea it is.....but that is actually portable. this is like a desktop computer if you ask me

For a desktop, yes. I have the Lenovo all in one with battery. It comes in handy to be able to pick up and relocate it around the house without having to turn it off and carry the plug.

i guess for desktop computing it is "portable"

The xps 18 or tap 21 are better machines...

Dell XPS One 2720 is the ultimate AIO. Though not portable. EBay is a great place for excellent pricing too.

I like the idea of this, but I am sure Acer found a way to screw it up. They need to go back to their roots (Cheap, cheap cheap!!) The second they decided they now sold 'Premium products' the tailspin began.

I have the VAIO tap 20.. Ain't bad I guess

Forget the processor, want better GPU and use SSD's instead.

Although then again, it wasn't exactly made for performance anyway.

I guess I really don't see the point of this. To each their own, but would it really kill them to have a Core i3?

I see no purpose for a Core CPU in this machine.
I used a Pentium (Sandy Bridge) in my desktop for 2 years; Gaming(eg Far cry 3 on med/high) , video encoding, streaming, office work, heavy browsing. Don't underestimate todays CPU's they are powerful...

On such a big screen how ... do you close the app?

The traditional ALT-F4 or new style WindowsKey-Down?

Or maybe an and FX2 processor hex or octo that would be sweet!

I do not trust anything Acer at all. Horrible experience with them. With that said I like the way it looks.

At this point Microsoft can finally make the original Surface size that was the size of a coffee table back in 2001 and finally have the same price as this.

I'm typing this on an i7 XPS 18 and I get 6 hours battery life and that's with a 3rd gen processor. NOBODY should consider anything else if Dell updates it.

Wtf is portable about that?

HARMAN KARDON... Pentium. How can it process 45MB raw files from my D800? :P

HP Envy Rove......too many features to list.. Its in Microsoft, Best Buy, and Costco stores.

I'm not surprised to see it kick off... I love the idea of this. Definitely going to,get a large portable soon!

This is the same idea I had for a large surface from Microsoft, except the large surface would use the magnetic connectors for data and charging, have it slide into a stand. Have power, extra USB, external video and video input connectors on the stand so you can use it like a traditional all in one computer, but could also use it as a large tablet. Design it so you can connect multiple together and run them essentially as monitors with one being the master displaying the content on two others. You could make a pro stand that had better tilt ability for artists so it could be used as a giant wacom tablet. 4k resolution, core i7 8gb ram, 512gb ssd. Internal battery for on the go. Sleek and slim, a direct competitor to the iMac.
Windows Central Newsletter
Thank you for signing up to Windows Central. You will receive a verification email shortly.
There was a problem. Please refresh the page and try again.