Acer's T272HL 27 inch touchscreen monitor - lots of design and little performance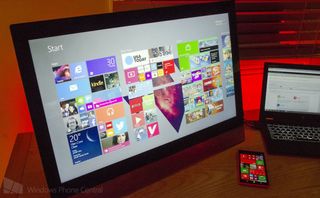 Windows 8 is an operating system that was without a doubt designed with touch screens at its center focus point. Many laptops and all-in-one PCs are finally designating multi-touch displays as standard instead of an add-on, but what about the desktop user still using a tower style PC? There are a variety of touchscreen monitors out on the market and today we are going to take a look at what is being said to being one of the best – Acer's T272HL.
The Acer T272HL is a 27 inch full 1080p widescreen monitor that the company markets as "intuitive and fun". The large display is backed up by 10 points of touch detection – a standard number for most monitors. The monitor is stated to have a 100 million to 1 contrast ratio with a super quick 5 millisecond response time. When read on paper, you can't help but to be amazed at the promise of what the T272HL might deliver.
Swipe to scroll horizontally
Simply superior design to other monitors available. Very good build quality. Three integrated USB 3.0 ports. Supports DVI, VGA, and HDMI.
Lackluster performance. Disappointing contrast and color vibrancy. Extremely expensive.
The Acer T272HL is an extremely beautiful monitor that simply doesn't live up to the price tag. If you are hurting for a large touchscreen monitor and have no intention of using it for heavy multimedia use, then it might be a good buy - otherwise stay clear.
Design
The design of the unit is clean and very well done – it is by far one of the nicer displayed monitors we have seen. The front of the unit has a black border that surrounds the entire edge-to-edge widescreen display. The manufacturing process Acer choose to use created a stunningly rich black that is a beauty to look at. Underneath the screen and border sits a thick piece of plastic, which at times can give the illusion that the unit is floating in midair.
The sides of the T272HL (as well as the back) are crafted from a black plastic. On the right hand side of the display you will find an array of buttons that bring up on screen adjustment settings for the unit, while on the left hand side, you will find three USB 3.0 ports.
The massive 27 inch monitor's silver stand is mounted on the back of the unit and allows the unit to tip back, although not all the way. Overall the stand feels well-built and has enough resistance to hold up the 20+ pound monitor reliability throughout its full range of movement.
Let's talk ports; the back of the monitor contains a variety of digital and analog inputs for your convenience. The T272HL's rear is home to VGA, DVI and HDMI video ports along with a USB 3.0 connector that is required to enable the touch ability of the monitor and its three USB ports.
Performance
The unit itself is a joy to use, simply because it is a large 27 inch touchscreen that I can place neatly on my desk, but the design and build quality is where the five star review ends. We felt that the monitor significantly lacked contrast and vibrancy in all available (and custom set) viewing modes. We had the unit placed next to a few different devices including Lenovo's YOGA 2 Pro and Sony's VAIO Duo – the image and video results were simply disappointing on Acer's T272HL.
The touchscreen itself works well and seemed to accurately detect touch points throughout our use of the device, but the screen's coating sometimes made your finger skid across the display. If you have ever used a large touchscreen at an airport, hotel, or arcade, you are probably aware of what this feels like – not all that great. I may personally be alone on this part though, as I had a friend test out the monitor and he didn't feel the same way when using it.
Conclusion
Overall, the monitor's body itself is extremely well designed, but the image performance was a disappointment. We really expected to see this monitor shine, especially for the MSRP of $699, but it fell a bit flat. If your primary focus isn't multimedia and you are desperately looking for a large touchscreen monitor, this may be an option – although extremely expensive. Otherwise, we recommend passing up this monitor, even with its usual discount price on Amazon.com. (opens in new tab)
Windows Central Newsletter
Get the best of Windows Central in your inbox, every day!
Holy crap !! That's a huge touch screen. Looks pretty awesome. :)

I just bought the top of the line Dell XPS One 27" 2720 AIO. QuadHD IPS touch screen. 4th gen Intel i7 (3.9ghz) 16gb, 32GB SSD, 2TB HD, dedicated graphics card. BEAUTIFUL screen. Smoking fast system. About 3k from Dell, but you can find deals. A touch screen that big is easy to get used to and while most of my work on it, video and music editing in my studio are done in desktop mode, mainly because the apps are desktop centric, but the metro apps are beautiful and really come alive on a touch screen monitor.
The price point on this Acer monitor should be about $400 in my opinion.

Dell XPS One 27" is my main machine. Love it.

Thats a $700-900 system without the monitor. You are paying a huge premium for gimmicky display.

Gimmicky display? Hardly. What does a QHD 2569x1440 IPS\ Adobe RGB 10 point 27" touch screen monitor go for by itself?

You can get a 27inch, QHD ips, non touch for $300-500. Add $800 for the system and you paid almost $2000 just to have touch which is a gimmicky feature since you can get 90% of tte functionality with a $40 trackpad.

Not to call NIST a liar, but the machine on Dell's page with the i7 27" AIO has it for $2100. It also has more than NIST said, including a dedicated graphics card. So here is a price breakdown (I went for the lowest I could find to be fairest to your point): $310 for the i7
$130 for the RAM
$100 for the GPU (since it cannot be purchased separately; I went for comparable performance)
$100 for the HDD
$50 for the SSD
$230 for the motherboard (with Thunderbolt support)
$240 for the chassis with power supply
$150 for the wireless card, DVD drive, etc. We are already at $1310, and we haven't included the monitor, the included wireless keyboard and mouse, the speakers, etc. The cheapest IPS 27" 2560x1440 resolution monitor I can find is $340. And then you need to install your own Windows 8, which is $120 at a minimum. And none of this counts the engineering and port/space/power savings that come from having only one unit to plug in. Nor does this cover the warranty and support you get from a manufacturer's product. And all of this assumes that if you were to build something comparable that you would go for the cheapest available. Do you think $330 covers touch capabilities, warranty, convenience, and all of the miscelanious hardware and engineering I didn't mention?

True. With tax and shipping it is shy of 3k. Mine has the 4th Gen i7 along with the bluray etc...you can get it at Costco with less mem, no bluray, smaller HD, Intel HD graphics etc..for about $1500. It also comes in an i5 as well for considerably less. I've built a LOT of computers in the past and I'm done creating Frankenstein systems where I'm the warranty. Plus I wanted a Windows AIO since I first saw the HP Touchsmart years ago with win7. Nothing to upgrade with this bad boy, but if I ever wanted to, in true PC fashion, I can just remove the back and upgrade what I need. If you're looking for a price break check eBay for Dell refurbs, Costco has it featured as well (3rd Gen i5 or i7). Lots of configs and outlets and I've seen killer configs for as low as $700. Anyways, whatever I love it.

First thing, your all in one uses laptop parts which are much cheaper and of much lower performance than the desktop class. I'm not gonna look up the price for each component individually but I was able to build a system with much better specs (same parts but desktop class and a 64SSD with top of the line read/write speeds) for $1100 without the monitor at Cyberpower. Cyberpower is an OEM so they charge a premium, if you shop around you can probably get the same system for much cheaper. If you settle for laptop parts like the Dell all in one you might even get it at around $700-800. $3000 for an all in one like that is a ridiculous price that I would imagine only Apple fanboys would be willing to pay. Oh and guess what, Dell is not Apple so your system will be worth 50% of what you paid for within 12 months, and about 30% a year after.

Not every AIO uses laptop parts and not every part in AIOs that use laptop parts are laptop parts. The Dell in question uses a 65W processor. You think that's for laptops? Not only that, but you are a right fool if you think laptop parts are cheaper. Miniaturization costs. That's why a $1000 desktop is more powerful than a $1000 laptop. AIOs are also very attractive for their tidiness. Maybe you don't care, but it is a fairly big deal that the only cable required for the Dell is power. And I don't know why $3000 is what was spent, unless it was overnighted to some other country. Like I said, if you were to buy one now, it would be $2100. Not a bargain, but far from a rip off.

Some people just like to argue. And he totally missed the point.

The first sentence of the article, which is supposed to pull the reader in, has a grammatical mistake in it, which turns the reader off instead.

Yo.... U da grammar police?

It's a professional article, someone should be.

May I add to that "100 million to 1 contrast ration" and "a few different devise" :-)

Whoops, seemed to have been an off night. =/ <cries in shame> All fixed - thanks, Mariusz.

i dont really want my main rig's monitor to be a giant fingerprint album, and leaning forward from my boss chair to touch it doesnt sound good either, will wait for leapmotion to work as a floating touchscreen for windows instead

I don't understand why you think this is extremely expensive Michael, maybe my brain isn't adjusting for American prices properly

Hey Nez, A regular 27 inch monitor with much better color reproduction, vibrancy, and contrast can be picked up for around $200. This monitor is over 3x more expensive and has horrible image quality. If the quality of the image was much better, than we could see the monitor being a good buy around $500, but it simply isn't worth the $700 price tag Acer is asking.

most 27" monitors @1080p cost more than 350$ usd, ~200 can get you a 22-24" 1080p panel, if you want a GOOD 27" monitor you are looking at 499$ and almost 700$ for 1440p ones unless you choose an unknown korean brand for 350$, again, lol

You'll find many for $200-250, with much better quality than this Acer. That is the point. Michael is right, the added cost is not worth the crappy display with touch. If this had the quality of a $300 monitor (which would be miles ahead of this), add in the components for touch (which are much cheaper to produce than most know), then maybe it would be worth $600.

I tried this but my regular monitor would not accept any touch input. Very disappointing. I got this 27" touch monitor for $349 from manufacturer_certified on ebay. Great deal.

I bought this monitor when it was first released and the review may be accurate for gamers (I don't game so I can't speak to the display quality/response when gaming) but my experience is completely opposite of the review.
Whether it's network content, DVD, CD, or streaming, the picture/video quality and touch-response is far better (IMO) than competitive monitors.
Maybe people should install the current nVidia drivers or use it with a more powerful PC and then take it for a spin.

Hey Scott, glad you are enjoying it and really, bud, that is all that matters. For the record, we did try the monitor with a few different machines to check for differences and our experience was the same throughout.

We purchased this exact monitor last week to test Unity apps and for demos to clients. The viewing angles are horrible, and the color reproduction is even worse. After developing our demo app on professional, calibrated monitors, we could not come close to the same colors, saturation, and contrast. Even after tweaking the settings as much as this monitor would allow. We basically had to redo all of the materials in the app just for this monitor so it didn't look so washed out. The workstation's horsepower is not the issue. It is run on a 6 core i7 3.46GHz with a Quadro 5000. If people are standing around it, only those directly in front of it got a decent experience. Everyone else saw washed out highlights because the viewing angles are worse than any monitor that I have seen in years. For the price, this thing should outshine the Samsung laptop that was sitting next to it, but it didn't even come close. Not to mention that it actually tilts away from you, giving you even worse angles if your desk isn't that low. I'd prefer the monitor to have a straight position, but the way the kick stand is designed, it would fall forward if it could. The spring loaded kick stand and the ease of use to tilt it back and up again are pretty cool, but having the whole front of the monitor in contact with your desk or the surface it is sitting on, leaves a long mark where that long soft pad comes in contact with. The 10 point touch works great, and is very responsive. And if you are using HDMI for the input, from a laptop for example, there is a speaker hidden in there that will emit the audio (sounds like crap though). I would not recommend anyone buying this monitor unless you like blowing money on overpriced gadgets.

I assume all of your clients users will have professional monitors. :P If you went with a 27" monitor with 1920px resolution max you got what you planned for demoing to your clients on this.

Nope, clients will usually have standard consumer monitors. But I've never seen a monitor with colors so bad. We can I'm not exactly understanding the context of the other half of your comment. Got what we planned for? This day and age, we were planning for a better screen for that cost. There's no excuse for a company to have such piss poor quality on a screen that is basically standard with TV's now days. Don't get me wrong, it is fun playing on a touch screen this big. But it is such a huge disappointment when you compare it to a 3 year old cheapy 24" that still looks better.

he is saying that if you are developing for the general public then a crappy 1080p monitor is what you want to design it with because that is what the public will be using. It is like mixing audio. You can spend week and weeks getting things to sound just right... but at the end of the day some d-bag is just going to blare it in their car and complain that it was mixed for studio headphones and is not compressed enough to hear the melody above road noise. Design for your audience... not your personal tastes and standards.

Should compare it with other touch monitor from Samsung, Dell, HP. Compare it to smaller screens with higher PPI won't do it justice. For me, the 23'' model is fine, 27'' is just too big at 1080p.

The Dell p2714t and p2314t are far better monitors. And more beautifull.

Agreed. I did my research before getting the 2314T on sale with an additional corporate purchase program coupon. There was a slight premium over a non-touch monitor. I find the display quality to be just behind the U series, but it appears to the share the panel with the rest of the P series and not the lower S series. The last gen Dell touchscreens commanded a premium, but used an inferior panel. So far, I love it. You don't see smudges when it is lit, it cleans easily and using big metro apps is fun. My friend's daughter LOVED playing games. I find I have better posture knowing that I may reach and touch the screen for tasks in my photo editing workflow or to use a gesture instead of a key. Think Im going to get a balance ball. I have the same screen experience on my desktop as I have on the Surface. So nice.

Maybe you got a bum monitor, bud. ;)

And by the way, the Dell's screen surface is very smooth. I have the 27'' in review. Still undecided to buy the 27 or the 23" model.

1920px resolution is never going to be great at 27" Otherwise this monitor is just fine if not awesome, I have this on my desk in daily use for 6 months. I picked it up for $349, what a steal.

Great point about the resolution. With any device, it's all about defining your expectations and knowing what you're getting. And while some will disagree, $349 was indeed a steal!

I have one of these on a desk built into my kitchen with a Gigabyte Brix hanging on the back via the VESA mount. I have a MS Arc Mouse and Keyboard to complete the ensemble. I love it--it replaced a Mac Mini and it's just better in every way.

This review is really poorly written. Full of contradictory opinions.

I like this monitor a lot. The main complaint is the cost. Another complaint is the built-in speakers aren't good. And lastly, the arm needs to be designed better for constant adjustment. You start to add pressure to change the angle and it won't give. Add more and more and more pressure and then it finally gives but in a way that you wondered if you broke the darn thing. I get a heart attack everytime I adjust the thing. It would've also been nice if they had an arm that allowed you to lay the monitor flat for playing a game like air hockey or a board game. But the touchscreen part is great. and the screen does look pretty great if not top of the line. I do agree about the coating of the screen. My finger does not glide as well as say on the Surface device. All things considered, considering how few large displays are touch, this is a great monitor. I definitely wouldn't trade it in for a non-touch. I have used all-in-one touch PCs but the problem is they often put inferior CPU and other hardware with the touchscreen. Like my work has Core i3 processors which are horribly bad and slow. Even the charm requires a slow swipe because of the terrible hardware.

That's cause these Chinese are just smaller idiots!

Suppose if it were called Lenovo, It'd be the second coming, or is it just me?

Nice article and i came across the article from http://www.gadgetride.com/blog/micromax-laptab-vs-asus-book-duet-td300.html, Now days, companies are attracting customers by releasing devices with more unique features.