Acer's new Aspire gaming laptops are solid but not spectacular
Acer's branding could use a little help.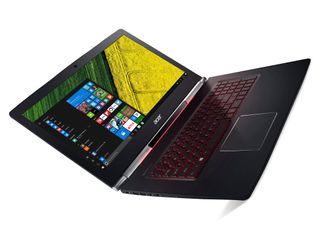 Before the official kick-off of CES 2017, Acer is squeezing in a few gaming-oriented PC announcements with new entrants into their Aspire series. Acer's Aspire line is something of a muddled mess, ranging from the new gamer-centric high-powered 17-inch Aspire V Nitro Black Edition to the thin-and-light Aspire S7. But don't let the branding confuse you — the newest Aspire entries are built for mobile gamers.
Acer Aspire V Nitro Black Edition
That name. Perhaps it's deserving of a long name, given the laundry list of components you'll find under the black aluminum hood. These are gaming laptops, after all, so what's inside matters. You'll get up to a 7th-generation Intel Core i7-7700HQ processor, your choice of NVIDIA GTX 1050 or 1060 GPU, factory-configurable RAM up to 16GB that you can upgrade on your own later to 32GB, and a PCIe SSD paired with a spacious 2TB HDD.
All of that's built into a similar body from the older Aspire V Nitro laptops, though there have been some changes to accommodate modern connectivity. In addition to a quartet of full-size USB ports, HDMI, and Ethernet, the new V Nitro laptops also sport USB-C Thunderbolt 3. They're also packing Windows Hello-compatible touch fingerprint sensors.
When it comes to displays you'll have a choice of 15 or 17.3-inch display at Full HD or 4K UHD. The 17-inch model has an additional option: built-in Tobii eye tracking under the display to bring your gaze into a growing list of games.
The Acer Aspire V 15 Nitro Black Edition is launching globally in February, priced in North America starting at $1,199, in Europe starting at €1,299, while the Acer Aspire V 17 Nitro Black Edition will start at $1,399 and €1,299.
Acer Aspire VX 15
While the styling of the V Nitro Black Edition is kind of understated for a gaming laptop, the Aspire VX 15 is not. It's not quite Acer Predator level aggressive, but it's quite clearly a gaming laptop on the outside — thankfully that's backed up by decent specs.
The Aspire VX 15 comes equipped with the latest 7th-generation Intel Core i7-7700HQ Kaby Lake processors, up to a GTX 1050 Ti GPU, 16GB of RAM from the factory (user-upgradeable to 32GB), and a up to a 512GB SSD paired with a 1TB HDD. That doesn't make for the most powerful gaming laptop ever, but it's capable enough — especially when it only has to drive the 15.6-inch Full HD IPS display.
If a more gamer-styled, but less powerful (and thus less expensive), Acer laptop suits your needs, you'll be able to pick up an Acer Aspire VX 15 by the end of January 2017 for the starting price of $799 in the United States or €899 in Europe.
Acer Aspire GX
Lastly, there's the new Acer Aspire GX desktop tower, which like the Aspire VX 15 is very clearly a gaming-oriented rig inside and out. Acer says that it's sheathed in a "striking and edgy armor-inspired housing with front-facing LED lighting that emits a sinister red glow" that makes for "a sharply styled desktop PC".
That sharp styling hides sharp VR-ready specs, including a 7th-generation Intel Core processor, up to an NVIDIA GTX 1070 GPU, up to 64GB of RAM, and a 256GB SSD with a spacious 3TB hard drive. Perhaps the most interesting feature, though, is the integrated wireless charging "deck" for Qi wireless charging phones.
This VR-ready rig is anticipated for a February 2017 launch in Europe at a €799 starting price.
Windows Central Newsletter
Get the best of Windows Central in your inbox, every day!