Aces of the Luftwaffe for Windows Phone 8, our latest favorite game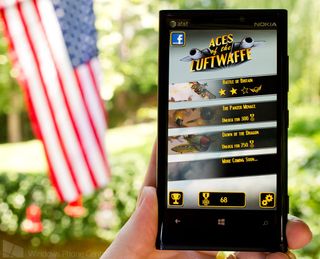 Aces of the Luftwaffe is a relatively new game for Windows Phone 8 and is quickly becoming one of our favorites. Aces is an arcade styled game with an RPG touch.
To say Aces of the Luftwaffe is a fast paced game may be an understatement. If you blink you'll be over run with enemy planes. Game play is challenging enough to avoid getting stale and graphics/animations are just ducky. If you're an arcade game junky or just looking for a fun game to pass the time with, Aces of the Luftwaffe is definitely worth checking out.
The story line for Aces of the Luftwaffe is set during World War II and you play the role of a fighter pilot destined to take out the Axis forces.
The main menu for Aces of the Luftwaffe has the various campaigns you can tackle, with the first being the Battle of Britain. Additional campaigns can be unlocked using medals you collect during combat. Along the bottom of the screen are links to your achievements/trophies, the game's settings and your medal count.
Settings cover sound/music on/off, hand orientation, control options, and graphics quality.
Before jumping into a mission, you'll have your choice of pilots (usually a freshman or seasoned vet option). You'll have to use medals to unlock the more experienced pilots.
Game play is simple. You have your plane, the enemy planes and a Super Power meter in the lower left corner of the screen. Tap and hold the screen to fire your plane's cannons and move your finger about the screen to pilot your plane.
As you wipe out the enemy aircraft your Super Power meter fills up and when maxed out, you can tap the meter to unleash an onslaught of planes that will wipe the screen of enemy planes.
Additionally, as the enemy planes get blown out of the sky medals will appear that can be collected and used to unlock new campaigns, new pilots, and enhance/upgrade your plane. Tip: Use the medals to enhance/upgrade your planes. It'll make life a little easier as you progress through the levels. If you want to get a jump on things, medals can be purchased within Aces of the Luftwaffe as well.
You also have power-ups that are generated by eliminated certain aircraft formations (they'll be marked). The power-ups give you additional fire power and/or wingmen to help you take out the enemy.
Naturally the enemy is going to shoot back and any damage sustained results in bullet holes in your Windows Phone screen. Too many bullet holes, your plane crashes and the game ends.
Each campaign has multiple levels and a handful of bosses (big planes with bunches of guns) to defeat. The graphics and animations for Aces of the Luftwaffe are spot on and game play will keep you on your toes. All in all, Aces of the Luftwaffe is a terrific game for your Windows Phone gaming library.
Aces is a free, ad supported game for your Windows Phone 8 device. You can find Aces of the Luftwaffe here in the (opens in new tab) Windows Phone Store.
Get the Windows Central Newsletter
All the latest news, reviews, and guides for Windows and Xbox diehards.
George is the Reviews Editor at Windows Central, concentrating on Windows 10 PC and Mobile apps. He's been a supporter of the platform since the days of Windows CE and uses his current Windows 10 Mobile phone daily to keep up with life and enjoy a game during down time.
Already downloaded. Thanks

I downloaded this last night, and I luv it!!! I ended up going to bed late because of it,...fun retro game!!!

Cool game! Reminds me of the old arcade game 1942. I wish there was an alternate fire button to drop bombs on ground targets.

Yeah 1942 is a classic got that running through snes8x on my RT. Can remember pumping money in that game when i was a kid.

YES!!! Loved that game. I spent hours playing 1942 @ the 5¢ arcade when I was a kid. If only there was a way to get a joystick to pop out of my 920... I'd be in heaven! =)

Had this for a little over a week. Awesome game!

Nice I will be getting this

Thanks for the suggestion. Will check it out.

Take out the Axis forces with German planes?!

Whats even odder, is that Hitler is a tea kettle!

I saw that story and picture. Very weird. Wonder if that was done intentionally.

that ad was pretty awesome

Developers, y u no make it xbox-ed?

Great game, but very harsh in the battery. Also, after playing I have to make a complete reboot of the phobe, because the battery contibues to drain. But I love the game, and enjoy it before going to bed

Looks interesting, I'll check it out.

It's a fun game, but the difficulty is rough. They're clearly trying to steer players towards spending real money, the problem is that I don't think they've balanced the difficult and reward very well. So it ends up being more frustrating and tedious than it should be. Otherwise it's a good game.

That's why I upgraded my firepower right off the bat. Now I just now through'em.

Classic shmup difficulty. Something tells me you haven't played Touhou.

No ratings and no reviews? Show the dev some love and post a review on the marketplace, too!

Are you really using wp? There are no ratings only from your country...

In Canada there's nothing. Can screenshot if you need proof. :P Good to know that the reviews vary by region.

Nostalgia...............Skyforce on my Nokia 5800.


+1
I wish Infinite Dreams would show us some love.
Heck, a return of KRally would be awesome!

yup........KRally on WP would be really nice,
better than most of the racing games out there.

Downloaded it yesterday. Really fun game.

The game looks fun as well as Epic Battle Dude. For kicks, I went to their site and sent them an email with regards to developing the games for WP7; it was worth a try :)

Anyway, on their site, they had a Nokia logo; I clicked on it, and it took me straight to the Ovi Store. They have like 8 or 9 games in the store. I was going to download a couple to try, but it seems as though they are not for the N8 but I never noticed them because it seems as though they are not for use on the N8.