AdDuplex network usage data show interesting Windows Phone trends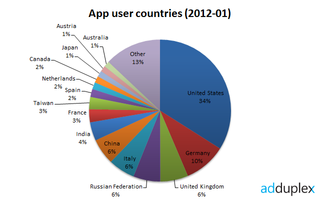 AdDuplex has released some interesting statistics from a couple of days activity of almost 700 apps using the network's advertising service. Over the course of two days, the apps on the network were used in 189 countries, by 166,000 users. The U.S. (as expected) is leading the group with 34%, but should we look at data from just last month (chart below) you'll notice a slight change.
Countries that saw Windows Phone (and the Marketplace) being launched jumped up in usage percentage (India, Russia, etc.), which are positive signs of reach and let us not forget that this is data only on the AdDuplex network. Head on over to the AdDuplex blog to read up the full report (as well as see the breakdown of countries).
Source: AdDuplex
Rich Edmonds is Senior Editor of PC hardware at Windows Central, covering everything related to PC components and NAS. He's been involved in technology for more than a decade and knows a thing or two about the magic inside a PC chassis. You can follow him over on Twitter at @RichEdmonds.
Might as well test too(two). But this interesting...you think ms would make Android fees higher or at least the same.

Interesting! Glad too see WP emerging in other markets! Sent from the 2.0 app!

WPCentral 2.0! Love it. Oh and this is actually a very good sign. The more advertisers' attention we attract, the more likely the platform will succeed.

I especially like the comment threading compared to the beta :-)

Excellent.. Love v2 app..

v2 works great! Oh and I'm also liking the increased usage around the globe... Come on market share!

Wpcentral v2 is great. And finally we can change the notification tile from the ugly iPhone style to the pretty metro style with big numbers :-)

I can confirm the same by looking at my apps downloads per country.

Test to lol I love the v2.0

I wish all the apps looked this good.

I wish all the apps looked this good.

Been waiting on V2. Love it! Good job. My favorite website app and one of the few that is easier and better than the site.

Yay now I can finally comment, since I only check wpcentral through the app! :D

And I just found the delete and reply to functions. Way Cool! And the delete lets me edit it and resend it. Very functional! Hats off to you. :-)

Happy to see these match up so well percentage-wise with ...i'm a WP7! :)

Wow! The app is amazing! I'm new here by the way:P. With healthy regards from Sweden!

Also a new Version 2 user. :) Keep up the great work!

Indeed interesting data in a months time. The reason I think european countries are only showing a slight growth is partly due to the upcoming economic crisis. Secondly I do not know if many people in the US know this, but WP7 Mango for some reason has been restrictive with reagard to app purchases, language support, Zune service friendliness and full Bing feature supportive. I think that if these barriers were let down and European ecosystem support for the Mango OS increased, you will see an explosive overtake of the US consumption data by Europe.
So, please America, plead us poor Europeans for better full Mango feature and optimised payment support! Lets improve connectedness. (read: Zune desktop fix and payment over PayPal!!!)
Just my two cents.

This is a big important step for WP and rounds off the already well received Office hub. If you are using OCS 2007 then you are right Lync is not compatable as it runs off the 2010 technology. In fact install Lync on your computer running OCS 2007 and you will find a nice spangly copy of Lync but no way of using it.
Pass4sure HP2-K21////
Pass4sure HP0-P20////
Pass4sure PW0-204////
Pass4sure 1z0-876////
Pass4sure 000-M245////
Pass4sure ST0-025////
Pass4sure 000-008////
Pass4sure 000-007////
Windows Central Newsletter
Thank you for signing up to Windows Central. You will receive a verification email shortly.
There was a problem. Please refresh the page and try again.