Adobe launches Creative Cloud 2015 with performance tweaks, stock photo library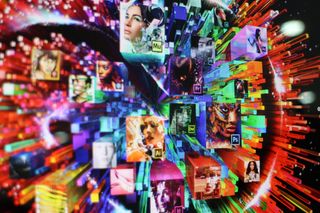 Adobe moved the Creative Cloud suite of desktop apps to a subscription-based model in 2013, rolling out incremental updates as and when they're ready. The vendor is still targeting one major release on a yearly basis for the suite with new features, which is what we're seeing with Creative Cloud 2015. The latest update brings stability and performance improvements, but the major addition is Adobe Stock (opens in new tab), a library of over 40 million stock images curated by Adobe and available within the entire Creative Cloud family of apps.
Those subscribed to Creative Cloud are eligible to get a discount of up to 40 percent toward buying images from the stock library. Individual images cost $10, with a subscription of 10 images priced at $30 for CC users. Creative Cloud Libraries have also received an update, with Adobe adding a new CreativeSync service that allows you to sync files, photos, fonts, vector graphics, brushes, colors, settings, metadata and stock images across devices. The service is now available for After Effects for the first time.
Here are all the new additions to the desktop apps:
In Adobe Photoshop CC, Artboards lets you make multiple layouts of different sizes in a single document, and the new Device Preview shows how designs and interactivity will look and adapt on mobile. The Healing Brush, Spot Healing Brush, and Patch tools have been turbocharged with Mercury Graphics Engine enhancements, so you get results up to 120 times faster than you would if you were using CS6. And be sure to check out the new Photoshop Design Space (Preview Technology), a streamlined experience optimized for designing websites and mobile apps.
Adobe Illustrator CC is the fastest version yet—ten times faster and ten times more precise than CS6. Thanks to a new Mercury Performance System boost, you can pan, zoom and scroll faster and more smoothly, and zoom into your artwork to create and edit with incredible precision. And should your system crash before you've had a chance to save, just relaunch the app and your work will be restored.
Adobe InDesign CC gets its own Mercury performance surge with twice as fast zooming, scrolling, and paging through complex documents. InDesign CC now also lets you publish and distribute documents with a single click.
Adobe Photoshop Lightroom CC includes Dehaze, a stunning new feature (also available in Photoshop CC) that lets you eliminate fog and haze from images—even underwater shots. Or you can add haze for artistic effect.
Adobe Premiere Pro CC continues to lead the video industry and this is our best release yet. The intuitive and powerful Lumetri Color panel helps you make instant color corrections, and Morph Cut magically smooths and polishes jump cuts and dialogue pauses to deliver a polished interview. With brand new Creative Cloud Libraries integration, Premiere Pro CC takes full advantage of CreativeSync technology so assets like color "Looks" and graphics flow seamlessly between Adobe mobile apps and Premiere Pro CC, After Effects CC, Photoshop CC and more.
Adobe After Effects CC dramatically improves your productivity with new support for Creative Cloud Libraries so all of your assets are at your fingertips. Uninterrupted Preview allows you to adjust a composition's properties and even resize panels without interrupting playback. Make sure you also check out the groundbreaking new Character Animator, which tracks your movements via webcam and transposes them onto a 2D character.
Adobe Dreamweaver CC reduces the effort to create mobile websites with support for responsive design to create production‐ready websites that dynamically adapt to various screen sizes, and includes the ability to preview and test websites on multiple devices in real time.
Adobe Muse CC has instant access to the fonts in Typekit, making it easier to get your web designs done faster. Adobe Muse can also integrate blogs, shopping carts, and more using new widgets downloaded from the Library panel.
Source: Adobe (opens in new tab)
I don't know if I'll buy that illustrator is 10x more precise than CS6

I'm sure what the marketing speak means is that calculations under the hood are now 10x more precise. Vector design is really just a lot of mathematics, and with technology there's long been a precision/speed tradeoff.

CC2015 = a ton of GPU hardware acceleration happening.
CS6 = mostly CPU based. Seeing tenfold improvements are nothing unbelievable. There is a reason a lot of applications started to be GPU accelerated and why APIs like CUDA and OpenCL are so popular.

Does it work with high DPI displays yet?

Not interested until they fix the most egregious bug: pricing in Europe Posted via the Windows Central App for Android

Great, but how is this relevant to this website?

Well said, I think the finance people at WC have the answer.

We cover Windows. Adobe suite of products run on said OS. Many Windows users rely on Adobe's tools for work and play. They were just refreshed. Seems all good to me?

that...is a pathetic answer you don't update us on every single piece of software that is ever updated on windows , so why this one? when was the last time you told us about an update for gimp , or apache , or Cubase, or ANYTHING else that runs on windows? it's irrelevant and completely out of this site's scope either tell us about EVERY software update, or admit that this is essentially little more than an advert , a copy&pasted press release and lazy journalism

I wish I could downvote more than once.

Agreed! This is a great article and helps so many of us out there learn about the new things coming from Adobe. His answer was perfectly fine. I didn't know about this until this article so it makes me happy.

For a less "pathetic" answer you should've said "Because this is not your blog and we are the writers, we write whatever we want to write about if we think it is necessary, if you dont like it go ahead and move along."

Because of people like me and countless others. I use Windows phones but I am also a digital artist and run my software on Windows PC's so this article is very relevant. Thats why the site is called Windows Central

Ditto... I am glad for the update. Plus Adobe seems to be getting more involved in Windows once again. Hopefully they will start supporting the mobile platform more soon.

Ditto, perfectly relevant for this site. Just downloaded the new updates to PS, ID and IL literally an hour ago. Initial impressions: so quick to load and all the various rendering tools in PS seem much faster. Love the new artboards in PS but hate the devotion to IOS devices and completely loathe the new Acrobat DC. It's inscrutable interface is a nightmare.

YES. The Acrobat DC interface is so awful!!

I use Adobe Creative Cloud every single day on my Windows devices to produce the content you see on the site. As do virtually all of our writing staff. So ask again...

i am also a digital artist i get why this is news in the digital art world - but not windowscentral so yes, i ask again

Just as Microsoft Office is a software package for Windows, so is Adobe Creative Cloud. It's also sold directly in the Microsoft store, given its partnership with Adobe for the Surface Pro 3 and the PC for many years. Seriously...don't be so naive.

Let me explaing again for you. "I use Adobe Creative Cloud every single day on my Windows devices to produce the content you see on the site. As do virtually all of our writing staff. So ask again..." We can do this for days. That is your answer and it is GREAT.

Windows central covers the windows platform and the popular software that runs on that platform. Adobe products are among the most well known products on the entire windows platform.

Wait, WC covers all sorts of apps and programs all the time! How is something like, I don't know Tweetium, 6tag or an Indian banking app anymore relevant than the #1 go-to design suite of the last two decades? That logic is kinda fucked and WC did the right thing in covering it!

Thanks for the update. I guess I'll need to build new creative cloud packages for deployment.

I cant believe all this butthurt people. If they wish to cover Adobe news and write articles about it let them. I do not see how it negatively affects you. Next time dont click on the article and skip it. This is not your blog, so you cant choose what they write about or not write about. But if you dont like it, go ahead and move along.
Windows Central Newsletter
Thank you for signing up to Windows Central. You will receive a verification email shortly.
There was a problem. Please refresh the page and try again.