In Adventures of Flig for Windows 10, you get three games to conquer and one girl to save
Adventures of Flig is a Windows 10 game that combines three gaming styles to deliver a challenging experience and a fun time waster of a game.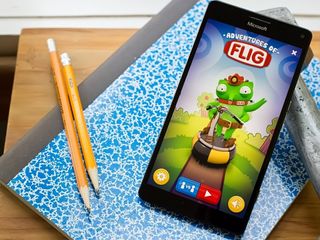 The free game is available for Windows 10 PC and Mobile, as well as Windows Holographic. You play to help Flig save his beloved from the clutches of an evil spider. To do so you must master three games that include an endless runner, a maze runner, and an air hockey challenges.
The graphics look good, the gameplay keeps you on your toes, and overall the Adventures of Flig is a fun choice when you have a little down time to spend on gaming.
What Adventures of Flig is all about
The main menu for Adventures of Flig is somewhat modest with options to access the game's settings, choose your gaming mode and mute the sound. Settings include options to choose your language support, mute phone vibrations, reset the game progress and set the game's difficulty. The default setting has the difficulty level set to medium, which offers challenging gameplay. For younger gamers, you want to dial it down a notch and if you have a sadistic streak, dial it up.
Adventures of Flig offers two game modes that include Player versus Player (PvP) and a storyline mode. The PvP mode is only available for the air hockey game and plays out nicely from a Windows 10 tablet. You can choose your character and gaming environments. The first player to seven goals wins the match.
The Storyline mode has 60 levels of play that include endless runner, maze runner and air hockey games. The game's back story has an evil spider kidnapping Flig's girlfriend. He must navigate across a variety of environments and face multiple challenges to save his beloved. Each game style progressively becomes harder as you advance through the levels.
The game styles break down as follows:
Endless Runner — The endless runner game has Flig racing down an endless tunnel, dodging and jumping over obstacles and collecting a multitude of treasures. A shield power-up is available that protects Flig on his journey and you must complete a set distance to advance to the next level. Game controls take the shape of traditional endless runner games. Swipe left or right to have Flig move accordingly and swipe up on the screen to have him jump.
Maze Runner —The Maze Runner game has you playing the role of a tiny spider destined to help Flig on his journey. You must guide the tiny spider through a maze, collecting all the keys to safely reach the exit point. The mazes begin easy but quickly increase in difficulty with traps to navigate around. You can control the tiny spider by tilt sensors or an on-screen directional pad.
Air Hockey — Much like the PvP game, the Storyline mode's air hockey game pits Flig against a range of opponents determined to end the quest to save his girlfriend. The first player to seven wins the match and opponents can be tough to beat. You face 40 unique enemies that are armed with one of 30 unique weapons, such as stun guns that immobilize a player for a few seconds. Eventually, these weapons become available to Flig to level the playing field. The players are controlled by touch and slam into the air hockey puck much like you would use a paddle in the traditional game.
The first few levels of play are more tutorial in nature to let you get used to the game. Short instructional screens appear before each game style as well. While the first few levels could be considered pushovers, it does not take long for the Adventures of Flig to become a tough nut to crack. The speed of the endless runner game picks up, the mazes have more twists and turns, and the air hockey opponents become more aggressive.
Appearances can be deceiving
Adventures of Flig offers colorful graphics, challenging gameplay and a nice variety of game styles to tackle. The PvP mode is a nice touch to allow you to challenge friends to a neighborly game of air hockey. The Storyline mode offers more than enough levels of play to keep you busy and if gameplay becomes too easy, simply dial up the difficulty level in the settings.
While the graphics look good, they can give off a children's game appearance, but don't let the soft appearance of the game fool you. Each game style with Adventures of Flig offers a nice level of difficulty with the air hockey game being the most appealing. The weapons available in this game style adds a new dimension to the game's difficulty and can be a little frustrating. If you aren't careful, you'll concentrate too much on hitting the hockey puck and miss a stun dart or other weapon that destroys your ability to defend against you opponent's hockey shot.
All in all, Adventures of Flig is an entertaining Windows 10 game. Having the ability to adjust the difficulty level, allows the game to appeal to young gamers as well as older ones. There was a slight instability with the game when attempting to remove the ad support ($2.49 in-app purchase) but it's nothing to lose sleep over.
If you have tried Adventures of Flig, let us know what you think of things in the comments. Also, you can chat it up in this Windows Central Forums discussion with the game's developer.
Get the Windows Central Newsletter
All the latest news, reviews, and guides for Windows and Xbox diehards.
George is the Reviews Editor at Windows Central, concentrating on Windows 10 PC and Mobile apps. He's been a supporter of the platform since the days of Windows CE and uses his current Windows 10 Mobile phone daily to keep up with life and enjoy a game during down time.