Alan Wake goes on sale for $4.99 in the Xbox 360 Marketplace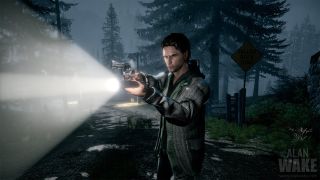 If you haven't had a chance to play the award winning psychological horror game, Alan Wake, from Remedy Entertainment and Microsoft Game Studios - do it now. The terrifying title is currently available for download from the Xbox LIVE marketplace for less than five dollars.
The game features Alan Wake, a best-selling thriller author, who has been suffering from writers block and unable to continue his latest novel. In an attempt to rekindle his mind, he and his wife, Alice, travel to the mountains for a short vacation in a desolate cabin (you already know this sounds like a bad idea). As Alan returns from a night walk in the woods (seriously, dude?), he arrives to find his wife being pulled down into the lake by an unknown force; he runs after her into the lake, only to black out - this is where the horrific adventure begins.
Check out the game trailer above and let us know what you think of the game if you already own it! If the title isn't already in your library you can purchase the game for Xbox 360 by clicking here (opens in new tab).
Enjoy your nightmares...
Source: Consumer Camp
Windows Central Newsletter
Get the best of Windows Central in your inbox, every day!
Is microsoft starting to do what steam does? Keep this up and Xbox One will be my next platform.

Thinking how Xbox one is going forward, I certainly hope that the market will transform more Steam like.

With the used game 'scenario' that has been talked about and the online system for trading in used games it certainly seems to me that Microsoft is trying to position the Xbox as the Steam of the console world, which would work just fine with me if the sales and deals that Steam has regularily come with it.

I'm thinking we may see a lot of great deals on the 360 in the coming months. Because the Xbox One is not backwards compatible, all of the current arcade and full Xbox games will not be very marketable once the new console is out. So they might as well lower the prices and sell as much of it as they can, while they can, right?

I'm holding out the slightest hope that they might find a way to credit an account with liecenses that will be re-coded to run on the new console.

I'm with ya there buddy. Fingers crossed!

Me too, all they have really said so far (AFAIK) is that 360 discs will not work in the Xbox One. Still hoping for some sort of re-licensing streaming service much like what the PS4 is reported to be getting. Or the rumoured Xbox Lite (Xbox One $100 attachment to play 360 games) would be nice, I would pay for that.

That is never going to happen

Maybe not in the way they used to but some kind of emulation maybe? Never say never!

Microsoft said it's not possable due to using a IBM powerPC CPU in the 360 and acutally using a X86 chip in the "one"

Oh, at first I haven't read "Xbox 360" and thought that it is coming for WP...

If it does, "tip" me. lol. I would love this on Windows Phone.

If it does I'd throw one hell of a party

Wonder if this has anything to do with this weeks Humble Bundle Weekly Sale.

Yea exactly what I thought. Pay $1 and get both titles on steam! Gotta live it

Does it come with the DLC also?

Yes, the one in the Humble Bundle is the Collector's Edition with soundtrack & DLC.

If they are trying to compete with the Humble bundle then they are fighting a losing battle.

I agree, but there are probably a lot of xbox gamers that are not PC gamers, and there are probably ones that are both but do not know about the Humble Bundle.

I think so - Sam Lake @ Remedy has a video on there talking about the Xbox stuff and encourages people to buy it on there as well. I picked it up on Humble Bundle this morning! I splashed out for a whole $2.20 to beat the average :P

I definitely would have picked it up from the HB if I didn't already own Alan Wake on the 360 (and have yet to finish it lol)

Oh snap only 5 bucks I might have to get it now

Not sure why I can't use MS points to purchase the game.

You should be able to. It has been awhile since I've purchased a GoD game, but I believe on the transaction screen it says "Press X to pay with Microsoft Points."

Press 'X' in the payment screen .. It will switch over to MS Points

I like the idea of having it on Xbox for dice buck, but for a dollar at the humble bundle i Can get steam codes for the collectors edition and th American nightmare.

Get this game. Get this game. Get this game.

Great deal! Too bad I like the old-school physical games :-(

This is one of the best games ever released in my opinion.

I agree with you, it was excellent but it got repetitive and I was glad to be done with it. I really hope they do some dramatic things with the next release

I agree. It is a fantastic story and setting, very atmospheric, but shining the flashlight and then shooting gets repetitive. I'd like to play it without the "bad guys" I think it would actually be better.

I thought this game was awesome but apparently I was one of a small group. At times Alan Wake is like playing inside one of the better episodes of Twlight Zone or X Files. It is original (how many games involve taking out the baddies with a flashlight? And who hasn't wanted to shoot lots of televisions?) and has an almost unrelenting sense of foreboding. My favorite bit has to be the extended battle in the outdoor amphitheater used by a pair of aging rock stars for their concerts. The storyline can be hard to follow (Why am I going into town AGAIN?) and the ending is a bit ambiguous, but it is so different and you do learn to care for poor Alan that I forgave those shortfalls.
Even better, Bright Falls is supposed to be here in Washington state. It is an amalgamation of several towns I am very familiar with.
$5 is a great price. I think I'll just take it off the shelf and put it back in the Xbox.

Don't forget the thermoses and cardboard cutouts

I got it via the Humble Bundle, and I too am loving the game. The story and gameplay is really something here. I really like how he's basically writing along with the game, hearing him describe things as a writer while I'm doing them is putting the gameplay in a new perspective.

"how many games involve taking out the baddies with a flashlight?"
Luigi's Mansion :p

Love that you guys are covering this kind of stuff.. I definitely WILL NOT be using the new filter feature...

Filter feature? perhaps I have missed that, could you explain it or point me to the article that does?

We're going to be doing more with both Microsoft and Xbox related news. More so than we've done in the past. A lot of people complained then when we would do the occasional Xbox or Windows 8 news piece since they only come here for Windows Phone news... so you can imagine those complaints once we do more with Xbox/Windows 8/Microsoft. To appease those folks we will have a filter where you can get just Windows Phone news on the site. But I highly recommend you just let us do our stuff ;)

Only one problem with this good news, I got to get stuff don I.R.L. also. If you gonna do more...boy..i can't leave WPCentral as it is for more then an hour or so. You guys have to stop being so awesome!

Oh I plan to, just wanted to know how to access this feature so I can tell those that do innevitably complain :)

Pfff... Xbox 360, that's so yesterday. Give me my XBOX ONE!!!!!!!!

Alan is having a nightmare... Ups no spoiler here move on

Check on eBay. I've seen the codes for Alan Wake and the DLC The Signal and The Writer go for as low as .99 each

I love news about deals like this. I was always interested in playing this game, now I have no reason not to.

Take your time, enjoy every second of it....its just a great story.

Bought the humble bundle. Only paid a dollar but I hope that is not wrong or anything. Already blew my gaming budget this month on that steam borderlands sale.

Didn't know what that was the humble bundle. After reading these comments went to the site and bought both games.

This bundle concept is great. In fact, it is better than steam sale.

Great game. I already own it but i recommend to anyone. It's a nice story from Remedy.

I was just planning on replaying this game. I have the collectors edition which has a great documentary on the making of the game.
This was truly an underrated game. There is nothing quite like it.

The collectors edition gives you free avatar gear when you put the disc in. Avatar gear also transfers to the new Xbox

Yeah, for some reason the avatar gear never unlocked for me. Not sure why.
It also has dashboard themes and gamerpics.

Aaaargh, I want collectors edition, lucky you. :'(

You can get it on Amazon for about $80

I already had the game .. Bought Signal & Writer :D

Not feeling any nighmare ..by reading the news lol.

Verdict: BUY THIS GAME NOW!

Humble Bundle selling at 1USD.

I already had the game along with the DLC and American Nightmare on the 360 . I still ended up buying the Humble Bundle for $5 (:

Alan Wake is the best game ever made! Thank you for reading. :D

OMG may favorite game!!!!!

More than worth it for $5. Great game!

Bought it last night. Damn you awareness. :P

I don't know if I will play it since I don't really like horror films.

Love this game; easily in my top 10 games of all time. I will be buying a new sound system just for the next game's arrival.

If you've never seen the awesome, 30-minute long machinima for Alan Wake called "Bright Falls", definitely check it out!
http://youtu.be/boyGPvfA5B4

This was the one game I've ever played where my friends would sit in my dark room and watch me fight the forces of darkness each week. We played the game by episodes each week. They absolutely loved it! The first time the possessed tractor is introduced, one of my female friends literally fell off her seat in fright. Awesome!