Alienware refreshes X51 desktop and laptops, launches new 27-inch monitors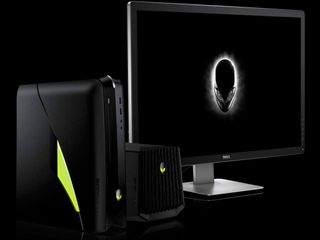 Dell is once again making some changes to its lineup of gaming PCs it sells under the Alienware brand. That includes new hardware inside its small X51 desktop PC and its Alienware laptops. Dell is also launching two new monitors, one with a curved display and the other with NVIDIA's G-Sync Gen II technology.
The Alienware X51 desktop, which is about the size and shape of a game console, is getting a bunch of new hardware upgrades and features. Dell stated:
In addition, the Alienware 13, 15 and 17 laptops are all getting hardware refreshes, which include USB Type-C ports, and support for the Alienware Graphics Amplifier. Dell is also bringing back the massive Alienware 18 notebook, with an 18-inch display and support for both CPU overclocking and dual GPUs. All of the Alienware PCs are on sale now.
The Dell 27 Gaming Monitor is launching on October 20 for $799.99. Dell says:
Finally, the Dell 27 Curved Monitor will be available on Sept.15 for $399.99. Dell says:
Source: Dell, Direct2Dell (opens in new tab)
Windows Central Newsletter
Get the best of Windows Central in in your inbox, every day!
Desktop is costly, specs are ok

I'd still get it over Apple's curved one. Though they both look nice. Tower size is really shrinking.

I want some new cool design, not the same boring box. Like apple mac pro desktop series.

"The Dell 27 Gaming Monitor is launching on October 20 for $799.99. Dell says" Is it an IPS or TN Monitor?

That's what I'm wondering! The price seems consistent with an IPS I hope it's IPS, I'd replace my current Dell IPS with it for sure!

I believe it's ips. I have a 34" lg and a Dell 24 needing an upgrade. This looks good. That alienware 18 - have an msi gt80 titan, but that and the amplifier... Hmmmm.... Early birthday present I think lol

1s gtg, so most likely TN.

Had the monitor for AMD Freesync instead of Nvidia tech I'd have likely picked one of these up. Guess I'll be looking at LG or Acer.

Asus ROG is way better and way cheaper

How do you know it's better? This one hasn't been released yet.

You're right but I had them both and ROG is way way better

Anyone know what "G-sync Gen II" is? (in comparison to G-sync)

It would have been nice to mention those are 1440p (2560x1440) monitors. I know this website is *mostly* console-centric when it comes to gaming, but that doesn't mean we can't acknowledge resolutions above 1080p exist and are becoming an affordable option for PC gaming.

So many people are stating that gsync is dead, now that Intel supports freesync. So amd lost with mantle and NVIDIA lost with gsync. Or so people say. Plus the ridiculous mark up for gsync monitors is horrendous imo. That keeps me away from buying any gsync even if I do own an NVIDIA card currently.

Sign me in for the curved monitor, I want to see Quad HD videos at native resolution, not ready for 4K yet since my laptop only supports HDMI 1.4 and does not have displayPort, so it gets 4K at 30Hz, but QuadHD 1440p at 60hz is what I want for my movies and videos going forward.

I rather like the curve $399 isn't bad back in 06 I bought a gateway 24 for the same money still going strong

Dell bought alienware and thrashed it... Posted via the Windows Central App for Android

When is it coming to Australia?
Windows Central Newsletter
Thank you for signing up to Windows Central. You will receive a verification email shortly.
There was a problem. Please refresh the page and try again.