All legendary weapons in Borderlands 3 (Updated, April 3 2020)
Need to find out if you're missing one of these coveted pieces of gear? Look no further.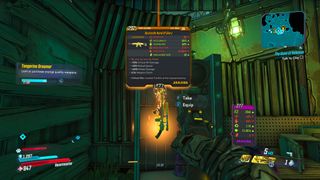 (Image credit: Windows Central)
Gearbox touts that Borderlands 3 contains "one billion guns," but that number is heavily skewed when you factor in minor stat changes. Despite this, the number of weapons is immense. Legendary weapons are some of the most coveted gear in the game because of their power and unique abilities that aren't found on any other weapon.
Here's a complete list of all legendary weapons and gear found so far in Borderlands 3. Because prefixes may vary on weapons, we've tried to narrow these down to the base names.
Note: This list is a work-in-progress as more players discover new legendary weapons and which manufacturer they are from. We'll continually add to it and ensure that it is up to date. We've included the legendary drops from the Moxxi's Heist of the Handsome Jackpot DLC. We also recently added the legendary drops from the Guns, Love and Tentacles DLC.
Welcome back
Prepare for the fight of the galaxy

Borderlands 3 promises a ton of action and mayhem. Pick your new favorite Vault Hunter and get ready to save the worlds. No pressure or anything. Oh, and watch out for the wildlife.
Assault Rifles
Hand of Glory (Jakobs)
Gatling Gun (Jakobs)
Lead Sprinkler (Jakobs)
Rowan's Call (Jakobs)
Deadeye Bekah (Jakobs)
Try-Bolt (Torgue)
Bearcat (Torgue)
Laser-Sploder (Torgue)
Alchemist (Torgue)
Warlord (Dahl)
Star Helix (Dahl)
Breath of the Dying (Dahl)
Kaos (Dahl)
Barrage (Dahl)
Damned (Vladof)
Shredifier (Vladof)
Ogre (Vladof)
Sickle (Vladof)
Faisor (Vladof)
The Dictator (Vladof)
Lucian's Call (Vladof)
Sawbar (COV)
Pain is Power (COV)
Embrace the Pain (COV)
Carrier (Atlas)
Rebel Yell (Atlas)
Soulrender (Dahl)
Clairvoyance (Jakobs)
Mutant (Jakobs)
Seeryul Killer (COV)
Soulrender (Dahl)
Stauors' Burn (COV)
SMGs
Ripper (Dahl)
Night Hawkin (Dahl)
Vanquisher (Dahl)
Sleeping Giant (Dahl)
Hellfire (Dahl)
Cloud Kill (Maliwan)
Westergun (Maliwan)
Mocking Cutsman (Maliwan)
Vault Hero (Maliwan)
Devoted (Maliwan)
Tsunami (Maliwan)
Destructo Spinner (Maliwan)
Ten Gallon (Tediore)
Smart-Gun-XXL (Tediore)
Long Musket (Tediore)
Bitch (Hyperion)
Crossroad (Hyperion)
Handsome Jackhammer (Hyperion)
Predatory Lending (Hyperion)
Hyperfocus XZ41 (Hyperion)
Dauntless Chaos
The Boomer (Dahl)
Ion Laser (Maliwan)
Cheap Tips (Hyperion)
Ember's Purge (Maliwan)
Oldridian (Hyperion)
SF Force (Maliwan)
Pistols
Wagon Wheel (Jakobs)
Amazing Grace (Jakobs)
Maggie (Jakobs)
The Flood (Jakobs)
The Companion (Jakobs)
Unforgiven (Jakobs)
The Duc (Jakobs)
Queen's Call (Jakobs)
King's Call (Jakobs)
Breeder (Torgue)
Roisen's Thorns (Torgue)
Occultist (Torgue)
Devastator (Torgue)
Devils Foursum (Torgue)
Girth Blaster Elite (Torgue)
Echo (Torgue)
Hornet (Dahl)
AAA (Dahl)
Night Flyer (Dahl)
9-Volt (Dahl)
Nemesis (Dahl)
Magnificent (Vladof)
Infinity (Vladof)
Sellout (Maliwan)
Superball (Maliwan)
Hellshock (Maliwan)
Thunderball Fists (Maliwan)
Hyper-Hydrator (Maliwan)
Linc (Atlas)
Gunerang XL (Tediore)
Bangarang XL (Tediore)
Baby Maker (Tediore)
SkekSil (COV)
Pestilence (COV)
Psycho Stabber (COV)
Moar Linoge (COV)
Legion (COV)
Scorpio XL
Lucky 7 (Jakobs)
Craps (Torgue)
Scoville (Torgue)
Frozen Devil (Maliwan)
Hydrafrost (COV)
Little Yeeti (Jakobs)
Love Drill (Jakobs)
Seventh Sense (Jakobs)
Snipers
Monocle (Jakobs)
Headsplosion (Jakobs)
Lyuda (Vladof)
Malak's Bane (Dahl)
ASMD (Maliwan)
Storm (Maliwan)
Firestorm (Maliwan)
Krakatoa (Maliwan)
Woodblocker (Hyperion)
Crossbow (Hyperion)
Stalker (Bloody Harvest event)
AutoAime (Dahl)
Skullsmasher (Jakobs)
Unseen Threat (Jakobs)
Shotguns
T.K's Wave (Jakobs)
Nimble Jack (Jakobs)
Hellwalker (Jakobs)
One Pump Chump (Jakobs)
The Garcia (Jakobs)
The Tidal Wave (Jakobs)
The Brainstormer (Hyperion)
Phebert (Hyperion)
The Butcher (Hyperion)
Conference Call (Hyperion)
Face-puncher (Hyperion)
Polybius (Tediore)
The Horizon (Tediore)
Creeping Death (Tediore)
The Boring Gun (Torgue)
Flakker (Torgue)
The Lob (Torgue)
Trevonator (Maliwan)
Mind-Killer (Maliwan)
Kill O' The Wisp (Maliwan)
Recursion (Maliwan)
Redline (Torgue)
Fearmonger (Bloody Harvest event)
Heartbreaker (Hyperion)
Slow Hand (Hyperion)
Anarchy (Tediore)
Flama Diddle (Tediore)
Nothingness (Maliwan)
Shocker (Torgue)
Heavy weapons
Tunguska (Torgue)
Quadomizer (Torgue)
Scourge (Torgue)
Hive (Torgue)
Jericho (Vladof)
Mongol (Vladof)
Ruby's Wrath (Atlas)
Freeman (Atlas)
Eridian Fabricator (Eridian)
Creamer (Torgue)
Nukem (Torgue)
Ion Cannon (Vladof)
Grenade Mods
Surge (Torgue)
Ultraball (Torgue)
Tina's Hippity Hopper (Torgue)
Tran-fusion Longbow (Hyperion)
Firestorm (Hyperion)
EMP (Hyperion)
Nagata (Hyperion)
Nog Potion #9 (Vladof)
Epicenter (Vladof)
Red Queen (Vladof)
Diamond Butt Bomb (Vladof)
Widowmaker (Vladof)
Storm Front (Tediore)
Moxxi's Bouncing Pair (Pangolin)
Quasar (Atlas)
Chupa's Organ (Atlas)
Hex (Atlas)
Tran-fusion Tracker (Atlas)
Hunter-Seeker (Tediore)
Cheddar Shredder (Tediore)
Fastball (Tediore)
It's Piss
Ghast Call (Bloody Harvest event)
Shields
Red Suit (Pangolin)
Black Hole (Pangolin)
Shooting Star (Pangolin)
Big Boom Blaster (Pangolin)
Impaler (Pangolin)
Stop-Gap (Hyperion)
The Transformer (Hyperion)
Rectifier (Hyperion)
Front Loader (Hyperion)
Ward (Hyperion)
Re-Charger (Hyperion)
Nova Berner (Anshin)
Re-Router (Anshin)
Red Card (Anshin)
Rough Rider (Anshin)
Back Ham (Anshin)
Whiskey Tango Foxtrot (Anshin)
Frozen Heart (Anshin)
Deluxe Badass Combuster
Messy Breakup
Band of Sytorak
Scream of Terror (Bloody Harvest event)
Rico
Old God (Hyperion)
Torch (Pangolin)
Void Rift (Pangolin)
Artifacts
Launch Pad (Eridian)
Splatter Gun (Eridian)
Projector Deathless (Eridian)
Safeguard (Eridian)
Grave (Eridian)
Moxxi's Endowment (Eridian)
Pull Out Method (Eridian)
Victory Rush (Eridian)
Otto Idol (Eridian)
Loaded Dice (Eridian)
Static Charge (Eridian)
White Elephant (Eridian)
Rocket Boots (Eridian)
Commander Planetoid (Eridian)
Cosmic Crater (Eridian)
Unleash the Dragon (Eridian)
Electric Banjo (Eridian)
Phoenix Tears (Eridian)
The Pearl of Ineffable Knowledge (Eridian)
Class Mods
Rakk Commander (FL4K)
Cosmic Stalker (FL4K)
Friend-Bot (FL4K)
DE4DEYE (FL4K)
Bear Trooper (Moze)
Blast Master (Moze)
Rocketeer (Moze)
Nimbus (Amara)
Phasezerker (Amara)
Shockerator (Zane)
Executor (Zane)
Cold Warrior (Zane)
Vestigial Dragon
Green Monster (Moze)
St4ckbot (FL4K)
Golden Rule (Amara)
Seein' Dead (Zane)
Stone (Amara)
Tr4iner (FL4K)
Fleek Sapper (Moze)
Conductor (Zane)
Welcome back
Prepare for the fight of the galaxy

Borderlands 3 promises a ton of action and mayhem. Pick your new favorite Vault Hunter and get ready to save the worlds. No pressure or anything. Oh, and watch out for the wildlife.
Shoot and Loot
Borderlands 3 Season Pass
Expand your adventures

The Season Pass for Borderlands 3 adds dozens of hours of new quests, worlds and enemies to blast your way through. Oh, and there's tons of new loot too. Two DLC packs have been released so far.
Get the Windows Central Newsletter
All the latest news, reviews, and guides for Windows and Xbox diehards.
Jennifer Locke has been playing video games nearly her entire life, and is very happy Xbox is growing a stronger first-party portfolio. You can find her obsessing over Star Wars and other geeky things on Twitter @JenLocke95.