Xbox One system update rolling out, along with Xbox Windows 10 app update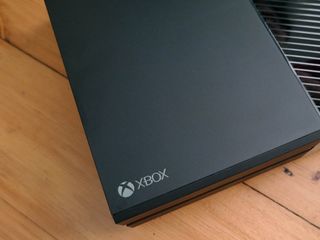 After lots of testing from Xbox Preview members, Microsoft is now rolling out a system update for all Xbox One consoles, along with an update for the Xbox app for Windows 10.
This update will incorporate lots of new features that have been available for Preview members in the past few weeks, including the ability to purchase Xbox 360 backward compatible games on the Xbox One, along with 16-person Party Chat, more options for Game DVR recording lengths, and many more.
In addition, the Major Nelson website says today's update will add even more features that were not included in Preview updates:
Xbox Elite Wireless Controller improved thumbstick precision with firmware update: We heard from fans that you wanted to see improvements to the behavior of the thumbsticks on the Xbox Elite Wireless Controller, particularly when you are moving the thumbsticks diagonally. Based on this feedback, we've created a new method to calculate the position of the thumbsticks consistently, enabling thumbstick response that is more in line with what you are expecting. This method measures and uses the distance of the thumbstick position relative to the center focus point of the thumbstick base, instead of the standard method, which calculates the measurement using a two-dimensional plane. With the latest firmware update, you can expect increased accuracy of the thumbsticks on your Xbox Elite Wireless Controller for even greater control.
Xbox Accessories app: The Xbox Accessories app on Windows 10 now includes a page displaying the current firmware version, battery status, and other details about the controller. This detailed information about the controller is already available on the app on Xbox One.
Include Party Chat in Twitch broadcasts: A top voted-for feature on Xbox Feedback and released in Preview, you can now broadcast Party Chat when using the Twitch app. If you are broadcasting from your console and in a party, you can invite other people to include their chat audio in your broadcast by enabling "Broadcast party chat" in the Twitch app settings. As mentioned in Preview, if a member of your party declines, they'll still be able to chat in the party; they just won't be heard in the broadcast. Additionally, as the party leader, you have the option to mute a party member's chat audio, even if they opted-in. You can also include party members on Windows 10 PCs in your Twitch broadcast.
The Xbox One is currently being sold with a $50 discount for all bundles from now until April 30.
See at Microsoft Store (opens in new tab)
Nice, was just think of it. Funny. BioResearch & Games.

Updating mine right now :) Posted from Windows Central for Windows 10

16 person party chat. It's obviously for large multiplayer games, but to the general consumer, wouldn't it sound excessive much?

Yep Posted via the Windows Central App for Android

I am on the preview thing and I have no idea what goes on with it except my xbox yells about an update far more often. ALSO: If you want an invite to the insider stuff, reply here with your xbox live name. They are still allowing me to invite people

Go to the xbox preview dashboard app. Do the quests and surveys. Report bugs you come across. If you dont care.. my advise drop out and let another in who wants to and knows what is going on... Posted via the Windows Central App for Android

I did if for the Windows 10 update. I did all the quests, bug reporting, etc. My videos wouldn't stream on it for months and I finally had to drop out after official release... I dropped out for 3 months. Then I read about a lot of cool goodies, so I re-enrolled. I have not found the cool goodies yet hehehe ... I'll invite whoever asks.

you get the "goddies" about 30 days before others. They come in phases. The first update had 2 things the next 2 more and so on. now everyone gets them. Glad you do report things but keep in mind to check the preview dashboard every week so you "know" what is happening. There is no reason for ignorance. Not when others want to get on.

Gee thanks pop. Can I have a raise in my allowence?

You are the tester who says "I have no idea" now you can know how to have an idea. Incompetence is a personal choice. Posted via the Windows Central App for Android

LOL what are you? XBox Update Police? Posted via the Windows Central App for Android

We are talking about preview testing. Not the finaly release update specifically. Posted via the Windows Central App for Android

Can you invite me? MrMakeEmAkRight

Lol I had the retail bug for 6 months off & on for the 1st 3 then no game worked guess they were to concerned with kinnect users having problems to care about the minority of us with this problem

Gamertag: dtarvoigd Thanks I really appreciate the invite

Invited. Microsoft will let you know in a week or so usually.

You and I can invite. But Microsoft from what has been said isn't accepting new aplicants.

Any way I could get an invite? Gamertag: BuckeyeCadet86
Thanks!

Invited. Microsoft will let you know in a week or so usually.

Would you be able to invite me please?
Gamer tag: stevepet23 Posted from Windows Central for Windows 10 using Lumia 950XL

my gamertag - YaroslavKa78

I would love an invite to the preview program. Gamertag: DGR874 Thanks!!

Gamertag: jjonathan313 Thank you

I would love an invite to the insider stuff! Could you please send me one? My xbox gamertag is AtomicGator Thanks!

i'd love an invite. tag: pjhenry1216

HumanTraffiking Posted from Pornhub.

I pro db17 Posted via the Windows Central App for Android

I want the previews!! Sign me in! HumaDawii is my live account Posted via the Windows Central App for Android

Please send me invite. My name is Mladen Georgiev. Even if they are not adding anymode, maybe if I have invite will be added when invitation is open again.

I would like an Xbox insider invite please. Xbox Live ID: FrodoPhil87

WeaponXL is my username. I'd greatly appreciate an invite. I really want to use the wireless display app only on insider. Thanks!

Hey bud, if you would send me an invite to the preview program I'd be sooooo appreciative. I can't find anyone else who will. My gamer tag is Dionysus502

Add me please.. dodea09.. i dont know if my gamertag is the same as my live name though

Hi tag is Buddanlou can I get an invite please

I would certainly fancy an invite. my gamertag is LoneaLfamaLe

Kind of a fail as it still locks language to region. XBox one is worse than Windows 3.0, first gen Xbox, Xbox 360 AND PS4. Microsoft, you will never be successful when you do sh...t like this to you customers.

you realize how hard it is to do languages correctly on a worldwide basis?

If only you understood how vital and important the views of Ian Superfly are to Microsoft. Crawl back to your hole peasant. /s

The thing is that Microsoft lock the xbox to the language they guess that you speek. Kind of stupied as many countries are multilanguage countries.... How come PS4 and Xbox 360 do not have to lock language to country?

Its not only that but how the Wi-Fi & white-fi(how the controller connects wirelessly) internal adapters work in said countries

Let me guess Ian your using a Microsoft computer to write your stupid thoughts?

So as I live part time in France (due to work) I must speak French? An American moving to China must speak Chineese? An English person living i Germany must speak German (when playing games...). Btw, there are 4 official languages in Switzerland, Xbox one accepts ONE language.... Someone at Microsoft should try to travel a bit more...

Btw, all of you that did vote my post down. Why do you defend Microsoft in this case? I am wrong in my critique? Are you happy with the sales performance of Xbox One? Do you think it is a good move by Microsoft to lock region and language, and by doing so, say no to a lot of potential buyers? There is a thread on their own support forum with 8000+ votes against the language lock and NO answer or even a comment from Microsoft. Meanwhile, neither Xbox 360 or PS4 does have this language lock. I think Microsoft fails in Xbox One sales (come on, no one is _really_ happy with the numbers, it is just stupid smoke screens) due to the fact that they neglect what the average user prefers and expects. Xbox one has been a failure since the launch and all mistakes Microsoft made around it. Microsoft seems to be a company where the inbreeded rednecks can vote against market analyses…

Bye bye work, home here I come. Posted from Windows Central for Windows 10

Updates are good. Posted via the Windows Central App for Android

Seriously.......Where the F is the damn Miracast app for non-insiders. I dont understand why they cant release it.

Its buggy. In edge try sharing to your xbox. Should work if edge doesnt bug out lol Posted via the Windows Central App for Android

Works fine for me with my SP3, less reliable with my 830 but Im guessing thats due to its reduced horsepower. Plus the apps hasnt been updated since it was released, thats more telling than anything else. Another abandoned app, like the DLNA media player.

I dont manully update apps. from what i know it could have been updated and i wouldn't even know.

Xbox Wireless Display (Preview) was on my Xbox One since I was in the insider before the official release, and was still there after ... try searching for it. Works good, but I prefer a hardware solution

This. The external adapters provide a much better experience. My TV is mediocre as well. Roku isn't bad, but the MS adapter seems to provide the best experience (of the hardware I have). I never use the Xbox app.

My xb1 works better then my roku stick for Miracast from my l929 & laptop equipped with intel ultimate N(windows 7) but it all depends on the latency from the router your using(almost better to be hardwired to router) my dir-857(whql certified) works okay with it but the rt-n66u I have it rarely works with roku

I'd love a Preview invite to be able to try this out, if anyone in the program is willing to send me one. GT: Intuvision Thanks!

Glad to see im not the only one.

Oh come on, what about that screen mirroring app or whaterver ;) I want it.

Haha I didnt see your post until after I made mine. i couldnt agree more. I want that app BAD.

That app has been in preview for freaking ever now. I want it, I want it, I want it ;D lol

Wireless Display (Preview) was on my Xbox One since I was in the insider before the official release, and was still there after ... try searching for it. Works good, but I prefer a hardware solution

But you're still on the preview program, right? Unless you like un-enrolled and reset your Xbox, then of course you still have it.

I was on it, unenrolled, and whatever happened next I don't know but Wireless Display (Preview) is still there.

How hard can that be to implement?! Every modern TV has it and they run on much worse hardware. It's just unbelievable that the xbox one stil can't do it. Really it's supposed to be a multimedia gaming system for the living room. "-Should we support Miracast? -No no no not a good idea."

My friend has a 60" Samsung whatever TV with everything. It's a year old. His screen sharing is built in. It lags to the point of unusability. Stuck on a Microsoft adapter for it, and its smooth as silk. So, the TV ones might suck hard.

Yeaaaahhh.. built in solutions to TVs are never a very good option. But the Xbox should definitely support it fine with its hardware.

It's a still a preview feature and from what i heard user experience has been far from optimal.

Well I think they never had it on the roadmap for xb1 til after the specs. were finalized thats there problem. Even their external 360 N adapter has a short life of 3-6 months of heavy use

I just wish they would bring the wireless display app out of preview. Im sure the Xbox One has enough power to handle it if a little HMDI stick can.

you could just go buy a microsoft wireless display device and plug it into your xbox one and then say "xbox go to tv" that that would open up ;)

I use a hdmi three way switch plugged into the hdmi passthrough (laptop, ps3 and spare for repairs). The days when i'm feeling lazy i route everything through it. And use a bluetooth mouse and keyboard to use my laptop. The switches have remotes :). When i'm repairing something i just snap the tv app. That hdmi pass through opens up alot of potential.

For sure! Posted via the Windows Central App for Android

If there 360 external N adapter & recent iterations of surface pro are any indication their choices of Wi-Fi client adapter vendors suck

I just want to play marvel vs Capcom 2 online on my Xbox one

That's a rights-issue nightmare right now. Capcom doesn't own the Marvel rights anymore, so I don't think they could approve it to be BC without Disney's so-say.

More great news! Cannot wait to use that record option! Posted via the Windows Central App for Android

The diagonal thumbstick issue was brought to light by a preview member, I was able to reproduce and confirm and now a couple months later, we seem to have a fix. Love it.

I have the Elite controller. In what context does the diagonal improvement work? I play a lot of Star Wars Battlefront. Thanks.

I wireless display (miracast) app in this update?

Is Miracast app in this update?

Updating Now!!! :D Posted via the Windows Central App for Android

Im hoping that I could delete Xbox app. I dont need it in my phone. :/ it really should be optional.

Does it allow recording of live TV now?

Was hoping that it would fix the Sign-In issues I'm having with the Xbox app but nope, nada.

Five separate people have asked about the Wireless Display App. Make that six with me! Come on Microsoft, we know you read these comments. Just release the app. At this point it seems like you will get less complaining from a laggy app than no app at all. I just want to stream from my Icon or Surface to my TV without buying extra hardware to plug into my more-than-capable hardware.


It's not bad. It's much better then my roku shtick(which sometimes would work when I was using my dir-857 unlike my rt-n66u which rarely would it work) basically unless your xb1 is hardwired to your router good luck

Think I got it the other day(preview user)

I can't get in my Xbox accessories it shows a picture of the controller and underneath it says configure and that all! What I'm supposed to do?

Good question. Start by conntacting @xboxsupport on twitter. They should asist you. :) and know whats happening Posted via the Windows Central App for Android

could someone possibly send me an invite to the preview program? GT: LONEALFAMALE
Windows Central Newsletter
Get the best of Windows Central in in your inbox, every day!
Thank you for signing up to Windows Central. You will receive a verification email shortly.
There was a problem. Please refresh the page and try again.