What the heck is an 'Always Connected PC' anyway?
Microsoft has been pushing for PCs to act like smartphones for a least a decade, regardless of what processor was inside.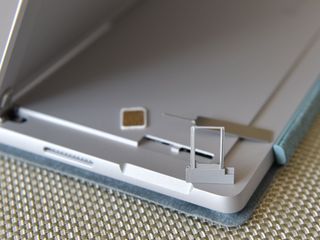 Microsoft can be accused at times of some mixed messaging or sending out the wrong impressions. Take for instance the original announcement for Windows 10 on ARM, which then faded into a new branding name called Always Connected PCs a year later in 2017.
You wouldn't be wrong to think ARM and Always Connected PCs are synonymous, but they're not. Neither is the concept behind Always Connected PCs, which goes back a very long time with Microsoft.
Always Connected goes back years
If you want to trace back some earlier stabs by Microsoft at Always Connected – here meaning able to get Skype calls in standby or receive notifications – then you can go back a decade to Windows Vista. That OS had some initial support for a feature called Windows SideShow.
SideShow is a secondary display built into a laptop's lid. It ran a mini-OS that tied into Windows Vista, and users could operate it without opening the computer. Email notifications came in, and users could also run widget-like apps, check the weather, general notifications, calendar dates and more. The idea never came to be, however, and today your smartphone is that second screen.
Starting with Windows 8 and Windows RT Microsoft introduced Connected Standby. This was a way for Intel-powered PCs to stay connected to a network even while the lid was closed. At least for a while before the PC would go to a deeper sleep state to save battery.
Microsoft referred (opens in new tab) to this as a "smartphone power model on the PC." For tech geeks, this is referred to as "S0 low power idle".
In Windows 8.1 this feature was renamed to InstantGo with some improvements. Microsoft defined the function back in 2014:
InstantGo then evolved into Modern Standby (opens in new tab) for Windows 10 in 2017.
Always Connected PC is yet another iteration on the theme, but adds support for embedded SIMS (eSIM), Windows 10 on ARM, and next-gen networking support with better OS hand-offs.
If there is a common thread here, it is Microsoft trying to make desktop Windows for laptops more smartphone-like with a low-power standby mode. The feature has always included Intel processors and has always been a combination of hardware and software. Without the right chipset, BIOS, and OS a PC cannot support Modern Standby.
How to check for Modern Standby
If you buy a laptop with an LTE modem (later than 2017), it likely supports the S0 low-power connected state. Some other PCs have it too, and no, it cannot be disabled. Here is how to check for the feature:
Type CMD in the Windows 10 search bar.
At the command prompt type powercfg /a and hit enter.
The list of sleep states is presented.
A laptop with Modern Standby (or Always Connected) lists Standby (S0 Low Power Idle) Network Connected. If not, the standard Standby (S3), Hibernate, Hybrid Sleep and Fast Startup may be listed instead.
If you want to know more about supported power states in Windows 10, Microsoft has an excellent guide on how it all works and the differences between levels (opens in new tab)
Always Connected includes Intel and AMD too
In May 2017, Intel joined the Always-Connected PC fray by announcing support for eSIM in its XMMTM 7260 and XMM 7360 laptop modems. The announcement was significant because having Intel a part of Microsoft's "connected PC vision" is crucial to its success.
Intel now runs a dedicated page to Always Connected PCs powered by its processors.
It's not just some PCs that need to support this vision but all regardless of processor architecture.
To that end in December 2017 at WinHEC Qualcomm announced a new partnership with AMD to bring its popular Snapdragon X16 (and presumably X20) LTE modems to the Ryzen line of mobile CPUs.
This move by AMD and Qualcomm is rightly seen as two companies teaming up against Intel who has its own processor, graphics, and LTE modems.
Keep in mind, Intel and AMD joining the Always-Connected PC initiative happened nearly six months before the first Windows 10 on ARM devices became available for consumer purchase. For Intel it was over a year ago. These announcements were not reactions but proactive decisions.
For Microsoft, the idea behind Always Connected PCs was never about one processor architecture, but preferably including all its partners including AMD, Lenovo, HP, ASUS, Intel, Qualcomm, Huawei, VAIO, and Xiaomi in the initiative. The more partners it has, the higher the chances for success.
Windows 10 on ARM received the most attention, but it is merely just another prong in the Always Connected PC strategy. It always has been.
So what is Always Connected and why?
At this point, you would be forgiven for being slightly confused. Microsoft has a long history of trying to make laptops and PCs behave more like smartphones. Much of that problem falls on Intel as its processors are just not nearly as optimized for mobile usage as Qualcomm. Microsoft has also been doing a lot to make Windows 10 simply smarter and better at resuming, standing by, and being, well, always connected.
For now, Always Connected merely means a modern Windows 10 device that also supports eSIM and LTE - whether its running ARM or x86 (or AMD instead of Intel) is beside the point.
That's not to say there aren't differences. ARM processors are often cheaper than ones from Intel and have unique features such as
1.5x better battery life.
Better thermals, lower heat output.
100% always instant on and always connected like a smartphone.
Smaller footprint and components.
Faster data connections.
For its part, Intel has one advantage over ARM for now, which is running native Win32 apps at maximum performance versus an emulation layer.
As to why this connected category exists, I encourage you to read a 2017 white-paper Microsoft wrote on its vision of the future of computing — especially for the workplace around 4G and 5G LTE:
In this paper Microsoft cites the dropping costs of 4G LTE networks, the advent of private LTE networks for companies, the rise of the Internet of Things (IoT), the security risks with Wi-Fi, and modern, nomadic workers all converging around the need for this PC technology.
This discussion leads to the consumer versus enterprise debate, but Microsoft does not see that divide so clearly. For Microsoft, users are merely endpoints, and its goal is to make Windows as flexible and productive as possible whether you are at home, on the train, in a hotel, in school, or at the office.
Diminishing the difference between consumers and business users isn't just posturing either. Yusuf Mehdi is now corporate vice president, Modern Life & Devices at Microsoft (opens in new tab). That name shift from Windows 10 devices to "Modern Life & Devices" is telling and ties nicely into that vision paper from 2017.
We'll see Microsoft push this idea of modern life and technology going forward especially with the new Surface Go.
In the end, Always Connected PCs are just another evolution of an old idea for a new modern era. Whether it's Intel, AMD, or Qualcomm the point is to have a PC powered by Windows 10 that you can use anywhere and anytime you need to do work.
Windows Central Newsletter
Get the best of Windows Central in in your inbox, every day!
Daniel Rubino is the Editor-in-chief of Windows Central, head reviewer, podcast co-host, and analyst. He has been covering Microsoft since 2007 when this site was called WMExperts (and later Windows Phone Central). His interests include Windows, laptops, next-gen computing, and for some reason, watches. Before all this tech stuff, he worked on a Ph.D. in linguistics, watched people sleep (for medical purposes!), and ran the projectors at movie theaters because it was fun.
So the most compelling use case for connected standby (besides NSA/CIA having access to powered hardware for spying) is still "so you get email while you are not looking at it"? Or forgo all the bugs and battery drain and get email 3 seconds after the PC is back awake..

LTE is much more secure than open Wi-Fi spots, so your NSA/CIA insanity betrays the bigger issue of rogue hackers, which are FAR more likely to be attacking your network or lifting passwords (I checked, you're not a super spy dissident being targeted by the CIA, you can remove the tin-foil hat now). And no, it's more than just email. Skype too, OneDrive, and companies that push their entire networks to the cloud will need PCs and devices on the edge of the cloud, and always connected. Wi-Fi is expensive to roll-out, maintain, has worse security (router hacks are simple; sniffing traffic on a WiFi network is easier than a cell network; this is all hacking 101), and is not nearly as efficient as a private LTE network. You could take the time to read all of this including documentation, data sets, and charts, or you could continue to worry about the government. Of course, none of this is forced on anyone, it's a choice driven by economics and business needs. I also hope you are just as paranoid about your cell phone for consistency.

While Gunbust3r's comments may be paranoid, the bugs associated with CS/InstantGo/ModernStandby are indeed annoying. I can't tell you how many times I've returned to my Surface Pro 3 or Surface Book with the battery almost drained even though it was supposed to be "asleep". Add to the fact that they're using the awful Avastar WiFi module, and it's a recipe for a terrible user experience. Unfortunately, Connected Standby is forced on people with Surface devices - can you actually turn off S0ix and revert to S3 standby?

Oh no doubt there are issues with it, although I think it's safe to say that it has gotten much better on later hardware. Much of this is on Intel and architecture issues. There are no problems with Qualcomm/ARM in this regard because it's built for this task. I can't speak for everyone, but at least on 7th and 8th gen systems as of today I don't see sleep/resume issues like say when Surface Book first debuted. Skylake had major problems in this regard (we wrote a lot about that at the time). Part of this is also on the open nature of PC where users can install hacks, apps, or modify settings that can alter or impact this sleep behavior. This is where pro-ARM and Windows 10 S arguments start to have an impact.

Yup, I agree a lot of is on Intel - the Surface engineers I spoke to at various BUILD conferences over the years seemed to indicate as much. However, no matter whose fault it is, consumer perception is that Surface devices have "hot bag" issues, etc. I'm looking forward to the new Snapdragon devices later this year, precisely so I can (hopefully) experience CS as MSFT truly intended it to be :P

I have had the current version of the Surface Pro for well over a year and not once have I had the hot bag issue. With my Pro 1 and 3 it was a regular occurrence.

Our SP3's were more common to have the hotbag issue, my directors were constantly complaining about no battery. Since the switch to SP4 and driver updates to the 3s, it has become much less of an issue in our department.

"And no, it's more than just email. Skype too, OneDrive, and companies that push their entire networks to the cloud will need PCs and devices on the edge of the cloud, and always connected." Skype: It's on your phone device, don't need it waking me up in two places (if it works at all) OneDrive: Same as email, show me the use case where the advantage of my device sending or slurping data while sleeping outweighs waiting 4 seconds to sync when the device is at full power with me in front of it? PC, cloud, buzzword always connected: Show me the use case where my company needs to do something to my PC that beats doing it fast right after device wake up. I understand the advantages of LTE over WiFi but most of your article talks about connected standby/SO/InstantGo.

If you work for yourself and don't rely on an enterprise to facilitate your work life, then you are correct. Turn off your computer. Then when you are ready to work again, turn your computer back on. However, if you work for a company and you are out in the field, I would imagine your company's IT department, Finance Department, and Marketing department would want to interact with your computer. We need to publish new price sheets. We need to collect sales data. we need to update software. All these things cannot be done when you choose to turn on your computer.

You can tether, use it as a long lasting, light weight pocket wifi. Useful for travel and business trip.

Tethering is an option for small Companies, but the work load for IT support and the headache of tracking 2 devices will increase with company growth. KISS is my moto when growth comes I to play.

You left out Corporations who do have the NSA/CIA beat at their own game...

If indeed, Always Connected merely means a modern Windows 10 device that also supports eSIM and LTE, it is unfortunate that Surface Go didn't ship that way. Not everyone needs it of course, but having the option at launch, would have sent a message that this on-the-go device really is intended for that.

I think you touch on the utility around connected devices. Is always connected required? How should it connect? Wifi or LTE? For most people, always connected in not required. I am always connected at my home via wifi. I am always connected at work thought my surface dock. Occasionally I use my 950 as a mobile hotspot. So a Go with wifi is sufficient for me. However, I suspect I will use the Go as a travel device. Having eSIM and LTE would be more important to me, which is why I will wait before I think of buying one. But for a wifi enterprise network (a school - a retail store - an office environment) the Go with wifi is sufficient and cheaper to buy. But once your business gets comfortable using the Go in the office and gets the digital info process working, then they might extend the Go to their mobile workforce. A three to 6-month delay in releasing an LTE Go won't mean much 3 years down the road when Surface Go 2 is released. We are all assuming the Go form factor is the preferred size for the truly mobile workforce (think of a sales associate at a retail establishment. They walk around with a Go to complete the sale (you have to sign a document/service agreement).

"If you buy a laptop with an LTE modem, it automatically supports the S0 low-power connected state" seems to be wrong though.
Typing this on a Lenovo Miix700 LTE and S0 is listed as unsupported

Well, the Miix 700 LTE is not an Always Connected PC as it was pre-2017. Besides not supporting S0 you also don't have eSIM support. Nor does Intel list it on its Always Connected PC page. I guess I should have made clearer (as I did in other parts) this is as much hardware as it is software. You need both. I'll adjust that thanks.

What the heck is an 'Always Connected PC' anyway? One that never shuts up … err ... shuts off. If it's not connected it keeps trying to connect to stay always connected. All that goes along with that. sharing it's location, finding out what's nearby, letting them know you're near, etc. etc.

You didn't read the whole article, did you?

They are coming to get you, you better run and hide, oh wait, they can' spot your tin foil hat from space, or they can just track you with your cell phone. SMH.

Always connected means nothing. It's just a complicated name for ARM. It's the Microsoft way to make up long horrible names. Everything written in this article a phone already does.

Did you even read the article.

You may have read it, but CLEARLY, you did not understand a single word of it. It's devastatingly bad how much you missed the key takeaways, which is literally the opposite of your assertion. You can delete your comment. There's no shame.

Here let me summarize your essay into 1 sentence. Always Connected PC is a PC with eSIM/LTE, hence, it's always connected. If the only difference is that it runs on Windows, well looks like Windows users have set the bar low. "You can delete your comment. There's no shame." Why don't you delete it? You have done it before when you know someone else is right.

"It's just a complicated name for ARM" - it actually works with Intel CPUs as well. "Always Connected PC is a PC with eSIM/LTE, hence, it's always connected." - It's currently enabled on devices like the Surface Book and Surface Pro - and not all of them have cellular connectivity. 🙄

So, you admit you're wrong and that you can read for comprehension. I'm not impressed, but you get credit for correcting yourself. I expect better next time. Bring your A game.

There is a lot more to this than just having a PC with a persistent connection to the Cloud. The utility is an important word to remember. Information is not static. Information is dynamic. As people interact, information is created and influences what people do. By having the information process connected at the edge of a network, the quality of the information improves and the utility of what people do in response to new info rises. People need to stop thinking this is meaningful to there own individual wants and needs.

Some ppl just don't do that.

"Microsoft has been pushing for PCs to act like smartphones for a least a decade, regardless of what processor was inside." Then why are we having this discussion in 2018? Shouldn't it be universal and no longer a topic? Sounds like Microsoft cannot work effectively with it's partners (Intel, AMD, ARM) to get this implemented across the board. Either it doesn't really matter so Microsoft isn't focused on it or they just cannot get it done because Windows is ancient. Not sure which is worse, but it probably is time to release a new platform without all these headaches. Windows has run its course. Let it stay legacy and move on.

It's easy to make comments about PC architecture and software, isn't it? Much harder to do it. Why can't Apple add touchpad support to the iPad or touch to MacOS? Can't be that hard.

Because they chose not to. I am sure that isn't a technical issue.

Sure, or you thought you would come from lagdroid central and troll as usual.

Nope. Been using Microsoft/Windows since '95. Harder and harder to do these days. I would like to see Microsoft step it up. I think they became complacent after years of minimal competition. They aren't used to having strong competition.

I agree with this. I think this is about marketing decisions. The touchpad/mouse implementation on Android goes way back. BTW, what's a computer? :-D

Thank God I didn't read the comments by bleached.

His comments are filled with terrible logic and whataboutisms. I should look into a 'mute' option for users, seems only fair.

Apple does not lead technological innovation. They believe in incremental innovation. There is a reason OSX and iOS don't share the same user interface technology. Why did Apple introduce the stupid touch bar? Why didn't they integrate touch on the screen? Because there is a significant roadblock to OSX preventing a simple touchscreen interface. Could Apple solve it? Sure, but the cost is prohibitive. This is similar to MSFT abandoning Windows Phone. Sure they could have plowed more money into W10M. But they could plow less money into iOS and Android to port all MSFT services into these ecosystems, which they would have to do in any case. No matter what W10M became, it would always command an insignificant market share. Thus MSFT would have to plow money into iOS and Android. So you abandon the least productive line of technology development. What I mean by the least productivity is you can spend $1 on technology development to generate less than $1 in revenue. MSFT is focused on allowing information to be processed as close to its origination as possible. Thus they want Windows to allow as many possible interactions, touch, keyboard, mouse, voice, pen, etc. in as many form factors as possible. iOS not so much

The new GDPR policy will slow down the transition to cloud based networking imo. As the nature of a decentralised network is that data is accessible anywhere at any time. So therefore data redundancy is key, but it also means ensuring all traces of data that is requested to be deleted is very difficult to ensure and enforce. GDPR is a new regulation of sorts passed by the EU to safe guard personal data, it brings the data protection act to the modern age. It forces companies to detail what they use the data for, how long they can it for, that they must have clear opt out policies and if a deletion request is made - all data held on a person is deleted. It also states that individuals have a right to privacy in the public domain. Since it pertains to personal data and therein is the question what is personal data?
The standard definition is what can identify an individual. Which is rather broad in scope, as you have the ip addresses of devices used, key strokes and social habits etc. Which is a good thing as it safe guards people from having their personal data misused (especially when you consider China is trialing a system where your personal data can effectively dictate your social standing). But with the decentralised nature of cloud based networking, how do you ensure all your data held by a company is deleted when a deletion request is made?

Microsoft is and has been on GDPR including enabling it for non-EU markets:

"Microsoft has extensive expertise in protecting data, championing privacy, and complying with complex regulations, and currently complies with both EU-U.S. Privacy Shield and EU Model Clauses. We believe that the GDPR is an important step forward for clarifying and enabling individual privacy rights. We want to help you focus on your core business while efficiently preparing for the GDPR." "We are committed to GDPR compliance across our cloud services and provide GDPR related assurances in our contractual commitments."

Even Windows 10 connection endpoints comply with GDPR.

I was nosing around my Office 365 admin page. I noticed a toggle labeled "litigation". There is a reason Azure, Office 365, Microsoft 365, and such services provided by MSFT are growing and making lots of money. The team at MSFT has legal, engineering, finance, and marketing pros. They know how to comply with regulations and keep companies protected.

Oh look, the tin foil hat group and the lagdroid and apple trolls are out and about as usual.

Why did they engineer a solution in search of a problem? You dont put in a ton of development, engineering, and fight hot bag and WiFi bugs with 10 derpy firmware/driver updates in a row because the benefit statement was "user will get email while the machine is in deep sleep, and skype will go bloop bloop in your backpack" (as opposed to user will wake machine and get email in 5 seconds)

We have a short, convenient name for "always connected personal computer". It's called a "phone". That MS is still trying to "make Windows more like a smartphone" is beyond irrational. That square peg is never going to fit that round hole. While we are at it, let's spend 10 years trying to make TV more like a toaster oven. Hey Microsoft. I have a radical idea. Just make a GD toaster oven. The TVs we have now are just fine.

Use "I" instead of "we'. Reads more honestly, unless you're a representative of some group (but I know you're not). It's easy to throw darts, harder to come up with viable solutions. Maybe someday I'll read about how "naddy6969" turned around computing for the better, but it's really up to you to make that happen. Also, if you can do your job from your smartphone...gawd bless ya, you hit the jackpot. Huge thumbs up! The rest of the workforce though will have to go back to writing, analysis, compiling data, and making the world run. For that a PC is needed.

And exactly what group do YOU represent? The entire workforce of the planet? Hire an Uber ride. Rent a bicycle at the beach and pay with a credit card. Buy lunch from a food truck. No Windows in sight. People doing their jobs using phones or iPads. Maybe someday I'll read about how "Windows central" turned around computing for the better. But as long as you have PC myopia, Windows is all you will see. A phone IS an "always connected PC". That it is not running Windows has no bearing on anything, other than it is faster while using less hardware than Windows ever will be.

A phone can never be PC..

And all of that things you listed i can do that in windows pc via dedicated apps or web. So your comment doesn't make any sense.

Folks I think the coming Qualcomm Snapdragon 1000 ARMs CPU is the chip
that will make ARMS devices work very well because it will run x86 emulation
software so fast you wont know the difference between running win32
programs on in Intel CPU device or an ARMs CPU device but will ARMs
CPU devices really be cheaper to buy. Right now the are not that cheap.
if this continues Intel devices will continue to be a good buy especially
because they work so well with the huge x86 Win32 Program ECO System.

Only if I don't have to pay for another line. I can use my phone as a hotspot. If I have to buy another line. screw it!!

I think that is the goal of eSIM and MSFT store allowing you to buy data by the block. I would assume MSFT could also lease space from carrier networks to allow your eSIM, LTE Go to access the cell networks. How you pay for this access could be pay-as-you-go or a monthly subscription. At some point, accessing the cellular/wireless networks will be so cheap that your cost will be focused more on the services you buy. Why couldn't MSFT include 1 GB of data per month with your LTE Go and office 365 subscription? Once you exceed 1 GB in a month, you pay $10 for each additional GB. Make up any number you want and test the market. Pretty soon you will understand the price elasticity of data versus services.

I think Roscojim's point is the added cost of having both a phone (fits in your pocket device) and an always connected laptop means that you pay your carrier for TWO connected SIMs. If MS wants to foot the bill for the 2nd connected SIM (which I seriously doubt would happen), then I'm in. Otherwise, I'll tether my Surface Pro to my phone and hit the road. I get all my Skype and eMail notifications on my phone. If I need to pull budget from MS Project Online to reply to a colleague, I'll stop the car and fire up my tethered SP. The big barrier here is the cost of more connectedness. I don't know about other countries, but in the US, carriers are still metering data and charging premium prices. Using your $10/per addt'l GB model, ddn123, I could easily owe an extra $30-50 per month. And that's before I fire up streaming entertainment.

Do you think Uber is a simple line of code in your phone? Do you think all the software Uber deploys to process info to match the driver to the rider is all done on a smartphone? Some, sure. But most is done in the cloud, a complex set of software and hardware working in unison with lots of interactions from human beings. This is a reply to naddy6969

Daniel - you are right that it is not a new concept. Cellular modems have been available for laptops for a long time. Some Enterprise accounts will pay for them but no individuals will. The take rate for activations will be less than 10%. Especially if it is draining your battery all the time. No one at my company needs access to files on my laptop. Anything I edit that needs to be shared is shared already via Salesforce, NetSuite, Oracle, Hubspot, Expensify etc etc etc...... The real question is what is the cost adder and who is going to eat that cost? The PC makers won't unless subsidized by carriers who have been burned by this in the past.
Windows Central Newsletter
Thank you for signing up to Windows Central. You will receive a verification email shortly.
There was a problem. Please refresh the page and try again.