Amazed, a mobile Windows Phone game in every sense of the word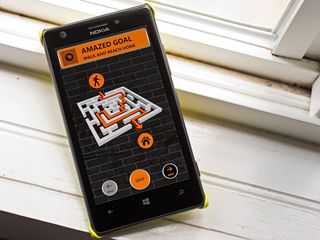 Amazed is a Windows Phone game for those who like a little action in their games - action in the literal sense of the word.
Amazed is a virtual maze that requires you to physically walk your way out of it. The game uses your Windows Phone GPS to plot your location in the maze and you walk around as needed to escape the maze and avoid various pitfalls. As you would guess, this isn't a game to be played from the couch or the living room for that matter. You'll need a large space to accommodate all the twists and turns the maze will present. There is a time element involved so don't be surprised if you work up a sweat while escaping the maze.
While not available for low-memory Windows Phones, Amazed has the potential to be an entertaining fitness game for your Windows Phone. The game reminds me of Zombies Run! but without story line. I like the concept but there is a few performance issues present that need to be ironed out to let the game shine brighter.
Getting you up off the couch
Once you get past the warning message (appears every time you launch Amazed) the game will walk you through a series of tutorial screens (again, launches every time you run the game).
You can skip through all this fairly quickly but you need to endure the tutorial at least once. After which, you will be whisked away to Amazed's main menu with options to choose your gaming level (easy, medium and hard), access the game's settings, view the About screen, rate the game and send feedback to the developer.
Amazed's settings cover turning on/off your location services, sound effects or background music. Amazed offers twenty options for the game's background music that ranges from tranquil water to mystery bass to oriental palace. The background music gives the game a bit of a relaxation feel to it.
Each difficulty has 100 mazes to escape from with each having an assortment of dangers, badges and trinkets to avoid or help you escape the maze.
Prior to game play, your Windows Phone will have to acquire a solid GPS signal. Once your GPS is locked in, you may have to wave your Windows Phone around to calibrate the compass.
Game Play
To make the most of things, you really need a wide-open space to play Amazed. It works best in a park, the beach, a football field, open pasture, etc. where you can walk all over the place without much restriction. It's not a game for sidewalk walking or you may drift off into traffic and even when played in a park or beach, you'll need to be careful and not walk into a tree or the ocean.
The game screen will display your maze with your position marked with the green arrow. A timer is at the bottom of the screen along with a wall guide and access to Amazed's Store. At the top of the screen, you will find your gaming lives, a status indicator and your distance walked.
The center indicator at the top of the screen will show a maze when everything is in order and warns you when you have drifted off the maze's grid. The game's store has options to buy extra lives, bomb disarming credits and a key finder (helps you find hidden keys used to open walls.
Speaking of which, there are two types of walls with Amazed. You have the traditional maze walls and you have walls that block your path or access to the home icon. You will need to find keys that are hidden throughout the maze to unlock or remove these type walls.
As you would guess, you need to walk around to move your green arrow and navigate through the maze to get to the exit or 'home' icon. You'll need to avoid mines and find keys to unlock the walls that are blocking your way. Hit a mine and you lose a life and without a key, the walls won't come down.
Overall Impression
Amazed is an interesting Windows Phone game. The Windows Phone 8 game should be an attractive option for those looking for a more active gaming experience. While I liked the game's concept, there were a few issues with its performance.
Most of the issues surrounded GPS issues. For example, I had mixed reactions with the GPS performance. My Lumia 1020 locked in on a signal quickly while the Lumia 925 struggled. While I could get a GPS lock with the Lumia 1020, I would lose it with regularity during game play.
I don't know if this could be considered a performance issue or just something to keep in mind but you really need a wide-open area to play Amazed. Parks are a good option but they could be a challenge because of the trees, water fountains, jungle gyms and other structures that can get in your way. I played Amazed in my neighborhood, kept wandering out in the street. The best place I could find was the neighborhood soccer field.
Overall, Amazed is an interesting game and can double as a fitness app. You can end up walking a good bit as you complete the mazes. For that reason we'll add Amazed to our list of MobileFit apps. Just keep in mind that you may get odd looks though from the casual observer as you running around with no apparent rhyme or reason.
Amazed is not supported by low-memory devices.
Windows Central Newsletter
Get the best of Windows Central in in your inbox, every day!
George is the Reviews Editor at Windows Central, concentrating on Windows 10 PC and Mobile apps. He's been a supporter of the platform since the days of Windows CE and uses his current Windows 10 Mobile phone daily to keep up with life and enjoy a game during down time.
Downloaded it... (Off-topic)Still waiting for the bbm news from you

Same here... Though I'll download this little gem too!

The excitement is killing me

Not a WP desktop game? :D

(While I know your referring to Windows 8 tablet devices) Why would you want to rub around a virtual maze with your desktop? One way to get in shape, that's for sure.

It's available for 512mb too

George
It's available for 512MB mobiles
I checked it

Was not available from my Lumia 520.

That's because Lumia 520 didn't have compass.

Device need to have compass to install this game.

Not for me... Excessive permissions

It only wants permission to access your location... Which is integral to the function of the app. Doesn't seem "excessive" at all.

I'm quite amazed that this game wants me to jump off my apartment building almost everytime.

It's trying to tell you something. :-o

Oh yeah, you're suppose to play it at an open leveled area with no innocent bystanders around, and go circling around like a hyperactive kid.

Samara got tired of passing around the video and so made a mobile game while in the well.
Keeping up with times.

Not the best way to get amazed :-)

Would download it, if my L520 had compass.
No compass in a smartphone in 2013. Why, Nokia? Why?

"Low cost phone "
Send from l520 ):

An 50¢ chip, seriously? :D

That's how you keep things at a low cost. If you keep adding everything people want we're back to high end again. You know what you bought. :)

No flash LED - ok.
No front camera - ok.
No 1gb RAM - ok.
No stuff like NFC, Qi, notification LED, etc - ok. But they spare the damn compass? I thougt that it was basic thing like gyro-sensor or GPS...
Obviously, i won't buy another phone just because this, but it's not nice...

Love the concept, but I imagine it could potentially be dangerous(?) for some... Walking (seemingly) aimlessly, eyes fixated on your phone. I doubt ppl aren't too careless to walk into traffic, but I'm sure they'll encounter trips, walls, etc. Haha. I'll definitely try this out soon.

"I doubt ppl aren't too careless to walk into traffic" You should see them on a busy mixed-use trail. "Get your eyes off that damn screen and stop drifting into the bike lanes!"

Its available for 512 mb RAM devices! Downloading now on my L720..

Yeaa it available for Lumia 720...:D

Ok, imagine walking around the park or soccer field making 90 degree turns in a wide open area with people looking on..... Your chances of getting picked up and sent for a psych evaluation have just gone up like 300% :) but seriously, I think it is a cool idea!

Hi, That's why I made it clear to have the warning appear everytime so that I am not sued for any damage ;-)

I'll give this a go when walking the dog later as I have a massive open field near me. I'm sure the dog will be confused!!

You might be amazed by the abilities of those little guys...

People will think that I'm mad holding a phone running around aimlessly. It would be even cooler if somehow this can be hooked up to oculus rift to give you VR environment.

Hi, The actual idea is to have it with unity3d and AR. But seems GPS accuracy will be the biggest impediment.

Very nice idea there :)
I think there will be more of this kind of games in the future, especially with all kind of space sensors.. Out of the context: Google's duo cameras phones

Apparently the 928 also lacks a compass...

Hi, Compass is needed because while creating the maze I have take into account the angle the phone is oriented. Else I could have simple implementation for non compass devices to have maze always created facing north.

Any way to use the GPS compass? I think the app is a great idea I'd like to try, but I'm running a 521.

Wow. I never thought of that. Will check is there compass param in GPS data. This I just beta and I already got enough complained about GPS accuracy stopping the game play. Will look into the compass thing when I fix the accuracy. Thanks.

Hi George, Thanks for the time and the review. I tested the game only on Lumia 1020 and Lumia 1520. I will check with low end devices as well for GPS lock. May be I need to relax the accuracy level and double the error correction. The game is purely at the mercy of GPS gods.

Could be fun with the kids. We've got a couple parks nearby, each with multiple soccer and softball fields.

It takes 2 - 3 min for the setup. But once it has proper GPS lock down, it will be definite fun for kids.

Any time I can look like an idiot in front of strangers, for an actual reason, I'm in. It makes for a good talking point.

For a month, my collegues thought so about me. What the heck is he doing there in the field walking like a maniac :-D

A nifty idea. It would be funny to have several people playing on the same field, but with different maps/levels, it would look very odd watching from the sidelines.

Hi Sekal, You can play with your friends the same maze as the key. mine and badge generation are random for the same maze. So where you find the key, your friend might get maimed. But i din't expected GPS accuracy to be the spoiler! May be in near future devices will have better GPS accuracy to play this game with full fun!

"This app is no longer published"? :( EDIT: OK, just found you on twitter, seems it will be back soon :)

Not support for low device they mean is Lumia 520 :'( no 'compass'
Windows Central Newsletter
Thank you for signing up to Windows Central. You will receive a verification email shortly.
There was a problem. Please refresh the page and try again.