Amazon is giving everyone free shipping on everything for the holidays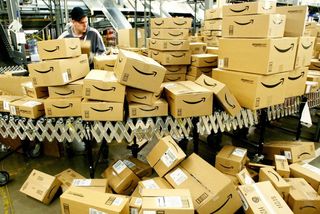 (Image credit: Windows Central)
If you're lacking in the Prime membership (opens in new tab) department, this year you won't have to sigh wistfully whilst looking in the windows of Amazon's free shipping department. Starting today, for a limited time, Amazon (opens in new tab) is offering all customers free shipping with no minimum purchase required.
This offer applies to hundreds of millions of items, and it'll work on orders that will arrive in time for Christmas. So if you're ordering something with a massive shipping delay, this promotion may not apply, but basically everything else is fair game. Pair the shipping offer with some choice Thrifter deals and you'll have yourself a recipe for success this holiday season.
Amazon isn't the only merchant slashing shipping fees. Both Target and Best Buy are offering similar promotions. We haven't heard anything yet from Walmart, but it's safe to assume at this point that we will.
While this offer will undoubtedly come in handy on Black Friday, you can start taking advantage of it now. Check out Amazon's Early Black Friday deals (opens in new tab), and get inspired with Amazon Holiday gift guides (opens in new tab).
Of course, if you want more benefits, like free videos, music streaming, books, and guaranteed shipping speeds, you may want to try out a free 30-day trial of Amazon Prime (opens in new tab).
See at Amazon (opens in new tab)
Louryn was seven when her shopping obsession began. It started with eBay and quickly escalated to Black Friday. Now she's a shopaholic -- no day is complete without a pile of packages on her front porch. She justifies it by refusing to pay full price. She also loves Skyrim, makeup, and beer. Find her on Twitter @lourynstrampe
This just made my day. Thanks for the update! :)

Please be aware that your website is viewed by people all over the world. Stating "free for everyone" when it only applies to US is both very misleading, makes viewers not trust your articles in the long run and quite frankly is a bit arrogant.

I apologize on behalf of the rookie writer!

That picture shows why my products come in damaged... And here I thought it was the postal service's fault!
Windows Central Newsletter
Thank you for signing up to Windows Central. You will receive a verification email shortly.
There was a problem. Please refresh the page and try again.