Amazon Kindle app for Windows 8 updated; new features galore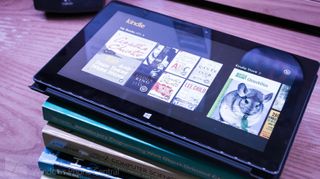 Today the Amazon Kindle app for Windows 8 received a plentiful update, delivering a more enjoyable reading experience for the user. Book lovers can now search inside books, sample recommended books, and enjoy easier in-book navigation.
The update also delivers a newly redesign home screen; the previous was a collection of your entire library collection and a link to the Kindle store. The new interface showcases your recently read books and a view of recommended titles from the Kindle store; from there, you can click into either sections to see more.
In-book navigation is now easier with a dedicated bookmark button and return to library button integrated into the page. Swiping up reveals a quick search bar for looking up content within the book and a redesigned notes window with filtering.
Lastly, Amazon has updated the application with a live tile that displays the current book you are enjoying. As with any live title, this can be disabled if you don't want your friends to see you are reading Fifty Shades of Grey.
if you want to learn more about reading on Windows 8, check out our latest article here.
To download the Amazon Kindle App from the Windows Store, click here.
Are you a bookworm – what have you been reading recently?
That's fabulous. It makes the iPad app look silly especially since they have to leave the app to buy books per apple restrictions...

You can buy a book inside the app? Here in Brazil when we click/touch in the store section the IE opens with the amazon book store site...

I didn't know you can buy the surface in Brasil .

It could turn water to wine for all I care. I wont spend another penny with these immoral, tax dodgers.
Just because you can, doesn't mean you should.
Many people and companies could avoid tax, but choose to pay their fair share to support society.
It angers me that so many people just shrug their shoulders, but wonder why their high street shut down and their kids cant find work. Mindless idiots.

Now we just need Amazon Prime app.

Agreed, I want to be able to view Amazon Instant Video content without jumping into the browser.

Agreed! We also need an Amazon MP3 (Cloud Player) app for Windows 8 and Windows Phone.

For some reason the app doesn't seem to have a live tile option, at least a way to turn the tile on and off like other apps. Not sure why it is in the change log, unless maybe I need to uninstall and reinstall.

The live title only works when the tile is "large". Make sure you have the latest version of the Kindle app installed.

I am using the large tile. Maybe I'll try reinstalling it. And yes, I updated the app before complaining that the live tile wasn't working.

Can you load your own books into this app?

That's what I want to know as well.

hope they will update the wp8 app too!

Agreed long overdue at this point.

Yeah, I misread the title and got excited, then realized it was the Win8 app being updated. The WP8 app definitely needs some updates. Feature-wise, it's fine, but it sure would be nice if they'd fix some bugs. I often have to toggle the text layout because some content is left out between two pages.

Going to landscape and back is what I do when there's text missing, and it usually fixes it for a couple of pages before I have to do it again.

I just want them to add a rotation lock to the phone app, it's not much to ask

Oh this amazing. I use the kindle app extensively and while it was good, navigation was not the best and sometimes when changing pages they wouldn't actually orient properly. Hopefully this update will be much better!

Why do stories about Windows 8 apps get posted on Windows Phone Central? I come here for Windows PHONE news. If I wanted Windows 8 news, I'd go to Windows 8 Central. It just sucks when I get excited about an update, only to realize it's not for the phone.

Glad I'm not the only one that feels this way. I get a little turned off by all of the Xbox and windows 8 coverage these days. I enjoy my WP, but that doesn't make me an all around Microsoft fanboy.

Completely agree. I've actually uninstalled the phone app because the majority of the news isn't something I'm interested in, it's easier to quickly skim on the desktop once or twice a day for the handful of relevant WP7/8 articles.

WP8 and Windows 8 codebases are going to be merging anyways. Consider this being "ahead of the times". Also not that hard to just scroll past articles you don't want to read, really not that hard.

Harder than you scrolling past this comment?

I don't get it when someone takes the time to read comments way down the list just to post a "I don't care for the content of this article" message. Personally, I just skip the article and don't read the comment nor post anything. Seems silly to have to tell everyone how you don't care for the article... Bit narcissistic.

Thanks for the narcissistic compliment. I didn't read any of the comments. Just wrote my comment. Strangely enough, it went to the bottom. I couldn't figure it out either. Jerk.

Oh man...I glanced at this and thought this was for wp8. No wonder why I didn't have the indicator to update the app or the link isn't in the wpcentral app. Ohh well was hoping for a phone update.

I like that I can find articles about Xbox and Windows 8 all in one place. Since Microsoft has gone to a 3 screens philosophy, it makes since that WPCentral would too.

I love the fact that this site caters to more than windows phone. Ot adds diversity and you guys make it seem like their articles are about something completely unrelated like discussing android stuff(which they sometimes do).

Dont worry they are working on filters.

Does anyone know if it now lets you read periodicals? That's the one major feature keeping me from purchasing any more kindle books. If the can't maintain functional parity on all platforms, I can't invest more money in their platform.

Has the app improved? Yes, yes it has. Is it anywhere near as good as it ought to be? No, no it isn't.

• There is still no way to add your own books from your own Mobi or PDF book collection.
• The Kindle Store integration is still incomplete--it bumps you to the website rather than completing the transaction in the app itself.
• There is no visual cue whatsoever for page turns. This may not seem like a big deal, but when you're using the swipe gesture to turn the page (you know, the one that frequently ends-up turning the page the wrong way) this can be a problem.
• Books pinned to the Start Screen don't actually show their cover...
• There is still no offline dictionary.
• The default app search searches the Kindle Store... WHY? Why does it not search IN MY BOOK? Leave the "search at the top" thing to the Kindle Store part of the app and let the Search Charm actually search in my books--at the very least hybridise the search so that both show up from the Search Charm.
• There is no semantic zoom for navigating your books (like tapping on a letter to search by title, etc.), nor is there support for collections.
• The app has no real page numbers. Still. (Or, for that matter, the estimated time left to read to the end of the chapter.)
• There is no way to download all my content en masse or to select multiple books and have them all download together (You have to select one book at a time to add it to the download queue.)
• There is no support for magazines and the like.

Semantic zoom is the one I keep waiting for. That would be nice.

It would--and it just makes sense for the Windows 8 app. I'm glad to see progress has been made on the Kindle app, but it definitely still has room to improve.

There is support for reading magazines it's just that Amazon choose to not offer any major magazine for Windows 8 Kindle app:-(. Looks like they are trying to protect their Kindle? Or why would a publisher choose to skip some platforms?

I wouldn't say there's support for magazines if you can't actually read any on the device. That's like saying "yeah, it totally supports reading books, but you can't read any on there, of course".

If you're just reading books it works pretty damn nice and looks good also. Forget all this other nonsense. The in app book purchases work find for me. Most of us don't read magazines anymore and why should this app read non Kindle material? How is that Amazon's responsibility to provide you a free reader for content not bought through them? Gee wiz...

Every single one of my complaints has to do with feature parity and effective use of the Windows 8 design standards. The list is long, but all Amazon would do by fulfilling the list is match the core functionality of its apps for other platforms.

Functionality that few people need or use. Again, gee wiz...


Functionality that YOU don't use, but many people, myself included, DO use. You need only look at several of the comments here and at the reviews for the app to verify that fact. And, I would like to point out, too, that covers and binding on traditional books are non-necessary features, but, like what I've noted above for Kindle App features, people have grown accustom to those features and expect them. It's not a sin to want a good quality app from a company if I intend to be dumping hundreds of dollars into their pockets USING said app. Why should companies try at all if they'll still get our money, even when they offer us sub-par experiences?

Nokia should release their reading app on Windows 8. Their app on WP8 I think is rather good but the prices are a bit on the high side from my use but it does support other files from Skydrive.

What is their reader called?

Nokia Reading. It really does need updating though as it hasn't had any fixes or new features added since last year but it just feels like a more complete app as the store is integrated whereas Kindle feels broken and janky as it forces you to the browser and in my experience it'll be to a page not found.

Can I lock the screen orientation? I like to read on my side and until they enable this I won't use it. Love kindle tho.

Yes. You can lock orientation in Windows using the Settings charm. It's the little icon that appears at the top of the brightness slider.

I would just like the syncing to work. It works for a while, then there's an upgrade and it stops working. then it takes another upgrade to get it working again. I read books on a variety of tablets and my windows phone. If it doesn't sync properly then I can't have the same reading experience which is one of the key reasons for buying from Amazon. The other stuff is great and I appreciate that they are continually updating the app, but please make sure that this is fixed and stays fixed! thx

I'm hoping for the ability to borrow books with your Amazon Prime membership. I would love that.

With all the complaints about not being able to turn off screen rotation in windows phone 7 & 7.5, why didn't they add a feature to stop the screen rotation in this newest "feature rich" version? It's not like people haven't been complaining about it for years. Some people like to read on their side you know.

Overall the kindle experience sucks.
Windows Central Newsletter
Get the best of Windows Central in in your inbox, every day!
Thank you for signing up to Windows Central. You will receive a verification email shortly.
There was a problem. Please refresh the page and try again.