Amazon takes pre-orders for tiny Intel Compute Stick with Windows 10 for $153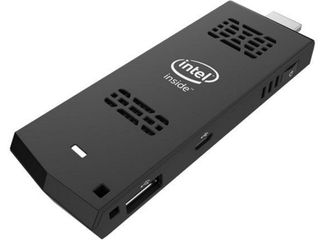 Earlier this year, Intel first launched the tiny Intel Compute Stick, a full Windows 8.1 with Bing PC inside a tiny HDMI dongle. Now the processor maker is selling a version of the Intel Compute Stick with Windows 10 pre-installed, with pre-orders now live on Amazon for $153.
Inside, the Windows 10 version of the Compute Stick has an Intel Atom Z3735F processor with a clock speed of 1.83GHz, along with 2GB of RAM and 32GB of onboard storage. It also has a USB 2.0 port, a microSD card slot and integrated Wi-Fi and Bluetooth wireless hardware.
Shipments of the Intel Compute Stick with Windows 10 are scheduled to begin on November 6.
Pre-order the Intel Compute Stick with Windows 10 from Amazon / $153 (opens in new tab)
Via: WMPU
Windows Central Newsletter
Get the best of Windows Central in your inbox, every day!
So its a "tablet" with any screen available around the house :P?

You can use a 22" Dell touchscreen flat monitor that leaves flat on a surface, you just need a USB dock so you can connect the monitor USB cable to the stick so that the touch input is received on the tiny stick

Yes mouse/keyboard is what most people get this stick for, but I want to point out it has other utilities as well, like converting a large touch monitor into a tablet.

The chip is too old. They need to update to cherry trail.

There is one device called Kangaroo Mini PC which costs $99 and comes with CherryTrail which leaves you with about same performance than an iPad Air or a Nvidia Shield tablet for very little price. Really recommended, also the Kangaroo Mini PC is compatible with the iPad so you can use your iPad as a secondary display, yes is true, an iPad can run Windows 10 and it also supports touch input on the iPad.

Does Kangaroo Mini PC also connect with a Windows phone or Surface tablet for touch input control? Could you provide a link to it? Thank you

Kangaroo is like Project Ara (modular Android) but it is a real product (not beta for Puerto Rico), there is a module available already which has HDMI out, USB 3.0, USB 2.0. For now the iPad is supported since the company made a specific app for iOS that lets you use iPad touch drivers into Windows 10, but there is no info on Windows Mobile support. For Surface I don't think it works, since the Surface is another PC, if you have a Surface there is no need to get a $99 device like this, Surface can already output to multiple monitors. Here is the link to the product: http://www.kangaroo.cc/ its available now.

Thanks for the info and the link. I was asking about connecting it with a Surface if I decided to use the Kangaroo as a media streamer so I could controll it without a keyboard and mouse.

Just get the wireless display adapter

This is a solution waiting for a probelm imo. I really like this idea but I am struggling to find a use case/justification to buy it

Small Media PC, Steam streaming, tons of business applications. I was readt to get one, but they took too damn long to release it, I'm just gonna use my surface for said uses.

Windows 10 TV instead of hooking up a laptop or PC etc. I really want something like this but I'm looking for a bit more power so waiting until I see one with a bit more beef to it.

Plug a wireless Xbox One controller adapter into it, and then you can stream all your Xbox One games to any TV in the house. That's what I would use it for anyway...

That would be awesome!! As long as it's wifi speed is good enough to minimize the lag.

Also countries that need tiny computers for cheap, where there's not a lot of money. Posted via the Windows Central App for Android

This is great for things like Digital Signage.

This is amazing tech for the time we live in, a full PC on a stick lets you do very cool stuff for this prize, here are some examples: 1) Use it as an Xbox game streaming device. Connect a USB hub with 2 ports 1 port is used to give power to the stick 1 port is used for Xbox Wireless adapter / Or the Xbox USB cable if you don't have the wireless adapter. Just connect a Display to the stick turn on your Xbox One and you should enter the Xbox app and start gaming anywhere in your house without cables. 2) Use it as a Home Theather PC Connect your HDMI stick to your A/V receiver with 7.1 channel Connect your A/V receiver to your TV Connect a USB hub to the stick so you can attach an external storage hard drive Just install VLC media player or PLEX on the stick and you can start streaming all your movies/tv shows to your living room Normal folks just use this as a secondary PC, but possibilities are endless thanks to Windows 10 OS.

Do you have any idea weather it can play HD material without stuttering? I got a small PC and connected it to my 55" TV but it does not work very well. Not even when playing DVDs.

Had a Toshiba tablet with similar specs. Played 1080p all the time on 8.1 without a hint of slowdown... 10 should run even smoother.

BayTrail can't decode H.265 so you can't watch 4K at 30hz or QuadHD videos (2560x1440) at 60hz However BayTrail can output 1080p at 60hz, so you are fine if you want to see movies in the Blu-ray format. If you want more info, please go to bing to search for HDMI 1.4 specs.

Isn't the Lenovo version suppose to have the Cherry Trail? Rather wait for that one Posted via the Windows Central App for Android

Anybody knows how well Kodi would work with this? How smooth it would play 1080P and if it is likely to have buffering issues?
I have been using the FireTV Stick with Kodi and the performance has been much lower than with my Yoga laptop, it buffers too much

I wanted to like this so much. Was using it for our TV in the family room. Windows 8.1/bing never worked right out of the box. Modern apps not loading. I had issues upgrading to win10 due to clearly lack of space to perform the upgrade, wound up formatting the whole thing and using one of my win 10 licenses to do the install. That worked great until recently where it gave up the ghost. Just got a new one through warranty. Their warranty process was painless though, but I won't be investing any more time in this old, slow tech.

Want to see one of these with 4GB of RAM, 64GB of storage (or 32GB w/ SD card support), the newer Intel Atom chips (Cherry Trail?), and win10Pro preinstalled! Make it for $250 or less and the schools I work for would eat them up like candy!
But 2GB of RAM, and non-pro win10 make it a deal breaker at any price.

Check out the Ockel Sirius B! That looks interesting.

I also wonder how it works with Jodi.