Amazon Wireless now offering the Lumia 900 for a penny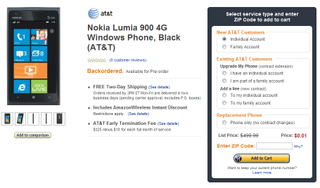 You can add Amazon Wireless to the list of third party retailers offering the AT&T Nokia Lumia 900 up for pre-order. While Wal-Mart is offering the new Windows Phone for $49.99, Amazon Wireless has it for a penny (new contracts).
The off-contract price is at $499.99 and upgrade price is at $119.99. All of which is a little surprising in that Amazon often has a slightly better deal than AT&T's retail stores. Not always but more times than not.
You do get free two day shipping from Amazon Wireless but there's no indication whether or not you'll receive the new Windows Phone on April 6th. Amazon Wireless is offering both the cyan and black models of the AT&T Nokia Lumia 900 and this may be an option to consider should if you have an Amazon Gift Card that's collecting dust, we start to see supply issues or if you just feel like charging a penny to one of your major credit cards.
You can find Amazon Wireless's listing for the black Lumia 900 here (opens in new tab) and the cyan version over here (opens in new tab).
George is the Reviews Editor at Windows Central, concentrating on Windows 10 PC and Mobile apps. He's been a supporter of the platform since the days of Windows CE and uses his current Windows 10 Mobile phone daily to keep up with life and enjoy a game during down time.
They've also dropped the price of their WM 6.5 satellite phone by $100!

Wow a penny sadly I am not you going to get locked into a contract as I said on the other post I will buy it off contract price or wait until some guy on eBay sells it for less than 400 dollars.

That doesn't make much sense. To break your contract only costs $325 minus $10 for every month of service in contract.
Breaking your contract is cheaper than buying the phone off contract or buying the phone off of eBay.

So if i buy a phone in 0.01$ an will break contract on same day i have to pay $325 only ? just to know :)
Thanks

Remember that you still need to pay the monthly bill (around 100 I believe) so doing some math it is 325+100(at least the first month)=425. I will wait for eBay ;-)

No you need to wait at least 30 days to break your contract, which means that you will need to pay the first bill (around 150-200) plus the 325 dollars of the Early Termination Fee (ETF).

Ok everybody. Remember from now on.... When a new device comes out wait and see what the 3rd part vendors have in store!

Yeah, I haven't paid more than a penny for a phone in a long time. Been happy with each one of them, too!

Da 900 is going to sell like crazy

Not very long, though, when the first reports of its lousy battery life start coming out. No reason to believe Nokia could handle the basic battery techniques, seen how they've failed with L800 despite countless update efforts.

Trolling on a Saturday morning eh. Nokia acknowledged the flaw right away and said a fix would be coming. It has since been fixed. How's that for update peformance compared to Android vendors.

Yea Android phones suck on battery life.

I wish I were just trolling. However, I do support Nokia and WP7 and would so much like to see them succeed. I venting my disappointment for the much hyped update 12070 that didn't deliver any improvement to the battery. Check the comments in Nokia Conversations, you'll see I'm not alone with my criticism.

Lumia 900 available at liquor stores.... naaa, but some mad Lumia 900 spamming. Time for a collected post or something. Don't get me wrong, happy the 900 coming out, but what, 5 posts in a row?

Time to stop being a dumbass

Lumia 900 at liquor stores? That's great I can pick up something to celebrate with as I use my new phone! Hooray beer!

So far, Lumia 900 should be a great launch.

Why not just sum em up and say 900 as low as free in one article

Might want to correct the article: Can I use my Amazon.com Gift Card on AmazonWireless?
Amazon.com Gift Cards may not be used on AmazonWireless at this time. However, we are constantly looking at ways to improve our service, and perhaps this will be an option in the future.


http://wireless.amazon.com/help/200307850/ref=hp_faq_pay_gc?#payment_giftcard

Thanks for the info... will adjust accordingly.

this pisses me off. I have over $800 in amazon giftcards/credits and I can't use it to buy the phone. Sigh. Guess I have to wait a few more weeks to get the phone.

Placed order with Amazonwireless I hope it arrive earlier than it said.

only for new customers, a tease as usual...

I pre-ordered in store today (CT) for $49.99 with the upgrade fee waived!! Wohooo! Ask the sales-rep about the "hidden" sale to get the $49.99 price!!

Nice which one are you getting black or cyan? I might wait for white.

I just noticed when populating a shopping cart with 2x Lumia 900s, Amazon apparently is not offering AT&T's lowest tier family plan @ 550 minutes for $59.99. The lowest plan that comes up is the 700 minutes plan for $69.99. Just beware before you click through the cart.

Jeez, I can't stand AT&T's data plan pricing but goddmait is the only one with LTE :/

I just bought it outright for about $480. I got to play around with it in store. I've had so many issues with both my Focus and Focus S (home and back buttons sticking) that I figured I should just go ahead and pick up the 900. Went with black with a lime green bumper.

I'm interested in the 550 family plan, but Amazon doesn't offer it.
Can I place this order with 700 minutes, and change my plan to 550 at the AT&T store? I'm a new customer.

_CFC_

I checked out Amazon and got this pop up... Please note that the item you just added to your cart is currently out of stock or has limited availability and may delay the shipment of your order. We will ship your enitre order once all items are back in stock. If you would like to select a different item, you can remove this item by opening your cart and clicking the 'Remove' button next to that item

The phone prices are good but their service contracts sux. I cannot get my corporate discount to work so 3 lumia 900s, with unlimited voice, messaging adn 5gb data will be almost 400 dollars/mo, wtf?

Amazon is throwing in a free car charger with the Lumia 900 pre-order. It may be for new lines of service or everyone not sure.
See below my copy and paste from my order... I
Item not yet shipped
1 [FREE GIFT] AmazonBasics Micro USB Universal Car Charger with Micro to Mini USB Adapter and Nokia Barrel Adapter
1 Nokia Lumia 900 4G Windows Phone, Black (AT&T)
1 AT&T Mini-SIM 3FF 3G/4G/LTE UICC-
Delivery Estimate: Apr 11, 2012
I hope it comes sooner!!!

Amazon is no longer offering the 900 @ $0.00, $49.95 for New Accounts.
Windows Central Newsletter
Thank you for signing up to Windows Central. You will receive a verification email shortly.
There was a problem. Please refresh the page and try again.