AMD's entry-level RX 460 and RX 470 will launch in early August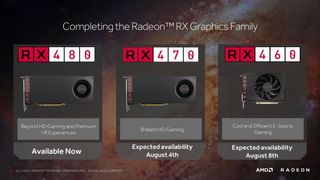 For those interested in VR, AMD is offering the $200 RX 480, but if you're in the market for an affordable card for single-monitor 1080p gaming, the upcoming RX 470 or the RX 460 may be more to your liking. The entry-level cards are based on the 14nm Polaris architecture, with the RX 470 offering 4.9 teraflops of performance and the RX 460 up to 2.2 teraflops. To put things into context, the RX 480 offers 5.8 teraflops of power.
The RX 470 features 2048 stream processors, 128 texture units, and 32 ROPs. You get a core clock of 926MHz and boost clock of 1206MHz with 4GB of GDDR5 memory clocked at 6.6Gbps over a 256-bit wide memory bus. The card draws a maximum of 120W, and connects via a single 6-pin connector. Display outputs include three DisplayPort ports and one HDMI 2.0 port. AMD is claiming that the RX 470 will be able to deliver 60 FPS (or more) with anti-aliasing turned on at 1080p in visually-demanding titles like Grand Theft Auto V, Rise of the Tomb Raider, and The Witcher 3.
Meanwhile, the RX 460 offers 896 stream processors, 64 texture units, and 16 ROPs. Core clock is at 1090MHz, with a boost clock of 1200MHz. The card will come in variants with 2GB or 4GB of GDDR5 video memory clocked at 7Gbps over a 128-bit wide bus. The card draws less than 75W of power, and comes with one DisplayPort, one HDMI, and one DL-DVI-I port. The RX 460 is targeted at the eSports market, with AMD claiming that the card will deliver over 90 FPS in titles like Counter-Strike: Global Offensive, DOTA 2, League of Legends, and more.
AMD hasn't divulged pricing information, but both cards will be lower than the $200 starting price of the RX 480. The RX 470 will make its debut on August 4, and the RX 460 will be available starting August 8, which is when we'll know more about the pricing.
Even that 460 will be a premium card in India. Our markups are decided using multiplication tables.

You got that right. I was planning on buying an NVIDIA 1080, but after seeing the price, hell no

Good for people who can't afford it but I will get a RX 480 anyway or an Nvidia card. Posted via the Windows Central App for Android (LG V10 or Nexus 5x)

I reckon the RX 470 would be around 14 - 18K in India while the RX 460 would be around 10K.. similar to the price of the R9 270 now..and the RX 480 would be around 23-25K

Saving up money for that 480.

@appveyor @nuget @MyGetTeam

They need to fix their supply production first. RX480 is STILL sold out or marked up $80 over MSRP in the US

So sad to see the lack of avalability. I ended up going with a 1060 just because i could get one instead of waiting or hoping to grab the quick stock of a 8gb 480.

This lack of availability is affecting Nvidia too. It is because finFET yields are still low despite the mature process. Such is life.

So how much better is the performance of the 480 over the gtx 1060? I've heard the 480 is better but by how much?

Not really better. It mostly beats 480 by 3-5 fps on most of the latest titles except one, which I forgot atm, but that title is heavily optimized for AMD anyway

The future of games is DX12 and Vulkan. So the whole "AMD optimized" excuse is a moot point now.

Unfortunately, not true. I like AMD and use their CPUs so this is not about sides. The game in question is almost certainly Doom when using Vulcan. Doom developers have now had to admit that they have disabled hardware support for key APIs on Nvidia cards under Vulcan (which was the evolution of AMDs Mantle system) and they say they will enable them later. The same old game is being played, don't let them play you.

They are roughly equal. 480 seems* to be better with DX12 and Vulkan games, while 1060 is mostly better in DX11 games. *using the word "seems" since there are only a few games available with these newer APIs edit: either one is enough for 1080p

'Enough'? Not really. I have a full cream GTX1080 and at 1080p even that doesn't always keep a constant 144fps in all titles with all settings to the max. So, the GTX1060 and AMD equiv. will not be 'enough' especially as games get more and more demanding. There's always room for improvement.

They're very evenly matched, but the GTX 1060 is slightly better overall. Where the 1060 has a big advantage is in power consumption; it uses about 30W less than the 480. It's a big enough difference that the 1060 will actually save you a few bucks a month on your electricity bill (especially if you use your computer a lot), while delivering the same (or better) performance than the 480.

A few bucks a month? LOL uh no. A few pennies, yes.

Depends on how much you actually use your system. I have a desktop PC that I use for gaming, but it's also an always-on media center and server. The 1060 is 30W more efficient under load, and about 15W more efficient at idle. 15W * 24 hours/day = about $15 per year (or more, if you live in a place with higher energy costs). So, the way I would use it, I'd save about $2/month. If you only use your system 2 hours a day, the savings would be less.

Money aside, lower power consumption means lower heat output and potentially better overclocking on both GPU and CPU.

Ok, so, Microsoft......here is my request: Make Surface Pro 5 compatible with Thunderbolt USB type C, and allow support for external GPU's. That would immediately make me upgrade my i7 SP3, and I would buy one of these AMD beasts and install it in an external case (if they exist).

Ha. The RX 480 says available now. That's a funny one. Newegg has been sold out for weeks.

You mean Slack beta for windows phone?

The 460 looks like it could be a great card for mini-ITX systems.
Windows Central Newsletter
Thank you for signing up to Windows Central. You will receive a verification email shortly.
There was a problem. Please refresh the page and try again.