And now, the Samsung Epix user Manual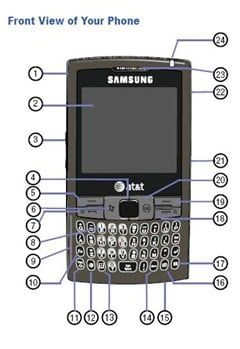 Speaking of the AT&T Samsung Epix, we now bring you the manual of the i907, courtesy of CellPhone Signal. The additional details, some of which are pretty standard, plus one biggie at the end:
2MP camera. (See more below.)
WiFi.
GPS.
Stereo Bluetooth
Customized themes.
AT&T Navigator.
It does have a stylus.
Silent mode: "Press and hold to place your device in silent mode. (About time someone other than Palm has hopped onto that train.)
No dedicated audio jack. (Boo.)
Beaucoup choices for text entry. You have the physical qwerty keyboard, an on-screen keyboard, or gesture-based text entry which "allows you to enter characters using single strokes."
While the camera may only be 2MP, you've got a number of options. Single shot, multishot, mosaic, night shot and panorama. Resolution up to 1600x1200. A 10-second time. White balance. Sepia/green/aqua/negative effects. Video sharing.
And the coup de grace: Ms. Pac-Man. Say no more.
Marco, you're the man.
Windows Central Newsletter
Get the best of Windows Central in your inbox, every day!
Odd how there's no physical diminsions listed with the manual or ATT's page over here http://www.wireless.att.com/cell-phone-service/cell-phone-details/?device=Samsung+Epix(TM)&q_sku=sku3030219.
I wonder how thick, thick is?

Found 'em. You're looking at 4.56"L x 2.41"W x .51D.
The Pro comes in at 4.49"L x 2.36"W x .53D and the BJII is 4.4"L x 2.36W x .4"D. I wonder if the "fat" is perceived due to the slightly larger foot print? Or simply due to comparing it with the iPhone?

Interesting. That doesn't seem terribly "fat" to me. Relatively speaking, what phones are roughly around the same thickness? Say in comparison to middle-size phones like the Centro or a Treo...

how do you remove a "contact" that has been added to the today plus screen????

I have a samsung epix, I recently downloaded wallpapers to my phone and saved them in my pic folder, however when I try to paste it as my wallpaper it will not let me do it. It will let me do any picture I have saved but not the wallpaper. Can anybody tell me what im doing wrong?