Anda Seat Fnatic Edition Gaming Chair review: Superb back support in a classy design
A comfortable gaming chair that's made of high-end materials and looks snazzy, too.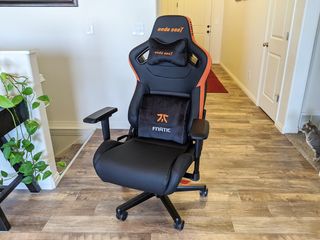 (Image credit: Rebecca Spear / Windows Central)
Anda Seat started out manufacturing race car seats for BMWs and Mercedes Benz in 2007. Then in 2012, the company switched gears and started using some of those same high-quality materials to build gaming chairs. In fact, you've probably seen one of the company's products in use at E3, Esports championships, behind one of your favorite streamers, or at other gaming-related events.
With ergonomic designs, quality materials, and sturdy builds, Anda Seat creates some of the best gaming chairs out there. I recently had the opportunity to test their latest creation, the Fnatic Edition Gaming Chair. As expected, this seat not only looks good, but provides my back with plenty of support during long gaming sessions.
Anda Seat Fnatic Edition Gaming Chair
Bottom line: Anda Seat Fnatic Edition is a quality gaming chair that offers excellent back support. It's easy to assemble, looks classy, comes with removable pillows, and has a tilt mechanism that allows you to recline rather far. You won't be disappointed with this purchase.
For
Quality materials
Excellent back support
Easy assembly
Holds up to 441 lbs
Deep recline
Removable pillows
Against
Expensive
Armrests aren't as nice as the rest
Anda Seat Fnatic Edition What I like
I quickly discovered that this chair weighs a significant amount when I went on my front porch and attempted to lug the package inside. Turns out that when assembled, the chair weighs about 74 pounds. Speaking of assembly, the included instruction booklet and two-sided allen wrench made it so I could put everything together within 15 to 20 minutes.
Classy design: Quality materials and build
When I first pulled the Fnatic Edition out of the packaging, I was blown away by how pretty the various parts looked. There's excellent texture to the PVC leather, the metal undercarriage is hefty, and the pillows are both incredibly soft to the touch and filled with memory foam.
On top of that, I really like the orange and black design. The stitching looks good and the chair really feels durable, like it will last for a several years. Turns out AndaSeat even offers a "lifetime warranty on all functionality portions of the chair." So, if there's a non-aesthetic defect, you can get it repaired.
Adjustable base and back: Take a nap in it
Source: Rebecca Spear / Windows Central
Pulling the lever on the right side allows you to recline the back of the chair as far back as 160 degrees. When in the proper position, the multifunctional tilt mechanism at the base also permits the chair to tilt backwards. So when in full recline with tilting enabled, I can lie down parallel to the floor. In fact, I almost took a nap in it after finishing the assembly.
Fits a range of people: High weight capacity & removable pillows
To give some context, I'm a rather average height at five foot and six inches. The head and lumbar pillows both provide me with excellent support whether I'm sitting upright or lying down. My back even pushes the lumbar pillow into the correct position each time I recline or move back to a sitting position, so I never have to adjust it separately.
However, when I asked my six-foot, five-inch husband to test the chair out, he had a different experience. The head pillow jutted out into his shoulder blades while he sat and forced him into a hunch. The same pillow also proved uncomfortable, though less so, when he was fully reclined.
Once we removed the head pillow, however, he fit in the chair just fine. So, that's your head pillow warning to all you tall people out there. Another thing for larger folks to consider is that the Fnatic Edition can hold up to 441 pounds, which is hundreds of pounds more than many other gaming chairs out there. If you're specifically looking for something with a high weight limit, this is one of the best gaming chairs for the job.
Anda Seat Fnatic Edition What I don't like
Anda Seat is an impressive high-end gaming chair, but it isn't perfect.
The armrests: Look cheaper than the rest of the chair
As I said before, this chair is made up of some quality materials. However, I was disappointed when I unwrapped the armrests. It's not that they don't work well. They adjust vertically, rotate horizontally, and can even slide forwards and backwards allowing you to get them in the perfect position. It's just that they're made of a basic material that looks... cheap and a little out of place next to the rest of the chair.
The expense: There are cheaper options out there
There are dozens if not hundreds of gaming chairs on the market today and many of them cost significantly less than the Fnatic Edition. Granted, Anda Seat uses high-quality PVC leather and a sturdy foam body to create a very durable product.
However, you can easily find another gaming chair that will suit your needs without emptying your wallet as much. If price is an issue for you, you should definitely consider looking at Anda Seat's competitors.
Anda Seat Fnatic Edition Competition
GT OMEGA PRO Racing Gaming Chair features PVC leather, can recline back 160 degrees, and also comes in four different colors. If you don't like the head or lumbar pillows you can remove them. It can hold up to 280 pounds.
Homall's gaming chair costs less than half of what the Fnatic Edition sells for. Plus, there are eight different color options to choose from. The lumbar and head pillow both detach and the tilt locking mechanism allows the chair to recline back 180 degrees. It can hold a maximum of 300 pounds.
Neo Chair's gaming chairs not only provide support for your back, but they also come with foot rests and removable lumbar pillows. The coolest part? They offer three different Marvel Super Hero designs: Captain America, Iron Man, or a Miles Morales Spider-Man. It also has an impressive weight limit of up to 400 pounds.
Anda Seat Fnatic Edition Should you buy it?
I've really come to love the Anda Seat Fnatic Edition and think it's one of the best gaming chairs out there. Both the PVC leather and stitching looks classy, the ergonomic design provides excellent support for my back during gaming sessions, and I can even lie down and take a nap in it if I choose. Plus, it has a high weight limit and removable pillows, so it's more likely to work with various people.
The biggest downside is the Fnatic's high price point. You can easily acquire a useful gaming chair at half the cost. However, if you're looking for a durable chair made with quality materials, this is definitely one to consider.
Superior seating
Anda Seat Fnatic Edition Gaming Chair
Ergonomic gaming chair

Covered in premium PVC leather and filled with thick cushioning, the Anda Seat Fnatic Edition provides excellent back support and feels great to the touch, too. This is a quality gaming chair that will last a long while.
Get the Windows Central Newsletter
All the latest news, reviews, and guides for Windows and Xbox diehards.
Self-professed gaming geek, Rebecca Spear, is one of Windows Central's gaming editors with a focus on Xbox and PC gaming. When she isn't checking out the latest games on Xbox Game Pass, PC, or Steam Deck; she can be found digital drawing with a Wacom tablet. She's written thousands of game guides, previews, features, and hardware reviews over the last few years. If you need information about anything gaming related, her articles can help you out. She also loves testing game accessories and any new tech on the market.