Anycubic Photon Mono SE 3D printer review: Rapid resin printing for small businesses
The Anycubic Mono SE may be a little pricey for hobbyists. It is a great 3D printer for dentists and jewelers, though!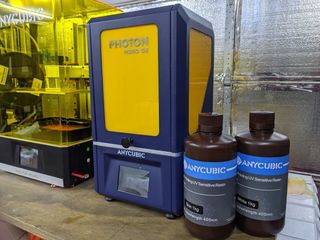 (Image credit: Windows Central)
Anycubic has been making some of the best 3d printers for years. Ever since the Anycubic Photon released, I have been a fan of the resin printers they produce, and the Photon Mono SE is no exception. I've spent a lot of time with a Mono SE that Anycubic sent me, and I really like what I've seen so far. A few issues make it harder to recommend, though, so let's dig in.
Bottom line: Anycubic has released multiple printers aimed at different markets, and while some are for the hobbyists, the SE is aimed directly at commercial businesses. It's really great for that purpose too.
For
Incredible detail
1.5 - 2.5 second layer times
Wi-Fi connection
Full metal body
Against
High price for hobbyists
Photon software is not great
Anycubic Photon Mono SE: What I like
One of my favorite things about the Anycubic Photon line is the metal body. It makes the printer feel like a premium product, and while the yellow UV protected screens are supposed to be transparent, I opted to keep them with the protective cover on. It makes the printer look amazing and protects against the sun. The feeling of strength runs all through the Mono SE, and that solidness helps create some excellent detail in the prints. The dual linear rails and lead screw work really well to keep the build platform stable, and the bed has a leveling system that keeps everything locked in place print after print.
Swipe to scroll horizontally
| Category | Anycubic Photon Mono SE |
| --- | --- |
| Layer height | 0.01mm - 0.15mm |
| XY resolution | 0.051mm 2560 x 1620 (2K) |
| Build volume | 130mm x 78mm x 160mm |
| Connectivity | USB Thumbdrive, Wi-Fi |
| Slicer | Anycubic Photon Workshop |
| LCD type | Monochrome |
The print quality on the Mono SE is exquisite. I know that almost all resin 3d printers have excellent model quality, but all of the Mono SE enhancements make even the smallest details stand out. When printing the Frodo model from Fotis Mint, you can see every detail, including the tiny lines in Frodo's iris. This level of detail is extraordinary. I had a lot of fun trying to get as much detail as possible from the Mono SE, including printing this Rancor from ChaosCoreTech as small as I could get it. It is hard to see in these photos, but you can see every little bobble on its skin and each claw on its hand with the naked eye. It is an amazing model, especially when it is an inch tall!
Image 1 of 6
Because the Anycubic Mono SE has a monochrome LCD, it can achieve incredible speed for a 3d printer. Like its baby sister, the Anycubic Mono, the SE can print at layer speeds of 1.5-2.5 seconds depending on the resin. In practical terms, that means you can print the same model in about 60 percent of the time a regular LCD screen would take. That's a pretty huge saving, especially if you are a small business making models for profit. In fact, the Mono SE excels at the type of detail that a dentist or ring maker would need to complete their work to a high standard. The Mono SE feels like it is aimed at those people, rather than the casual hobbyist that would be better served with the more affordable Photon Mono. The internet connection is another boon for professionals as it allows you to monitor when a print has finished so you can use your time more efficiently. You can also load your prints onto it via Wi-Fi, but be careful to make sure you don't have an old print on there first!
Anycubic Photon Mono SE: What I don't like
There are really only two problems with the Photon Mono SE, and they are both fairly minor. While I don't see the price as a major problem given the quality of the prints and the accessibility to someone making a business, it is high for a hobbyist. Price is such a big variable these days that I don't see it as too big a deal, and if you can catch the Mono SE on sale, you should really snatch one up.
Like most of the Anycubic reviews that we have done here at Windows Central, the Mono SE's biggest irritant is the Photon Workshop software. While it does roughly the same things as other resin slicers, it lacks a lot of Chitubox and even Lychee Slicer's precision. No matter how many times I tried, I couldn't get a great print or good supports from the Photon Workshop. Thankfully, with the latest beta version of Chitubox, the Mono range from Anycubic is now supported, and it prints fantastic models on the Mono SE. I understand why Companies want to bundle their own software with 3D printers, but they either need to invest more heavily in the programming or accept that there are better companies out there and let them do it.
The competition
A great choice for a Mono screened 3d printer is the Phrozen Sonic Mini 4k. as you can see from our Phrozen Sonic 4K vs Phrozen Sonic Mini 4K article, the Sonic Mini is an excellent choice for a fast, competent machine. The Phrozen Sonic 4K is also a good contender to the Mono SE, but the SE gives results comparable to the Sonic 4K at a massively reduced price.
The Phrozen Sonic Mini 4K is a little cheaper than the Mono SE but higher priced than the regular Mono, so if you are a hobbyist trying to choose, the standard Photon Mono or the Sonic Mini 4k is likely a better buy.
Anycubic Photon Mono SE: Should you buy
I really enjoyed my time with the Mono SE. The shape and build quality are excellent, and I love the lifting door front. It's so much more elegant than the lift of lids that are becoming the standard. The models are fantastic too, with incredible detail on the smallest of prints. It's only the price point that I find a little high compared to others on the market.
I would buy the Mono SE if you are looking to turn your hobby into a business or a jeweler or dentist just starting in the resin printing game. It is cheap enough if you are looking to turn a profit, but maybe a little costly for someone making models for fun. The Anycubic Mono is a better price point for that.
Get the Windows Central Newsletter
All the latest news, reviews, and guides for Windows and Xbox diehards.
James built his first PC when he was 13 and has never looked back. He can be found on Windows Central, usually in the corner where all the 3D printers are, or huddled around the Xbox playing the latest games.