App server log shows Windows Phone 8.1 being tested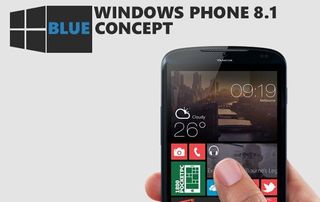 The developers behind the app Love Wallpaper HD just found some interesting entries in the server log of their app, and it's about Windows Phone 8.1 (codenamed "Blue").
The screencapture above shows four devices running various versions Windows Phone 8.1 caught by Love Wallpaper HD's server. Their OS sub-version numbers range from 12073 to 12102, however there's no mistaking what "8.10" means. XDeviceEmulator from Microsoft is obviously not a real device. Nokia P4301 is one interesting item though. According to the server log, the phone has TWO different resolutions: 800 x 480, and 1280 x 768. This could mean either the device's resolution is somehow adaptable, or "P4301" actually means an array of testing devices inside Nokia.
Anyway, it's great to see Windows Phone 8.1 being tested. If the OS update is already in a functioning shape, the final release can't be too far away--though rumors of a late 2013, early 2014 may still hold true. With a bit luck, maybe the majority of existing Windows Phone 8 devices could get it before the New Year's Day?
Source: WPDang
Brand = Microsoft
MS is creating a new phone?

The next colum is noted as emulator, the WP8 SDK has a emulator to test apps on the fly.

considering how far windows phone is behind android and ios, one major update is not enough and this should come before end of july for windows phone to gain some real traction.

its true that windows phone is a step behind everybody else. but don't forget that Microsoft is primarily a software company, don't under estimate their real potential.as of now, they arguably have the most stable mobile OS amongst all. (least popular but more stable) I think now after finally get to the NT kernel on Phones, they are more focused on competition and gaining market share. Windows 8.1 is a step toward the right direction.

It's the emulator which is used when developing apps. It's not a physical phone.

I would pee my pants if WP8.1 actually looked like that mock up.

Could be I mean were seeing the larger tile size on Windows 8.1 and Microsoft has been making all their software identical these years

I really hope it will be like the concept. /crossesfingers

http://www.1800pocketpc.com/wp_blue/

I'm gonna tweet it every day for a week to Microsoft lol

I am afraid it is obviously fake because the clock uses android font where as it is segui ui in wp8

Yeah that's actually the definition of "concept". It is not real... So no need bothering to say it's "fake", because nobody told it was reality.

Looks a lot like HTC's new sense skin on the HTC One.

It's more like new HTC Sense skin looks a lot like Windows Phone.

This. First thing that came to mind when I saw that first "digging" commercial.

Then you might like this ;) http://www.neowin.net/news/a-vision-of-windows-phone-8-and-how-microsoft-could-enhance-the-platform

Microsoft should hire whoever designed those concepts.

Microsoft needs to go over the top.....

Them updating Windows 8 and Windows Phone 8 to 8.1 would be genius!

I hope MSFT improves a lot its current OS versions 7.8 and 8.0 'till the next big step later this year or in early 2014

1080p registration would have been mind blowing .. :P

Autocorrect strikes again.

I am shivering. Microsoft give me a Windows phone 8.1 blanket,please.

Would also be awesome if WP8.1 would be dubuted...on a Surface Phone :D
A man can dream right?

Is that a notifications pull down menu in that pic??

Its just a comment, I had a thread about it with link to article soemwhere on the forums, but I closed the thread because were getting iggnorant sayin that the concept doesn't look metro at all...

An 8.1 update by the end of the year?! Am I the only one who thinks this is way too long to wait for an update to an OS that is still playing catch up. Don't get me wrong. I love my 920 but I hate the fact that it's stilll missing a lot of things. You know what I'm talking about...

I am guessing that they'll release it either with Windows 8.1 or when (For Lumia Phones) the Amber version gets released.

Before WP 8.1 there will be 1 or 2 minor updates that will add some features and improve some things.
A major update (about) each year is perfectly logical, certainly in this case there is a small delay (I expected to be issued at the end of the year), but I think we will find that it is justified by an attempt to align the development between Windows and Windows Phone

Window will soon unite windows RT and windows phone 8 in to one OS and that will be the biggest thing for everyone

I sure as hell wouldn't mind if that would happen.. :P

Are people really that desperate they will believe the most amateurish fake I have seen in years? Why don't you just take a photo of a piece of paper with 1080P printed on it since it would be just as meaningful and take just as much effort? As for the phone image, that would require use of Photoshop for about five minutes. This doesn't even merit rumor status - just a really bad joke. Oh, as per Microsoft, Blue is the Windows 8.1 update.

The phone image is a concept, duh.

I want a dev beta =(
They only ever did it for Windows Phone 7.5 update & nothing else; I have a dev acount that has been unused since then lol =P

Is he listening to one of the Bourne's Legacy soundtrack?

Eh...can it play WAV files?

Before New years day? Ik would be really odd if it isn't already available at that point.

Will WP8.1 be an update to the current windows 8 or will it be exclusive to the new phones?

I've seen P4301 device in the reviews area of Car Tune5 a while back, its been tested for a while :)

It's been a while microsoft has released any major upgrade.. I think 8.1 update for both Windows and WPhone is gonna change a Lot of things! It's gonna be Legendary!! :D


Com o 8.1 poderia mudar a cor dos tiles
Windows Central Newsletter
Get the best of Windows Central in in your inbox, every day!
Thank you for signing up to Windows Central. You will receive a verification email shortly.
There was a problem. Please refresh the page and try again.