App Social updated with notification support and more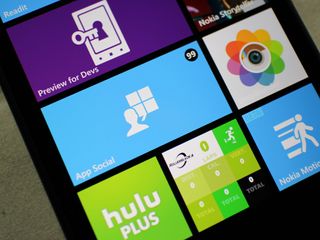 Nokia's App Social picked up a new update today. App Social is available in the Nokia Collection and allows users to share and discover their favorite apps and games. Think of it as a mix between a social network and app store. Let's check out what's new in this recent update.
Head into the Windows Phone Store and you'll see App Social sitting at 3.11.1.882. With this version you get:
Get notifications for new top apps, new followers and replies to comments
Comments and notifications now take pride of place on the Live Tile
Various bug fixes and performance improvements
Like all social networks, App Social allows you to leave comments and like various updates. Now you'll be able to be notified when a user replies to a comment or follows you. You'll also see this updates on the Live tile for App Social. And of course, this update is full of bug fixes and performance improvements to make the app even better.
Head into the Windows Phone Store to download App Social.
Get the Windows Central Newsletter
All the latest news, reviews, and guides for Windows and Xbox diehards.
I'm one of the app screenshots in the new update!

Lol! I've always wanted that to happen to me

nice to meet you, screenshot. :)

Who uses "App social"?!?! tell us when is update for whatsapp coming out! plz!

Why is everyone complaining about Whatsapp!? I use it everyday and it works great! Does all the great things it does on the iPhone version and looks much better!

The other day i was trying to watch older messages and it never loaded them... when they load, if you go way back, it crashes to a lot of people (i never go way back so it hasn't happened to me) You can't upload videos from the Roll (WP API limitations) No Background images... some people reallly want them. etc. http://31.media.tumblr.com/c5e91740791edd2a2328a36fd77857d1/tumblr_mxaua...

Actually you can upload videos from the roll. They added that option in the last update.

Click attach, then albums, then swipe right. There you get all the videos to upload, including the videos from the roll..

You can upload videos from the camera roll, looks like you still did not understand the concept of "gallery"

yeah... i messed up, i was just pointing the problems that came to my mind from reading about them here. it was a big deal back then, and i remember the report that the Beta added the ability throu special APIs just for whatsapp, but i don't recall reading that it was available on the General Release App.
The other points remain an issue.

1 - you cant load old messages. 2 - you cant see progress while downloading a video. 3 - you cant asign different sound for different people. 4- you cant share MP3 files. 5 - voice clips should be saved in phone but i guess like in iphone we cant save VC same in WP. May be they have done it purposely. 6- i guess iv made my point.

Erm. . . Excuse you, but we can't send audio yet, like music stored on our devices.

Don't be so annoying. Do you really think we're withholding whatsap information? Get a grip. We aren't going to cancel everything on the site until the update comes out. Newsflash, life goes on.

What he means in short: stfu

I think that was sam's inner Rubino coming out there :P

Sassy ... You must've caught something from Cortana ;) Jk jk :p

LOL, I tried an advertising of my app in AppSocial and got totally no results ;-) So I think very small amount of people are using it.

LOL You placed the large "Preview for devs" tile in the Start Screen on photo on purpose, didn't you? Confess your sins, Sam.

He might be trying to tell us..that preview is coming soon xD !

I'll tell you what Daniel/sam is gonna tell you, youre reading to much into it

They won't tell me that because they both know that I know that there's nothing to read there. I just think it's probably a little provocation since on the last article people are saying that they're seeig the "preview for devs" on every article even though it's not there at all ;P

When they review apps they always also show apps on tue start screen that are important at the moment or that just came out or got a big update.... Hence the developer preview app

@Shaan is right. They do that all the time. Surprise you guys haven't noticed. New apps, apps with new updates always apear on the start screen when the take these pictures.

Preview for Developers http://i.imgur.com/srZkB2r.gif

What's the app to the right of app social. I don't recognize that one.

Anyone else notice how big "preview for developers" is on this image? There is no real reason to have it pinned - so I don't see what they're trying to do if not give us a hint that it is tomorrow :)

Man, I really wish I had Nokia instead of HTC. HTC has like no exclusive apps only for their users while meanwhile, Nokia has like 20 apps or something lol.

Make the move yo, you won't regret it. Posted via the WPC App for Android!

26 apps actually, plus all the settings apps.

One of my lists was in "featured" page in Italy, then nokia removed all the user lists from that page and placed only nokia official lists. Also a long time ago, in a galaxy far away app social used to have a beautiful function: when you tap on an app of a list, it displayed the app and the similar lists. But then it was changed with a simple link to the store

Hi CapoFantasma97! I don't believe it was intentional to remove your list in place of official lists; sometimes we cleanse the choices. What's your username? I'd love to check out your lists and see if there's anything updated or new that would go great and I will suggest it to our mechandisers. We appreciate all users' feedback and unique lists! We understand that it may not be as beautiful to have our individial store page (as opposed to the simple link you describe), but we decided it would be more functional to give users fewer hoops to jump through to download the apps they want. thanks for your feedback, and if you would like to add more, please visit our Uservoice page! http://appsocial.uservoice.com /Jen
App Social Marketing Manager

Plzz provide WhatsApp update
Crashing too much

What does it mean? It isn't whatsapp center, and we're talking about AppSocial

Asphalt 7 delisted from store

well, it must be me since i cant get this app to work. i have installed it on several occasions and this piece of s****t never worked. "could not load data" even xbox music is better then this :D

So sorry to hear about this - we'd like to know more so you and others with the same device or region don't have the same problems. Can you please send us an email at appsocial@nokia.com and we can help you fix it?

FYI: This update for App Social seemed to stop all of my live tiles from updating. Uninstalling and power cycling the phone seems to have fixed the problem.

Thanks for this info, I will pass it on to our developers and see if we have seen any of this in other places.

It's good to know people like yourself take the time to read comments posted here :) Thanks for the acknowledgment!

Always happy to help! Our best users are the ones like you who comments on articles like this one! What is your App Social username? Would like to follow you!

Hi Jennifer, I actually never created an App Social username (never got to that stage, you could say) and I'm probably not going to install it again in the near future. I occasionally post things here on WPC and twitter (@twiqqs) related to WP. See you around!