App Update Roundup: Fresh Paint, 2flicka, Adobe Reader and more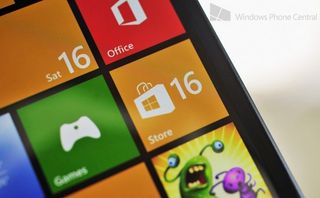 Before the weekend hits everyone, there have been a handful of apps updated on the Windows Phone Store. If you've somehow missed the updates of these popular apps, fear not as we've got you covered with download links and information after the break.
Fresh Paint 2.0.4057.1
Microsoft's Fresh Paint app for Windows Phone is a must-download for anyone who's a fan of drawing or coloring. While the previous update wasn't a major one, today we're seeing a bunch of new features hit the platform.
The changelog in the app description still shows off the old info from the last major update for Fresh Paint on Windows Phone. Notice anything new in this version? Sound off in the comments.
There's also Fresh Paint on Windows 8, should you be interested in the counterpart for larger screens.
2flicka 1.8
If you cast your mind back a few days, you would recall an update being pushed out for 2flicka, the popular unofficial Flickr app. Today the developer has released yet another small bump for the solution, updating the visual layout for photo information, groups, galleries and more.
Here's what is new in version 1.8:
Updated visual layout for photo info, groups, galleries, photosets and users sections for smoother integration
Fixed uploading in foreground sometimes (rarely) crashing the app
Fixed settings layout for 16:9 support
We strongly recommend you check the app out if you enjoy snapping photos with your Windows Phone and sharing the results with others.
Surfy 3.6
Surfy is a tabbed web browser available for Windows Phone 8. The browser utilizes tab viewing to match what you would see in a desktop browser. While most browsers for the platform attempt to mask or hide the tabbed experience, Surfy puts multiple instances in view.
The developer of Surfy has included the following in version 3.6:
Download Manager allowing users to transfer files over Wi-Fi or a USB connection,
Download and save YouTube videos, and export audio files to the Media Library.
Integration with Data Sense capability to warn users if they are over their data limit or when roaming.
Configurable search provider that supports Bing, DuckDuckGo, Yahoo! or Google.
Cookies can be cleared along with the internet cache when deleting history
Performance improvements
New language support: English: Italian, Portuguese, Finnish, Dutch, Czech, and Turkish.
There are two versions of the app available, with the free variant carrying some limitations.
Booklet
While Facebook still needs to launch Paper for Windows Phone, we've got a fairly active developer community (contrary to popular belief) and Booklet is an unofficial app for Windows Phone that lets you browse Facebook in a unique way. The app has been updated with the following additions:
Fixed notifications count inconsistencies
Fixed freeze when stopping scroll at "people you might know"
New notifications center (Facebook, messages and Social Scout notifications)
Fixed posting issues
Added option to separate notifications from messages
Other fixes
Should you be bored with browsing Facebook the conventional way, Booklet offers a rather unique experience.
Odds and ends
Interestingly, the above apps and games aren't the only Windows Phone content to receive new versions. Check out some more updates below:
Check out more updates (or add ones you've discovered) over on our community forum.
Windows Central Newsletter
Get the best of Windows Central in in your inbox, every day!
Rich Edmonds was formerly a Senior Editor of PC hardware at Windows Central, covering everything related to PC components and NAS. He's been involved in technology for more than a decade and knows a thing or two about the magic inside a PC chassis. You can follow him on Twitter at @RichEdmonds.
Did you update it??? I skipped it. As of now still no ads. I was scared if I update I'll get adds like on my note 3.

They are very few and far in between for me. One every like 3 hours.

MLB's At Bat is updated for 2014 and ready to go!

Adobe Reader now supports OneDrive, letting you browse your files.

HERE Drive+ (for Lumia Windows Phones - version 4.0.5410.0) doesn't show as an update for me. As a matter of fact, this is the same exact version I have on my phone already and it hasn't been updated in a while. But windowsphone.com shows this version as being updated today. I have a Lumia 1520. Adobe reader seems interesting but no changelog! Bugfixes?

Same here Man, in my lumia 920 here drive+ does not shows an update, its true that the day update become 3/20, but the version still the same

Same here! Market show the new update but I can't download it. Lumia 820

What the hell is here drive+ all I got is here drive on my 521

the + one is the version with all worldwide maps unlocked, it only comes free on high end Lumia phone, on ones like the 521 you need to pay $20 to upgrade to all maps.

Here Drive+ also appear as up to date on my Lumia 1020. Weirdddd.

Its cool that Adobe Reader updated with new features, too bad you have to pay for them.

Hey is it not illegal to download youtube videos ? I mean, openly announcing that you can download the you tube videos , is it ok ?

Yes... Lets leave this one alone. THANKS

I don't think you cloud have problems with that as long as you use those downloaded videos for a personal use

Yeah, it's against YouTube's terms of service. They haven't really enforced it, so many developers just ignore it.

I wish they would add some kind of file sorting for the Acrobat Reader. I've got loads of lecture slides that I read on the bus and it takes quite some time to find the one I need at a particular time. Well, at least I hope they've fixed the crashing when the app is resumed (which happens 25% of the time).

Samsung Now also got a neat update

I was waiting for adobe. Looking good integration with OneDrive and the option to send back feed back to improve the app. This proofs that adobe means business. God news for me as my entire life revolves around PDF. Thanks

Meh, Microsoft's PDF Reader works fine since the last update.

That's cool dude. Have you seen what adobe is capable on other platforms? I use adobe on iOS for my occupation. On WP it is dead. But I am hoping for a solid platform like iOS soon. You have very little knowledge of the power of PDF. Stick with your ignorance on MSFT PDF. Enjoy.

Why you mad bro?
I guess I'd be mad too if my life revolved around PDFs. (actually, it sometimes seems as if my life revolves Excel spreadsheets, so I feel ya)
Anyway, not everyone needs to convert, edit, etc. PDFs - and certainly not everyone is willing to pay for Adobe's subscription services for those features... for those people, Microsoft's "PDF Reader" is fine.
And what do you mean Adobe is dead on WP? Did it not just receive a major update? Were you not just praising it in your original post?

Instafont, Pocket File Manager and Advanced English Dictionary were also updated. ;)

Facebook app also got minor update.

Happy to get adobe reader update

No HERE Drive+ update for me yet, 820 in UK

My Adobe Reader is now half broken. Crashes on large documents 100+ pages. Is there a way to dismiss updates in WP8?

Subway surfers also released an update for 512 mb phones..

Since I got Black on my 720, the updates simply doesn't show anymore, even waiting days for it. I have to manually check every single one. Anyone could give me a hint?

Still waiting for a Modern PDF reader that has good readability. The text rendering is just horrible on my Surface 2 campared to any other platfoem out there. PDF text just looks like a photocopy. I keep hoping that the next update will fix it, and none have, not even the Spring Update... This one simple (Iguess not so simple) thing could make me use my Surface 2 100% of the time...

I just updated Adobe reader on my 520 yesterday. But after update I can't open the app. It closes automatically. Anybody have experienced same? Anybody can help me?
Windows Central Newsletter
Thank you for signing up to Windows Central. You will receive a verification email shortly.
There was a problem. Please refresh the page and try again.