These are some great apps you'll only find on Windows Phone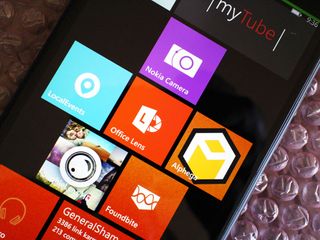 Last week we looked at how the iOS App Store compared to the Windows Phone Store in 2014. It was a sobering look at how much work Windows Phone still has to close the app gap between the two platforms. That's especially apparent when you look at 'fad apps' like popular games or apps from a new startups or company.
It's not all doom and gloom for Windows Phone. Over the past two months we've seen major apps officially join the platform. Thanks is due in part to the Universal Windows app model that allows devs to target Windows Phone 8.1 and Windows 8.1 with minimal work. Recently we've seen updates or releases for apps like Comedy Central, PlentyOfFish, UPS, AutoCAD 360, Barclays Pingit, Adobe Photoshop Express on Microsoft's platforms. The future is looking bright for Windows Phone and Windows 8.
Today we're going to turn the tables and look at some apps that are unique to Windows Phone and not available on iOS. We'll list some of the more popular ones and our favorites. Then you can hop into the comments and tell us what apps you love on Windows Phone that you can't get anywhere else.
Exclusive to Windows Phone
Foundbite
Foundbite is probably one of the best examples of an app that's exclusive to Windows Phone. The app is your portal to the Foundbite social network, where users can create and share foundbites. Users combine photos and sound to create foundbites. We know Foundbite will eventually need to go to Android and iOS to gain critical mass, but we're happy to have it call Windows Phone home for now. [More coverage / Download]
Office Lens
Fans of OneNote should have Office Lens. It's a free app in the Windows Phone Store from Microsoft that allows you to take photos of documents or whiteboards and have the images imported into OneNote. You can then search the text within those photos using OCR technology. [Move coverage / Download] (Edit: Office Lens is on iOS as well, but as part of the OneNote app)
WPCentral
Duh. [More coverage / Download]
Nokia Camera
Windows Phone is home to the best camera application on any smartphone thanks to Nokia Camera. While it's only available on Lumia devices, that represents over 90 percent of all Windows Phones. Which means the lot of you are rocking Nokia Camera! The camera app gives you control over your exposure time, shutter speed, ISO and more! [Move coverage / Download]
TipRanks
This app isn't widely known, but we did cover it when it launched last October. TipRanks is an app that will help you on your road to riches. With the app you can view various financial analysts and their portfolios. You then get their track record and can see if their financial opinion on whether to buy or sell a stock is valid. [More coverage / Download]
SongArc
SongArc is by far one of the most popular music games available on Windows Phone. It's on Windows Phone where you'll only find the addictive game. Look forward to leaderboards and more in a future update to the game. [More coverage / Download]
LocalEvents for Facebook
There's probably no better way to manage events on Facebook than with LocalEvents for Facebook. It's a relatively new app on Windows Phone that allows you to discover Facebook events around you. From concerts to parties to sports events, they all show up on LocalEvents for Facebook. Plus you can use the app to keep your plans under control by seeing all the event invites you've accepted. [More coverage / Download]
Halo: Spartan Assault
Yes you can play Halo: Spartan Assault on PC or your Xbox, but Windows Phone is the only mobile platform you can play! Halo fans should find a fun story in here and the game plays really nice (especially on a device like the Lumia 1520). [More coverage / Download]
Disqus
Disqus is one of the webs most popular commenting platform. You'll find their comment system on thousands of blogs all over the internet! You'll also find their only mobile app on Windows Phone. A recent update added a transparent Live tile and more! [More coverage / Download]
Track Runner
You have plenty of cross-platform running apps on Windows Phone, but Tracker Runner isn't one of them. It's exclusive to Windows Phone and one of our favorite running apps. A future update will make it even better for runners. [More coverage / Download]
SophieLens HD
One of our favorite filter apps for Windows Phone is SophieLens HD. The quality of filters in there are truly exceptional and we use this app all the time when we want to give our photos a little something extra. [More coverage / Download]
Nokia Collection
We can't list every single 'Nokia' app, but we will point out that you'll only find great apps like Storyteller, Beamer, Creative Studio, Refocus and others on Windows Phone. [Mover coverage]
We wanted to focus on a few of our favorite Windows Phone exclusive apps. But we know we missed some. Take a moment to hop into the comments and share your love for your favorite app(s) you'll only find on Windows Phone.
Windows Central Newsletter
Get the best of Windows Central in your inbox, every day!
WP Central app FTW !! :D Its the only app I use from the entire list. ;)

And three of them will soon make their way to others like Nokia camera office lens and Halo assault ... As it's MS...i wish they care about loyalty

Here Drive or Maps are NOT MS ; Drive+ being licenced to all 8.1 devices probably cost something to Microsoft, as Here remained Nokia.

Correct and technically incorrect. You are technically correct - Here was formerly Ovi Maps and then Nokia Maps. Here is a business unit that brings together Nokia's mapping and location assets under one brand. The technology of Here is based on a cloud-computing model, in which location data and services are stored on remote servers so that users have access to it regardless of which device they use. Here captures location content such as road networks, buildings, parks and traffic patterns. It then sells or licenses that mapping content, along with navigation services and location solutions to other businesses such as Garmin, BMW, Oracle and Amazon.com. In addition, Here provides platform services to Windows Phone 8 smartphones as well as those that run on other operating systems including Android and FirefoxOS but excluding iOS (Apple has their own maps program - which IMO sucks!). It delivers location services through Here applications, provides solutions for GIS and government clients and powers major mapping providers, such as Bing and Yahoo! Maps. Here has maps in nearly 200 countries, offers voice guided navigation in 94 countries, provides live traffic information in 33 countries and has indoor maps available for about 49,000 unique buildings in 45 countries. Where you are technically incorrect is that Nokia owned Here (formerly Ovi Maps) and now Microsoft owns Nokia and Here. So, technically, Here (formerly Nokia Here) is NOW a Microsoft product. This means that Google (Android), Mozilla (FirefoxOS), Garmin Inc., BMW, Oracle, Amazon, etc. will all be paying royalties to Microsoft for the use of these maps on their devices.

"Where you are technically incorrect is that Nokia owned Here (formerly Ovi Maps) and now Microsoft owns Nokia and Here. " This is not correct. Nokia's Devices and Services division was sold to Microsoft. HERE stayed at Nokia. It is licensed for use by Microsoft. You can go to the Service Terms of HERE: http://here.com/terms/service-terms/?lang=en-US and you will see that there is not a mention of Microsoft. It is important to note that the terms were updated after the sale closed. If HERE became a Microsoft owned division, then these terms would state Microsoft, and not Nokia. You can also find that Nokia still owns HERE by going to Nokia's (Not Microsoft Nokia) products page. http://company.nokia.com/en/our-businesses

I stand corrected and am man enough to admit when I am wrong. Thank you for the correction.

And I raise my hat to both of you. If this is still unclear to anybody, I don't know :-) Nice summary in any case!

WPCentral isn't a "found on only Windows Phone"! Might want to take that one off your list!

Was just thinking that. I often see replies with 'sent from wpcentral app for android' but I suppose it could be an unofficial app

If it's like the iOS app, it's only for the forums.

No it's definitely official and not just for forums. That one confused me too.

I thought there are two WPC official apps for Android. One for articles / comments while other dedicated to Forums specifically.

The Jay Bennet(read superior) version of the app is found only on Windows Phone.
Though both versions are technically official.

But Android one is entirely free

lol so is ours, free trial is full app

Obviously not because people use it to reply here which is not the forum

they are talking about ios not android. wpcentral is not available for ios

Kumar, saying exclusive to wp means you cant find it anywhere else, even if its aimed at iOS. Really need to take that off the list guys

Yup! Says my signature too. WPC App for Android- Lenovo IdeaTab A3000

WHAT ... WPCentral has an App on Android too ... Why is it on this list?

Today we're going to turn the tables and look at some apps that are unique to Windows Phone and not available on iOS

haha ... you got me ... though if you see the way the article is written, it seems though it is highligting apps only on WP

Nokia collection, love it!

Yup, the Nokia collection of apps is truly a find when switching over from an iPhone. Great stuff!

ONLY on Windows Phone? WPCentral is also on android. Edit: Found out that they meant only on Windows Phone not iOS. They didn´t count Android.

And technically the Windows Phone version of WPCentral is vastly different and definitely exclusive to Windows Phone. The android version is just basically a rehash of all the Mobile Nations apps.

How did you guys missed the Here services ?

Salvage .. Office .. Instagram beta ..

comes under Nokia collection mention in the article even though they might have forgot to mention it, lol

How did you miss X series ??? HERE branded softwares are available in X series s well......:) so not Lumia exclusive.....:)

They are counting ios apps, nor Android.

Yea, "Only this much" was exactly what I was thinking. As there might be a few handfulls of WP exclustives, there are THOUSANDS of apps exclusives on OS or Andoid that are NOT avaiable on Windows Phone. Sure it's growing and a lot of apps are coming but, there is a REALLY long way to go here. These posts should not happen because if brings attention to the fact that there is STILL a app problem with Windows Phone... Maybe it's me ?

I understand that there are some apps that are still not available on WP. But from the previous post it seems that they are mostly games. While, I understand that mobile gaming is very popular. That alone tells me that it is not all that bad when the majority are games. Posted via Windows Phone Central App

And this is something Microsoft could easily fix with exclusive Xbox live games but they're too into android and ios to care....

Partly true. They just announced that they are bringing zoo tycoon to Windows 8 and windows Phone this summer. :)

Thats just one game and its yet to be released. Need to see more from them.

To be honest I expected a bit bigger collection than this

I didn't. Posted via Windows Phone Central App

These are only the exclusives in the top 25 or whatever. There are wayyy more exclusives; they just don't happen to be in the top 25

Never mind. Skipped by mistake
Posted via Windows Phone Central App

What, you mean we don't need an android version of these apps? Shocking! /s

The most Interesting is the fact that Disqus is only on WP. To me, that's a big deal.

It's the only app anyone would care the most about outside WP ecosystem Posted via Windows Phone Central App

Exactly why its surprising. Though I imagine some folks might enjoy Spartan Assault as well.

Well yeah. True. Posted via Windows Phone Central App

I was also surprised by this. Pretty cool. I use Disqus on my Windows Phone probably about 30 times a day. It's a huge problem.

My XBox crazy, but iPhone/iPad toting friends care about Halo. They've also had fun playing SongArc. Don't speak for everyone outside of WP ecosystem.

I lovev the Disqus app, but its search function hasn't worked on my phone/account for ages now. Just returns no results.
Can anyone tell me if its just me please. Maybe I need to reinstall or a new account or something.

I couldn't believe it when I saw it! I am shocked.

Yeah definitely. i got it free days ago and was so happy to have an easier way to disqus. Had no idea it was exclusive

Yes, plenty to like here.

Where is film closet? TV show?

TVshow is such an amazing app. It's a must have app for people who watch tv shows, period.

I'm doing just fine and dandy without the 'TVShow' app. Period.

Wpcentral is also available on Android. Had it on my nexus 5

Missed many apps and no statistical data for the top apps in WPstore in comparison with the App store as was promised in the previuos article :/

What about Weave? Isn't it exclusive to WP?

Not in top 25, apparently

Well, iOS users don't need Weave when they have Flipboard and other official newsfeed type of apps.

It says Nokia collection... Posted via Windows Phone Central App

For the geeks amongst us, check out LCARS Interface. Posted via the WPC App for Android!

Why would the WPCentral app be "Duh" as an exclusive? Mobile Nations has made the iMore and Android Central apps available to more than just their native platforms if I'm not mistaken.

Thank goodness for this positive article! Go WPC.

...and there are some great apps you won't find on Windows Phone!! I'm talking about Flipboard, Starbucks, Discover, Uber, Lyft, etc...

Well that's obvious... Posted via Windows Phone Central App

Oh gee thanks for repeating the article that this is a companion for.
FYI - I have SBux app for Starbucks. I've used Uber's web app a few times.

Who cares about Starbucks when WP has a Tim Hortons app!

Rudy huyns apps,photosynth

Rudy apps are third party apps. Not the same. Posted via Windows Phone Central App

Photosynth is avail on iOS. Not sure about android.

Photosynth actually came to WP after ios, so a big no there.

THIS! Photosynth was on iOS for MONTHS before Windows Phone. It was a source of embarrassment as my iPhone friends would joke that they got Microsoft apps before I did.

No offence, but adding WP Central is a little self indulgent. Actually, I'd really like it ported to Android too so I can use it on my tablet.

You mean so it can run sluggishly on your tablet? #AndroidShaming. I'll never go back.

Yandex.Money is also exclusive to wp.

Kudos for mentioning Halo Spartan Assault!

Project Tripod? Youmigo? Social Scene?

IRCTC offical app in India oly for WP users...

NETF APP indian railway offical app oly for WP users

A nice little thread, but Oh, look. the denigrators have already started laying into MS. Give it a rest you losers!!! Go and whine to someone who gives a s**t!!! Sorry to rant, but in every single thread that is posted lately, the subject gets derailed, and the MS bashing starts.... Boring....

You forgot Fantasia Painter!

True! So powerful and its all ours!

WPCentral because "duh". Lol

Nokia exclusive doesn't count

Why should WPCentral be WP-only? Go to other platforms and spread the word!
How will they know what they are missing if they never get in contact with WP?

I thought WPCentral but I digress.lol Umm ProShot and ProShot. Yep, that should be on the list. And Day Counter but I'm unsure about its availability but I think it is a WP exclusive.

SoZoom! And not sure if this is Windows phone specific but Space Selfie is awesome.

Sam u missed the best photo editing app fantasia painter which is not available both ios and android..

Dark Lands is awesome! However I'm not sure if the dev ported that to android yet.

Yes, it's on Android nowadays.

How about an official facebook pages manager? That's what I need

Why do you care if it's "official"? I have FB Pages and it works just swell.

Dragon's Blade 2 is an excellent RPG that's exclusive to WP.

Disqus mobile app only on Windows Phone?!!! Mind=Blown. I would buy Windows Phone any day just for this! Disqus is an amazing app and so useful.

I just wish their transparent tile would stay transparent.

I had no idea they even had an app until this article.

Mytube.... who needs one from google??

From where can I get that wallpaper he is using to show wpcentral app?

The link is in a previous post by Sam sabri about the tiles he's pinned in the start screen. Been using it since then and have never felt the need to change it.

but the ui of windows version of wpcentral is too good dan android 1

Someone should write an article about the "app gap" that exists and how iOS must work to close it! ha ha Hey "Official" cult...do all of these qualify?


I had no clue that disqus was exclusive to WP. I use it constantly.

Man, I really hate to be that guy, but I'm expecting Halo Assault, and Office Lens to be on ios sooner than later. Are the Bing apps already available on ios?

Car dash, flash sports, hey Dj, joblens, wptorrent, city lens, local scout, every app with a "working" live tile

And you left out the best reddit apps among all other platforms, Readit and Baconit!

What about ever app from Loon Apps. Glean is highly addictive and they claim their apps and are exclusive to Windows Phone. I can't find them in iOS or Android.

Is there a link to get that wallpaper showing wpcentral App ? Is gorgeous !!!

They forgot Recipe4share ;) http://www.windowsphone.com/s?appid=d65bc173-c78e-4d20-aac9-d96c925455af

I submitted a game to windows phone market place which i believe is truly unique. Would love to have your feedback. Actual plan is to integrate unity3d engine and augmented reality. http://www.windowsphone.com/en-us/store/app/amazed/f27adaf0-cc30-4c35-a3...

Was going to download but realised I can't play it from my bed. Interesting idea, but what if you come up against a real obstacle when navigating the maze?

Hi Chris, Well, the whole idea is to play it only in open field as the device is not yet that inteligent to identify the obstacles in the maze area players are choosing. So i have to request the players to be sure there is enough space in the orientation and angle they want to play. I know this is a restriction but yes the algo can be tweaked to generate non square mazes allowing the players to choose the maze design. But that would need extra work. I just pulled of this app for fun. More ever this app is really at the mercy of GPS god. In spite of having so much for error correction, civilian GPS in phone are restricted to 3 Metre accuracy. This is aconcept i thought off and rather than leaving as such wanted to try out how much my logic would work.

Bing apps especially Health+ Fitness

The Only great apps I use is Office lens, Wpcentral and Halo SA. Others, I don't care.

My favorite aap is Windows Phone Insider. I know that it was not so popular, but it is soooo different from any other aaps. I Really love ❤ this aap.

Damn, my memory is blank, but i knew some cool games that was exclusive. One I know for sure is not on Android, and also, I believe, not on iOS is the excellent game: World of rabbits.

From my collection ... Sozoom and Podcast lounge. Then, perhaps a lot of the Microsoft apps like News, Finance, Sport, Travel and Translator. Probably should also add Awesome lock to the list as well. I quite enjoyed it when I showed an iphone user a Sozoom photo I'd made and he asked me what the app was called. I just said "sorry, it's only available on Windows Phone." Showed him Proshot and my downloadable Here and Bing maps while I was at it.

Quite a poor choice really and two of them are Nokia exclusives. That's like saying "look at this Dell Dock software on my laptop, you don't get that on your Acer.." Unless they migrate to other platforms they will still just be niche apps for "that third placed OS."

It's not only about quantity but quality. Many wp apps are missing key features that are found on their android and iOS counterparts. They need to get these basics down yesterday.

Some of my favourite go-to apps are exclusive:
- Foundbite
- Project Tripod
- Weave
- Bing News
- Office Lens (actually the lenses feature of wp is the key here giving ready access to all my camera apps)
- Here services (Maps, Drive, Transit)
- People Hub!
- Blink
- Fresh Paint
-Office Remote (is this on iOS?)

Most wp apps are absolutely shite ! Everything that gets released for wp is beta , and never seems to be updated to a proper version . Posted via Windows Phone Central App

Lockscreen Wallpapers, the best wallpapers provider and with a very unique WP touch: http://www.windowsphone.com/en-us/store/app/lockscreen-wallpapers/d68eeb... and it even let's you customize and combine your own categories!

I've got the WPCentral app on my Android tablet

Soon nokia apps will be available to droid and ios since nokia service and maps divisions are not anymore tied to ms and nokia lumias

Y.A.W.N. Is this the exclusive list of apps you trying to temp people with? Lol

But not for available for Lumia owners

This article points out just how many exclusive WP apps I love and use pretty regularly. Top 4 easily: Nokia Camera, Track Runner, Office Lens, HERE Drive. And might I point out that these offer some unique functionality that would be hard to match on iOS especially considering these all are free apps too.

You forgot about 1. 6TAG 2. MixLoc

Official IRCTC (Indian Railway) app, even though its only for India its exclusive to windows phone and that app is gorgeous.

Imo the BEST app on WP is Songarc. No other game comes close to it.

5,000 mentions that WPCentral is available on Android but no mention of my new game Clowntraptions, exclusive to Windows Phone and Windows 8.1? http://www.windowsphone.com/s?appid=07b7c65a-1cf1-45cb-bf49-cea9ea381dd9 There are quite a lot of cool indie games in the store that get lost amidst the clamour for the big names.

The best app for me? Youmigo.

Time for some shmuck face!

Except I'm running the WPCentral app from my Android phone ;) Posted via the WPC App for Android!

150+ comments and no mention of Cortana. So here she is. Also near as I can tell Chronos calendar is WP exclusive and it completely rocks.

There are a lot of great apps available exclusively for Windows Phone.
One of this is "Tie Mentor"
http://www.windowsphone.com/s?appid=914722dd-43ea-4868-a608-2bf033675077


Active Fitness along with Winter Sports are both awesome Windows exclusive apps. While on the slopes this past season I can't tell you how many people asked the name of these apps so they could download it, and then having the great pleasure of telling them, "Oh, sorry, it's only for Windows Phones."

can someone please tell me where i can find the wallpaper from WPCentral ?

You Forget About movie creator,creative studio