Appy Weather receives a flurry of updates, mostly bug fixes but a few new features are in tow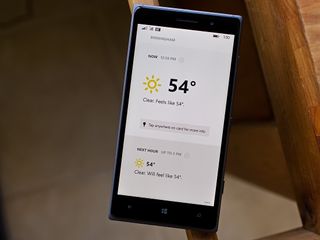 Appy Weather is a popular Windows Phone weather app that presents weather forecasts in somewhat of a personal nature. With a minimalistic design, the weather app does offer the nuts and bolts of your forecast but also offers a comparison of upcoming weather conditions to what you are experiencing now (e.g. temperatures will be much colder than today, etc.)
Appy Weather received a significant update last month that delivered lockscreen support and the ability to use Bing images or custom photos as your lockscreen wallpaper. Since that update, the Windows Phone app has received six updates with the most recent update pushing out today taking the app to version 1.2.2.
Most of the updates dealt with minor bugs but a few new features snuck in along the way.
The version 1.2.2 update added dew point data to the weather information and fixed the bug where snow amounts were sometimes being reported in centimeters when the measurement format was set to Imperial.
Other updates dealt with bugs affecting the background agent, Bing background refresh and tweaked the opacity feature for custom lockscreen backgrounds. Features added through this series of updates included:
A restart background task button to make it easier to get the Live Tile and lockscreen to restart after updates.
A "Report Issue" button was added to the error prompt when you experience trouble getting the weather.
Optimizations were added to the background agent to reduce the possibility of reaching memory constraint issues if the Live Tile and lockscreen are both active. This helps the app run smoothly on low-memory Windows Phones.
You can find the full change log history for Appy Weather here.
Appy Weather pulls down a 4.5 Star rating in the Windows Phone Store and is a very appealing weather option for your Windows Phone. The updates help improve not only the features of the app but also helps improve the performance and stability of Appy Weather. It is always nice to see a developer take a pro-active approach to managing their apps.
Please take note that the trial version is fully functional but will time out after seven days, which is plenty of time to decide if Appy Weather is worth the investment.
Windows Central Newsletter
Get the best of Windows Central in in your inbox, every day!
George is the Reviews Editor at Windows Central, concentrating on Windows 10 PC and Mobile apps. He's been a supporter of the platform since the days of Windows CE and uses his current Windows 10 Mobile phone daily to keep up with life and enjoy a game during down time.
Lumia Camera also got update in store.

Does this app support glance?

Unfortunately not, as much as I'd want to. And that's because Glance isn't open for third-party developers (as far as I'm aware). A big problem for devs is that users aren't aware that it isn't possible because they see other apps like MSN Weather that do support it. And that's understandable because why should they be (able to make the distinction between first-party and third-party apps)? This has resulted in a few unfavourable reviews.

Yeah, one can only hope that they open this feature up for third party devs or at least mention it in the Glance settings that it is currently locked. :| I was also not aware of this fact, prior to you mentioning it to one of my comments a month earlier. Alternatively you could maybe make a mentioning in your app's store description?

That's an idea. But it makes the assumption that people actually read these things ;) Also to increase likelihood of them reading this, must be at the very top and possibly in caps too. Not exactly the most elegant/positive sales pitch.

Well, maybe not on top of the description. There are users that actually read before installing an App, though truly not all of them but this way you can at least try to minimize ratings based on missing information.

Maybe this is kinda off topic, but since you are a developer i just wanna ask you something. We know about the option to put this on the lockscreen (like many apps) but is there an option to make it to just show the information but to not change my lockscreen wallpaper? I make my own wallpapers (lock screen and start screen) and I like it to change it myself. So i haven't found a single app that supports lock screen but not to change the wallpaper. Like for this app for example. I would like to have my own background but in the same time I want Appy to show the weather information. Did my question made any sense? I think i got kinda cofused now since i wrote it, but trust me, in my head sounds different, lol. I think you get what i wanna ask, right? ;) Thanks in Advance, I love Appy and I use it. :)

I understood your question but unfortunately that's not how lockscreen picture works. The native management of lockscreen requires you to "decide" which app will have the authorization, and only one app can do that at a time. Which means:
Everytime you change your background using the regular windows phone settings it is like you deny the authorization for appy weather to modify it. Therefore it can not apply it's modifications unless you reset it from the app. Hope this clarifies. Edit: Maybe one solution would for appy weather to include a button "wallpaper quick change" (outside of the settings, maybe through a live tile) that you would use to change your background instead of using the settings features

Yes, perfectly clarified, thank you. So by this any app that supports lock screen is working the same, right? Guess this is a WP limitation. Would be nice tho if you can set your own background using the phone regular settings and just show the app's information over that background. Maybe they can allow this in WP10 :)

Great app, developer is very responsive. Worth the extra money.

Best weather in the Store.

Subjective, but yes I'd have to agree with you!

From the start I knew this app would be amazing. Just look at that clean UI.

And the developer's support is responsive and top notch!

I just started using this app this week and it is terrific. I still have Amazing Weather on hand in case I want to see satellite images, but Appy will be my go to weather app for day to day use for now.

It's like talking to a meteorologist. I really like this app as my go to daily weather app. If it implements clear radar somehow, I will be able to eliminate all other weather apps. Great work!

Heh. Weather. Flurry. Well done.

Love this app. It's perfect.

Hope that Bing lockscreen picture resolution will be fixed soon. I have to remove it, but I miss it on lockscreen. :)

Are you referring to the lower resolution photo being used to increase lock screen reliability?

Yes Bardi. I am using L930 and pics looks, well, bad. :) But it's not a dealbraker for me, just hope you'll get it fixed in future. :)

Ah yes. This is on my list.

Odd, what phone do you use this App with? On my Lumia 1020 the BING image looks crisp. Maybe your phone has 512mb ram or is a 1080p screen phone?

Think it's a 1080p phone. It's on this resolution that the lock screen quality downgrade would have been most apparent.

Yes, it's 1080p. Lumia 930

Top app. Very elegant and well worth the money.

Well done on the headline, George!
Windows Central Newsletter
Thank you for signing up to Windows Central. You will receive a verification email shortly.
There was a problem. Please refresh the page and try again.