Tenchu-like Aragami 2 to stealthily make its way to Xbox Game Pass this September
By Alexander Cope published
Strike down your enemies with the power of shadows and protect your clan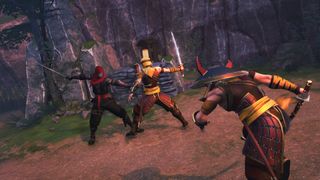 (Image credit: Lince Works)
What you need to know
Aragami 2 is a third-person, stealth action developed and published by Lince Works.
Lince Works has released new gameplay footage and announced that Aragami 2 will be added to Xbox Game Pass when it launches on September 17, 2021.
Aragami 2 is a sequel to Lince Works' 2016 sleeper indie hit, Aragami. It is a third-person, stealth action game where you play as a warrior from the Aragami clan — a group of ninjas that possess an ability to manipulate the shadows called Shadow Essence. They use this accursed power to carry out dangerous assassination missions to ensure the survival of their clan and to free their brethren from enemy captivity.
Your missions will be filled with peril and your enemies will use all of their might to ensure your failure. Lince Works has recently released a lengthy gameplay video that demonstrates one of Aragami 2's first missions and the skills you will need to accomplish it.
As you can see from this video, mastering the art of stealth, combat, and your cursed abilities will be the key to silence your enemies. Aragami 2 will be released on PlayStation 4, PlayStation 5, Xbox One, Xbox Series X, Xbox Series S, and PC on September 17, 2021. If you're a Game Pass owner, you can pre-download the game right now because Aragami 2 will be added to Xbox Game Pass when the Xbox versions launch.
The original Aragami was one of the finest stealth games released in recent memory and I believe its sequel will maintain the original's high level of polished gameplay and become one of the best games on Xbox Game Pass.
Strike the darkness
(opens in new tab)
Master your cursed powers and save the Aragami

You are a member of the Aragami Clan — an elite group of warriors on the verge of extinction. Your people have been afflicted with a curse that grants them the ability to manipulate the shadows at the cost of their bodies and mind. To save your clan, you will need to undertake dangerous quests that will hopefully reward you with clues on how to break the curse before it's too late.
Alexander Cope is a writer for Windows Central and iMore that has been gaming since the 16-bit era.
I have the first game, haven't bothered to start it yet, guess I probably should though.
Windows Central Newsletter
Get the best of Windows Central in in your inbox, every day!
Thank you for signing up to Windows Central. You will receive a verification email shortly.
There was a problem. Please refresh the page and try again.