Archos 50 Cesium with Windows 10 Mobile on sale in the UK and France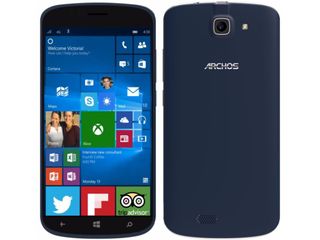 First announced a few months ago, Archos is now starting to sell its 5-inch 50 Cesium phone with Windows 10 Mobile installed. The company is selling the phone directly on its UK and French sites for £99.99 and €99.99, respectively.
Just a reminder: here's a breakdown of the hardware specs for the Archos 50 Cesium:
Display - 5-inch 1280x720
Processor - Qualcomm Snapdragon 210 quad-core CPU at 1GHz
RAM - 1GB
Internal storage - 8GB
Expandable storage - microSD card slot for up to 32GB
Rear camera - 8MP
Front camera - 2MP
Battery - 2100mAh
There's no word when the Archos 50 Cesium might be released in the U.S. market.
Via: WMPU
Windows Central Newsletter
Get the best of Windows Central in your inbox, every day!
I hope it comes to the U.S.

Archos...LMAO. If you have the £99, just burn it....it would be more productive. That company went from cutting edge to shoving garbage out the door and refusing to take any type of responsibility for it. The final straw for me was a 704 that came in (brand new). Right out of the box, the charger cable wont go into the port. After inspecting it, it looked like peanut butter stuffed in it. When I called customer support, they told me to just take a pick and clean it out. I told them that was ridiculous and they told me that is all they could do for me. After that, the device just crashed over and over. This time they took it back for repairs. When it returned it didn't crash anymore, but it had scratches and a massive dent on one corner. Honestly...the last device company you want to deal with is Archos.

I'm sure it was some Archos tablets that I saw reduced in HMV once, store guy mentioned that loads came back faulty.

They were once the "cool" guys. But started going downhill. Haven't bought any of their products in ages now. Wonder if anything has changed quality-wise.

Go check amazon reviews out...pretty much says it is the latest junk.

Peanut butter comes preinstalled with Windows 10 mobile.

Ironic cos its not buttery smooth

Had a try with them a handful of years ago for my first tablet. Returned it to the retailer. I remember to have had bad experience in trying to contact Archos. Maybe good for a toy, but not for a device you depend on.

€99 is like £75, that's a big difference. Does uk have to pay 20% tax on things imported from eu???

In the UK we get taxed for breathing.

You also get taxed after you stop breathing.

So you think that every product in the EU is sold at the same price? Strange world you live in. Even inside € area you have different prices for the same products. And then you have UK salary which is what? Double the italian salary for example?

We shouldn't do, [for now at least] we are a part of the EU. Free travel of people and goods between member states. I just looked it up quickly and it seems that in France tax is included in the price, like in the UK, so that can't be a part of the reason. Hmm.

This may also be part of the strategy. Allow enough breathing room in local markets for partners to offer more choices.

No extra tax from EU. Odd pricing

The EU doesn't levy taxes, so nothing odd there. Individual countries do and have different tariffs. This partially explains differences in price.

99£ and 99€ ?they already ripping us off enough with the transport

Wow, go through all the trouble of designing a device, and only support microSDHC instead of microSDXC

That is probably just a typo. The 210 chipset and the W10M software both support SDXC, so this phone will.

Nice looking phone, I like it.

Those tiles make any phone look good ;p

I like the curved bottom with it's capacitive buttons.

If this is anything like everything else that Archos produced over the last few years, stay far away from this. It's been mentioned, but Archos have a reputation for producing VERY bad hardware. Their customer service is like all French customer service: horrendous.

I hope someone high-up from Archos is reading this. They need to put their act together. Hey Archos! need a new CEO? Call me.

It's good to see more phones coming out with Windows 10 Mobile, I'm just not sure who will buy the ones such as this from Archos. I haven't looked at the specs in a lot of detail yet but it feels unlikely I'd recommend this phone over a Lumia right now - Archos don't have the best reputation anyway and the average consumer has at least heard of Microsoft (and possibly Lumia). The more options the better of course. Some people seem to buy the most random Android devices in the low end, so maybe I'm underestimating how well a phone like this could do, even if it will only ever be sold online (Can't see brick and mortar retailers keeping stock of it). For under £100 you can certainly get a very functional phone, even the Lumia 435 I have as a test device runs Windows 10 pretty smoothly on the latest Insider Build.

What is with the SD210 phones

cheap and easy. lower profit loss if it bombs? and it's cheap.Even the low end lumias sold well, so why not try?

Archos used to be a great brand for media playback. Even their 1st android tablets handled video perfectly, but the same tablet didn't do so well for everything else. If they brought over their media player to windows mobile, I'd be happy (if it was as good as their android offering)

What's with all these budget galaxy esque windows 10 devices? Acer, Alcatel, archos... Hopefully this design change doesn't represent the future of Windows 10.

There needs to be more mid range and high end devices. Posted via the Windows Central App for Android on my Frost Nexus 6P

Damn I forgot Archos existed.

Looks like an S3 or 4 so mediocre look but for the price point not bad. Still 8 gigabytes or storage is horrid honestly. Phones these days should come 16 gbs minimum. Posted via the Windows Central App for Android on my Frost Nexus 6P

Excellent for the ecosystem .

why is it that none of the windows phone have decent specs ? why dont they use newer processors and stuff ? the MTK octacores or snapdragon octacores like 615, honestly if anyone wants a budget windows phone its 640 end of discussion, what others need to do is offer something more worthwhile in specs at a mid range price!

Most consumers that this will be targeted at won't be concerned with specs like fans on the internet would be, though. They see a phone they like, suits their needs and is a good price, and that's all they need to make the decision to buy. They don't deliberate over the processor, they just want a phone that works.

it has same specs as blu phone, paid 34gbp.

MORE MORE MORE Windows Phones.... GREAT...

Looks pretty nice, good thing

Reminds me of my Samsung Focus/Galaxy S2. I loved that phone. Ideally I'd want 32gb minimum, 2gb ram and microsd up to 128GB. One of the things I really hate about all the current windows 10 phones right now is the lack of capacitive buttons. I hate soft keys.