Are you going to get Skyrim Anniversary Edition?
Yet another Skyrim rerelease is coming soon. How do you feel about it?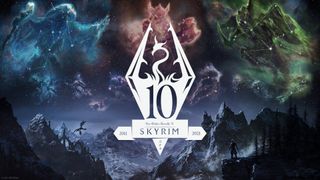 (Image credit: Bethesda Softworks)
Recently, yet another rerelease of Skyrim — Skyrim Anniversary Edition — was announced during QuakeCon 2021. The newest version of the iconic 2011 RPG is slated to arrive on the 10th anniversary of the original game's release: Nov. 11, 2021.
In terms of what's new, fans can expect next-gen enhancements, a Survival Mode, brand-new fishing mechanics, and access to over 500 pieces of content from Bethesda's community-driven Creation Club. Notably, owners of 2016's Skyrim Special Edition will be able to upgrade to the Anniversary Edition for free, although access to the Creation Club content will be restricted unless you pay up (the game's price is currently unclear).
Skyrim Anniversary Edition sounds awesome, but will it truly be worth buying or upgrading to? There are many factors to consider depending on which platform you enjoy Skyrim on and how you choose to play the game.
For PlayStation players who don't have the option to use mods and fans on both Xbox and PC who prefer the vanilla Skyrim experience, I think upgrading Skyrim Special Edition to the Anniversary Edition that features next-gen enhancements and the new fishing mechanic will be a no-brainer. There's ultimately no reason not to take advantage of these free upgrades in this scenario, especially if the next-gen enhancements Bethesda has planned for the new edition are substantial. The only downside I can think of would be that your character saves might not transfer (this is what's stopping my girlfriend from getting the Special Edition on Xbox), but Bethesda hasn't clarified whether saves will carry over yet.
Where things get murkier is if you're an Xbox or PC player who's looking to experience Skyrim for the first time or if you're someone who likes to mod the hell out of Skyrim (like me). There's a good chance that the Anniversary Edition of the game will break a ton of the popular mods that thousands upon thousands of players consider to be a core component of their playthroughs, and it's unclear whether it will be easy or difficult for mod authors to make their mods compatible with the new version of the game.
If this happens and mod creators struggle to get their projects working with the Anniversary Edition, modding veterans and new players alike should probably stick with the Special Edition so that they have the option to use mods if they want to (or continue doing so). Sure, they'll lose out on next-gen enhancements, but you can make Skyrim look like it released in 2021 already with the best Skyrim Special Edition PC mods or best Skyrim Special Edition Xbox One mods. With that said, if Skyrim Anniversary Edition includes some modern upgrades to Skyrim's engine like Skyrim Special Edition did, I can see moving to it being beneficial in the long run since those upgrades will probably make modded playthroughs smoother, and most mods will most likely get ported to the new edition eventually.
Image 1 of 2
Regarding the Creation Club portion of Skyrim Anniversary Edition, I'm feeling conflicted. On one hand, I've tried out some of the content offerings in the Skyrim Creation Club in the past, and while some of the content is nothing to write home about, there are also several excellent creations that have become staple additions to my playthroughs (The Spell Knight armor set is my personal favorite).
On the other hand, there are hundreds if not thousands of mods that add in new quests, weapons, armors, spells, NPCs, and mechanics (there are even mods for fishing and survival systems, which is what the Anniversary Edition offers). All of these mods are available for free on Xbox and PC, and based on my experience, most of them are on par with or better than what you'll find in the Creation Club in terms of quality.
Overall, I personally wouldn't mind paying for tons of new content to enjoy in Skyrim, but I absolutely understand why many players might choose not to when so many great mods are available for free on Special Edition.
Your thoughts
Overall, how are you feeling about Skyrim Anniversary Edition? Are you planning on getting the full package, or are you just going to take advantage of the free upgrades and skip buying the Creation Club content? Are you going to avoid the Anniversary Edition entirely and stick with Special Edition? Let me know in the poll below, and make sure to discuss your reasoning in the comments. Personally, since I'm a heavy modder, I'm probably going to stick to Special Edition in the short term, although I may eventually switch to the new version.
If you don't want to wait for Skyrim Anniversary Edition to enjoy the fifth installment of the Elder Scrolls franchise, you can get Skyrim Special Edition for $40. It includes all of Skyrim's DLC and features some great improvements to the game's visuals and engine that make one of the best Xbox games even better, so I highly recommend it.
Fus-ro-dah!
(opens in new tab)
The Elder Scrolls V: Skyrim Special Edition
Still going strong

Skyrim Special Edition is currently the definitive way to experience Skyrim and its DLC, and you'll be able to take advantage of some free upgrades when Skyrim Anniversary Edition comes out later this year.