ARMED! released for Windows 8, updates Windows Phone version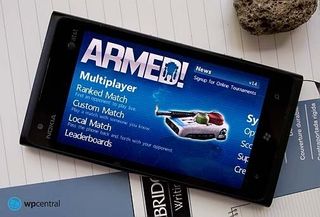 The developer of ARMED! has released an update for the title, which is now available on Windows 8 as well as Windows Phone. We previously looked at the strategy game when it was bumped to version 1.6, and before that when a Windows 8 preview was available for free. It's yet another large update so let's jump into it.
As well the updates and changes to the game itself, the developer has also changed profile systems in the latest release. Windows 8 users are unaffected, but should you be an avid Windows Phone fan, you will need to follow the following steps to ensure successful profile migration:
Install the latest 1.7 release from the Windows Phone Store.
Run the game at least once using WiFi.
Visit the Scoreloop screen in the game.
Enter your email address (optional, but recommended).
Install the 1.8 update over the existing 1.7 install... do not uninstall ARMED!.
Bob's your uncle.
It's a one-time migration issue, and one can contact the developer for support should something go wrong.
So, what's new in version 1.8? Prepare yourself with a cup of tea before going over the following list.
Cross-Platfrom multiplayer enabled between Windows 8 and Windows Phone 7 clients.
Two new levels added: Fortress and Waterhazard.
New unit category: A.R.M-class vehicles added.
New Plasmoid unit.
New profile system includes:
Player statistics
Friends list
Match History
Profile picture retrieved from Gravatar.com
Profile synchronization between Windows Phone 7 and Windows 8.
Dozens of input and UI improvements to improve overall experience.
Visual improvements to all levels.
(Win8) Fixed bug that prevented some Intel users from starting the application.
Gameplay
New unit- Plasmoid: A.R.M.-class Siege vehicle focused on long-ranged, area of affect damage.
Unit Redesign- Mech: A.R.M-class Assault vehicle with powerful shielding, armor, and melee attacks.
New A.R.M. Fabricator upgrade unlocks the production of A.R.M.-class units from factories.
Players are only allowed one A.R.M.-class vehicle at a time..
New special attacks for A.R.M.-class vehicles
New mechanic: Teleporters enabled on Waterhazard and Fortress.
Striker cost increased from 125 to 150.
The timer in a Live multiplayer game will pulsate and make sounds as it gets close to expiring.
Changes to game logic introduce the possibility of multi-kills.
Improved game-over sequence shown when surrendering a match.
Added foliage cover to areas of "Riverted".
Added a new animated skybox to "Flotilla".
"Deserted" updated with detailed texture work and more saturation to the overall look.
Lightened "Vilecano"'s coloring near the brim of the volcanos and added more trees in the soft cover areas.
Improved "Sn0wned"'s textures to clearly define mountainous and unplayable areas.
Units in a tile next to an non-aligned power station will always attempt to capture it.
New alert notification voice overs.
User Interface
Many screens have been redesigned both for easier use and visual appeal.
(Win8) Greatly improved the feel of both mouse and touch inputs.
(Win8) Added following Keyboard controls:

WASD - Camera movement.
QE / Ctrl + (Arrow Left/Right) - Camera rotation.
RF / PGDown/PGUp / Ctrl + (Arrow Up/Down) - Camera zoom.
Z - Enter Build mode
X - Enter Upgrade mode
C - Enter Special mode

Camera control physics improved for pan and rotate.
Profile pictures are now retrieved from Gravatar.com.
Selecting an entry on the Leaderboard screen will take you to their profile.
New background art for Splash, Build, Upgrade, Special, and Unit Info screens.
New Level Select screen art.
New End Game menu.
New presentation of the results of ranked games.
Live matchmaking searches now continue until cancelled.
Selecting Build, Upgrade, or Special now pans the camera to show the closest selectable tiles or units if none are visible.
Holding a path node over an area that contains a unit will switch between targeting the unit and the tile until released.
Resource control remains visible when the game is paused.
New presentation of UI in the tutorial.
UI Elements in the tutorial will blink as they're enabled.
(Win8) - ARMED! Store opened to unlock new level content.
Improvements
Desynchronized games no longer count for rating.
(Win8) Improved support for sharing content with other applications through the Share charm.
Improved the quality of error reports sent for desynchronized games.
Friendly units passing through the same tile will attempt to sidestep around each other.
Reduced particle system's memory usage.
The camera will continue to animate after the Game Over sequence.
(Win8) Enabled BugSense for general error reporting.
Big performance improvements for AI pathfinding.
AI is better at patrolling the map.
Bug Fixes
Fixed dozens of multiplayer desynchronization issues
(Win8) Fixed major issue that prevented some users with Intel GMA video cards from starting the game.
Fixed cases where the Incendiary Launcher's attack did not apply burn damage to units or tiles.
(Win8) Fixed crash caused by quickly launching multiple message dialogs.
Laser Turrets with the Cutter upgrade emit spark particles on each unit the beam damages.
Rockets now correctly render their trailing flames.
Fixed issue where resources would temporarily display the incorrect value when changing turns or exiting the game.
Fixed bug causing attack beams to remain on the board.
Fixed issues with double tap/click gameplay actions.
Fixed cases where multiplayer games would get stuck in "Sending Turn..." step.
Fixed memory leaks caused between multiple gameplay sessions.
Fixed bug that prevented combat music from being controlled by Music Volume setting.
Prevented situations where the game would crash when suspending.
Fixed crash caused by units following each other.
HQ no longer stops showing its shadow after being destroyed.
It's quite a sizeable update, that's for sure. We're pleased with the overall experience one can enjoy with ARMED! and the developer seems to be dedicated to fixing bugs, improving gameplay and further expanding on what's already available. It's definitely worth the purchase on both Windows platforms.
You can download ARMED! from both the Windows Phone and Windows 8 (opens in new tab) Stores. There's also a beta currently underway for both the iPad and iPhone. For more information, be sure to check out the ARMED! website.
Windows Central Newsletter
Get the best of Windows Central in in your inbox, every day!
Rich Edmonds was formerly a Senior Editor of PC hardware at Windows Central, covering everything related to PC components and NAS. He's been involved in technology for more than a decade and knows a thing or two about the magic inside a PC chassis. You can follow him on Twitter at @RichEdmonds.
This game was already there on w8 release preview!

Noticed a tile for it during the Surface commercial.

Now has two new maps and new units, plus teleporting.

i really would like to see more pc game titles soon for windows 8 and windows phone 8


too bad they didnt change the gameplay on windows8. I still prefer to play it on the phone.

IDK, I like to play it on my W8 Tablet. Its like playing on the phone with touch but the graphics and gameplay is amazing on a larger screen. My favorite game when I have time to play it.

Still is, and will be, my favorite game.

Anyone tried playing this with an xbox controller pluged in? I know pinball FX 2 works with the controller.

Keeps crashing for me on W8. Can't play it

Works great on WP and W8!

Cross platform play is a BIG deal
Windows Central Newsletter
Thank you for signing up to Windows Central. You will receive a verification email shortly.
There was a problem. Please refresh the page and try again.