ARMED updated on Windows Phone, coming to Windows 8 as well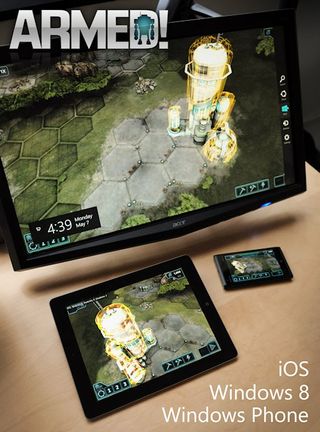 Sickhead Games' ARMED! stands out as one of the most impressive indie games in the Windows Phone lineup – in fact, it even outdoes just about every Xbox Live title in graphics, UI, and multiplayer features. Even the title is extra exciting, with not only capital letters, but also an exclamation point! Why Microsoft hasn't picked up ARMED! for Xbox Live status remains a mystery, but Sickhead continues to support their title, both with updates and plans to expand to other platforms as well.
Head past the break for the full scoop!
First, the recently-released version 1.4 update corrects some desynchronization issues that had popped up in the previous update. Not as exciting as new content, but very necessary. Sickhead does intend to release new maps in the future, and maybe even a map editor.
ARMED! version 1.4 release notes:
Balance Changes:
Removed concept of damage falloff (previously applied only to Cluster and Lasers with upgraded range).
Line-of-sight and Line-of-fire between tiles is now calculated with a more symmetrical result.
Rules for when LowCover applies a change to dodge have changed slightly.
Bug Fixes:
Fixed a bug/exploit when starting a Local Match after playing multiplayer in the same session.
Fixed several issues causing multiplayer games to sometimes desync and become unplayable between players with different phone-cpu architectures.
Sickhead has also announced that ARMED! will be coming to Windows 8 (yay!) and iOS (meh). The photograph above shows the game running on a PC, iPad, and Windows Phone. Expanding to iOS makes sense – while exclusivity to Microsoft platforms would be great news for fans like us, there's really no incentive for the developers to stay exclusive without a choice publishing deal. Non-exclusivity also has a big advantage that I'll get to in a moment…
Details on the new ARMED! ports are scarce, but they should launch by the end of summer. We do know the ports are using an Open Source cross-platform implementation of XNA called MonoGame. Using MonoGame, developers can easily port XNA titles to Android, iOS, Linux, and OpenGL. MonoGame (not necessarily ARMED!) will also support Playstation Vita in the future.
ARMED! is perhaps best known for its robust array of multiplayer features and options. Being a turn-based strategy game, it naturally supports 2-person local multiplayer on the same phone. Online, players can engage in competitive turn-based matches either simultaneously or asynchronously, taking turns over time (with Toast notifications).
ARMED! expanding to Windows 8 and iOS should actually improve the multiplayer experience for Windows Phone users thanks to a brand-new feature: cross-platform multiplayer. Yes, we'll soon be able to play online against PC and iOS gamers, which should make for a whole new level of competition. All three platforms will be able to play against each other as soon as they launch.
As you can see, Sickhead Games has big plans in store for their futuristic strategy game. WPCentral will stay on top of the Windows Phone and Windows 8 versions, so stay tuned for more news. You can also follow Sickhead's Twitter account, @ARMEDgame.
ARMED! costs $3.99 on Windows Phone and there is a free trial. The ad-supported trial actually has multiplayer, so definitely try it out if you haven't already. You can find ARMED! here on the Marketplace.
Windows Central Newsletter
Get the best of Windows Central in in your inbox, every day!
Paul Acevedo is the Games Editor at Windows Central. A lifelong gamer, he has written about videogames for over 15 years and reviewed over 350 games for our site. Follow him on Twitter @PaulRAcevedo. Don't hate. Appreciate!
I love the game, it is truly a great title that I'm thrilled is not a LIVE game. I do wish for a temporary sale though, say $2 to draw more players that might give it a chance for less money. Here's hoping anyway.

Actually we were just talking about that. ;)

Good to know lol, more players can only be good right? I look forward to it. Also, I recommend doing it before everyone's app cards expire at the end of this month, from the forums here there are still quit a few waiting on the deadline to spend all the credit.

yeah, ARMED! is the shit. can't wait till I'm playing this on my win8 tablet and PC!

Paul Acevedo, please, ask Sickhead Games to publish this game to Brazilian Marketplace! This is one of the games that most Brazilian users will like to play!

We would like to, but we have two issues: 1. We need to get officially rated by the Brazilian government (http://en.wikipedia.org/wiki/DJCTQ#Requesting_a_rating) ...none of us speak Portuguese so its not a simple process. 2. We really need to localize to Portuguese as well. Mostly its just been that #1 is a pain in the ass to deal with.... its just Brazil and South Korea that require your games to be officially rated to be sold within their borders.

I can help with the translation of documents required if you want.
I translated the official page of the Ministry of Justice where he has the necessary procedures for request classification. This isn't much, but it's a start. http://translate.google.com.br/translate?sl=pt&tl=en&js=n&prev=_t&hl=pt-BR&ie=UTF-8&layout=2&eotf=1&u=http2F2Fdata2FMJ6C4030FEITEMID66914BCA346A4350800CB04EBF2D6BD7PTBRIE.htm&act=url The original link is:
http://portal.mj.gov.br/data/Pages/MJ6C4030FEITEMID66914BCA346A4350800CB04EBF2D6BD7PTBRIE.htm

I can help with some of the Portuguese as well.

If you guys could please send an e-mail to Armed@Sickheadgames.com about helping us translate to Portuguese, we'd really appreciate it! We currently only have one person translating to that language, so it's taking quite a while. More people would help us get it done even quicker : )

thats why i use a US liveId. This game is the best in marketplace by a far margin! I wonder if they plan to release it with real time gameplay instead of turns. Turns make sense for mobiles but for PCs i would rather play like a full rts game xDD would be awesome!!!

Sweet! Really enjoy this game.


I have had this game installed on my phone since it came out. I played it once. Seeing this article is making want to play it again. Which is what I'll be doing when I finish this comment.

Also. I have the trial and I think I will actually buy it.. Well worth it so gopd compared to some of the other games/apps I've bought. I actually bought geocaching for 9.99, now they have geocaching live for free. Eh.. I'll still use it until I can't anymore.

Make it Xbox live then I'll buy it.

Why? Honestly, what would make that better for you? Points that don't matter and a game that can't hardly be updated then? Live games stink usually, I go out of my way to support non live games when they are done well!

My entire game Library is inside Live ecosystem, saying Live is just the high profile Gamerscore is wrong.

Yep, Xbox live on the phone AND Windows 8 with coop multiplayer. Missed opportunity.

We would probably still have version 1.0 if it was an Xbox game... Didn't you read the article? Cross platform multiplayer is coming.

Cross-Platform Multiplayer please ?

This. Cross-Platform MP >> XLive Support.

That's why reading the article is a good idea. :P

Now be prepared to give us ARMED! 2 at the wp8 release and plz make the game compatible with w7, win xp.
WE ALL NEED ARMED! 2 WITH CAMPAIGN CATEGORY.

Yo add me as a friend.. #roadwarrior

trying this out right now :)

You've peeked my interest...

I wonder if there is a reason ms hasn't contacted them to put it on xbox live *maybe the mp or something* as they grabbed the doodlegod game and a few others and transferred it to the live, only probelm is the update process for some reason is 10x longer and annoying :S (only downfall to the xbl process),which just got fixed on the xbox for games as they cut the process in less then half now.


My guess is that ARMED! is too much of a core game and not casual enough for what they feel works best for XBox Live titles on WP7. Still here at Sickhead we're very happy with not being an XBL title anyway. :)

Game looks good and I will buy this, especially with the price at $2.49 at the moment, but I was wondering, will there be a version that includes Windows Phone 8 specific features? Like 720p graphics with better performance or something? I mean, it looks great as is, but just knowing it can be that in 720p while still looking good and possibly performing even better just makes me curious.

Edit: Wow, I just realized how old this article was... I thought this was a newer update. It was a link on a new post.

This is the best game on Windows Phone. I love showing it off to my iPhone and Android friends. its good though that the game is going cross platform so I can now kick their butts in it. Add me scoreloop: Cobbakazi

Come to Papa iOS noobs... :)

Haha, ios users will cry after playing you Eirenarch

Im pretty sure its not a XBL game cause the Developers said NO to MS or the update prosses was to long/ a pain for them or something ... they commented on this a while ago in the furoms!!

Wow, just downloaded this game and gave it a whirl. Runs like a charm on my HTC trophy. Good job guys, what a sweet game.

Thanks! Drop us a line via our support page (link in the game) if you have any suggestions for improvement or issues to report.
Windows Central Newsletter
Thank you for signing up to Windows Central. You will receive a verification email shortly.
There was a problem. Please refresh the page and try again.