Armenia to get Nokia's Lumia 800 and Lumia 710 this year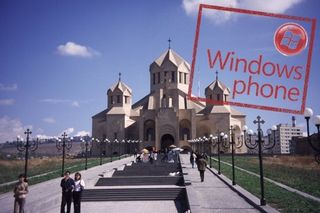 People of Armenia, lend me your ears. Nokia's Official Representative in Armenia, Vazgen Bakhshetsyan, has made the news pretty official - you will be getting the new line of Nokia Lumia WP 7.5 devices by the end of this year. That's right, before the US and most of the rest of the world has any dates for their release of the brand new Lumia 800 and Lumia 710, you now have a good excuse to start preparing for the coming Mango-powered phones. There are only two months left until the end of this year, so it won't be long before many of you anxious gadget-geeks of the small EurAsian country will have your thirst quenched and your hunger satisfied.
Source: PanArmenian.net
Windows Central Newsletter
Get the best of Windows Central in in your inbox, every day!
Ahh, a news about Armenia! :)Well it's a very clever thing that Nokia is doing. In Armenia Nokia is the best known and widely used brand. Everyone, in Armenia, is aware of the quality of these phones. I can give you 2 reasons why it's going to sell very well. First one: - since it has the Nokia logo on it. Second one: - the flashy color, in Armenia we love vivid/flashy colors. And let's face it this phone looks great. And we love,pay attention to great looking objects.

MAYBE ask Kim Kardashian to promote Windows Phone 7.5 because this is her country. Wont that be great way advertise windows phone 7.5.

A really bad idea there! If she promotes it non one will buy this phone. Nobody likes her in Armenia . :)So no thank you.

Your WRONG dufest!!! just because she had a bad marriage dont think she will have many people follow her. Dont you know she has million twitter followers? So yes great idea have her promote windows phone 7.5 in her country or here in United States. :)-

I repeat it's a bad idea...dufest!!You're right about the twitter thing! It would work here in the US but defenitly not in Armenia, I know what I'm talking about!

KIM Kardashian is... not that good in reputation. I don't want Nokia's brand be tarnished

It would work with System of a down or Andry Agassi though or Cher!

Smart move by Nokia to promote it in a tiny country with 2 million population, with $2,846 GDP per capita and with almost 40% poor population whilst other 30-60 million nations will be waiting for this phone :/

And Armenia's not entitled to it? Your view is quite wrapped!

No, of course it is entitled to it as any other country. It might be Nokia decided to start with small :)

Oh come on. Able Armenians have the right to use their hard-earned income. Why start with Armenia ? Nokia love to satisfy their customers. They satisfy their loyal customers first.

NOKIA is world famous brand in mobile sector. It is going to launch new mobile set in Armenia by the end of this year. This is a thrilling news for them. Cheap Printing

Yay! Although I am not going to give up my Samsung Omnia 7, this is a great news for people I know will definitely buy Nokia Lumia here!

People I really want to switch to Windows Phone 7, I have Omnia 7 too, that's amazing device but how in the earth I can attach PDF files to email messages!? I dont want to carry BB for work and Omnia for fun, however WP 7 mail app is much, much better

NOKIA is world famous brand. People all over the world use NOKIA for it good service. The design are also very attractive. Cheap Printing

Really I am astonished seeing this blog about Nokia. Over the last 4 years I've been using Nokia brands Mobile. It is easy to use and highly qualified service. Many thanks you for this blog which you have made by your patient and thinking power. Brother CS6000i Computerized Sewing Machine
Windows Central Newsletter
Thank you for signing up to Windows Central. You will receive a verification email shortly.
There was a problem. Please refresh the page and try again.