Ask WPCentral: Should I upgrade my HD2 to an HD7?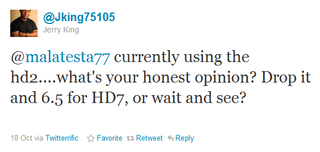 We're starting a new column here: 'Ask WPCentral' where we once or twice a week pick one of the many questions we get here.We often take these on the podcast (coming back soon, don't fret), but sometimes they're so good, we figured we would feature them on the site.
The first one goes to Jerry King who tweeted me a question regarding his HTC HD2 and it's pretty straightforward. It's also one we think many of you may be facing, hence the post.
Anyways, this isn't a black and white issue. But we'll do our best after the jump to break down the issue and help you to make a decision!
In order to make a sound decision on such a topic, you'll need to ask yourself a few questions, the answers of which should point in the right direction.
First, from the HD2 side:
Is money an object or do you can you spend a few hundred dollars?
Related: When does your contract expire e.g. will you get it the upgrade discount?
Are you currently satisfied with the device?
Do you have an WM6.5 software that you absolutely need (and that is not yet available on WP7, as far as you know)?
Basically, if you are in a contract and need to spend $500 (+ tax) vs the $199 (or better, if you can swing it CS)--that may be a factor for some and not others. So how are your finances? If you're not pleased with the HD2, then upgrading may go a long way as we do use these things everyday.
Likewise, for some users out there, there is a specific program that they absolutely love or use everyday. If there is nothing compatible on WP7, that matters. So evaluate your software use and take an inventory. Now try to match those in the Zune/Windows Phone Marketplace (and check our site, we try to keep abreast of these things). If they overlap, that is one less headache. If you're missing something, could you live without it?
Things to motivate an HD7 upgrade...or not
Next, we'll take some of the big reasons to upgrade to Windows Phone 7 and you can see if you agree with any of them:
Do you currently own or plan to own an Xbox? Play games?
Is the Zune music/video store something you're interested in? Zune Pass (unlimited music downloads + monthly fee)?
Can you live without Copy/Paste for a few months?
Do the Metro UI/Live Tiles really impress you or are you just 'meh'?
Have Netflix? Want to stream it to your phone?
I fall pretty hard on some of these. Basically, if you own or plan to own an Xbox and really like it, the HD7 sounds obvious. Same if you're a Zune user (or the idea appeals to you). Those are some of the biggest selling points to switch to Windows Phone 7 and the HD7. Not into them, then the HD7 has less "wow" appeal. Simple. Holding off may be wise--after all, you won't take advantage of some core features and those are core. On the other hand, I'm of the sound belief that when you try those services you'll be all like "gimme gimme!".
Regarding Netflix, I tried it on the HD7 and IT. IS. AWESOME. Sure, David Lynch will hate you for watching a movie on your phone (video, language NSFW), but if you're not a purist, then this will kick some serious butt.
Your answer?
Well, for us those above are the major concerns. Now, you already have an HD2--so obviously "no keyboard!" is no biggy and unless you are 100% committed to Swype (it won't be on WP7), then you should be all set. In fact, you'll be more than all set as the WP7 keyboard is friggin' fantastic. Likewise, if you already like the HD2's hardware, then lets be honest, the HD7 is basically the HD2.1--so there won't be any change. Plus you get some Dolby/SRS sound processing with the HD7, better optics with the camera and that cool kickstand.
But hey, if you're strapped for cash (or know you should be), you really love the HD2 (especially after the latest ROM update) or you have some application you absolutely need, then perhaps the HD7 won't be that great. So add up those columns and see where you lean too.
Oh and finally, you REALLY, REALLY, REALLY should go and play with one in person. Reading about Windows Phone 7/HD7 and using one are two completely different things. I'm in the camp that once you see one in person, you'll know at that moment what you're answer will be ;-)
Oh, and my personal opinion? Get the HD7.
What about you, audience? Any advice for Jerry that we missed?
--> Stay tuned for our next installment: "Are those really the disadvantages of WP7?" from reader Dr. Weby!
Daniel Rubino is the Executive Editor of Windows Central, head reviewer, podcast co-host, and analyst. He has been covering Microsoft here since 2007, back when this site was called WMExperts (and later Windows Phone Central). His interests include Windows, Microsoft Surface, laptops, next-gen computing, and arguing with people on the internet.
What about using the HD7 as a wireless modem for a computer? What are the HSPA+ capabilities over the HD2? Is it the 3.5G we've been promised?

Edit: sorry about the double post; old comments got deleted, but I'll repost below!

**theefman**I have an HD2 and cant wait to upgrade to the Dell Venue Pro. However my needs are definitely covered by WP7 - music (A2DP), internet, email, a few games and applictions that are already avaialble. I have no need for those "power user" features or feel the need to hack and I do like the Metro UI so upgrading is very much my choice. Even running the same hardware WP7 definitely looks to make a huge difference in usability and stability so if WP7 meets your needs I would upgrade, the missing software featurs will be added and will make WP7 better with time. OT, I have a problem with the comments, using IE7, 8 & 9 I sometimes dont see the "post" button in articles and do on some, obviously this one. Hope the bugs are still being worked on.

**Rico** i think another question anyone considering moving from Windows Mobile should consider is whether or not they can live with a platform that definitely benefits from synching with a computer. i'd assume that's not too big an issue with the person who asked the question as they're using an iPad. But for many of us former Windows Mobile users (and current Android users), it'll be something to consider. Just how painful that transitional will be will depend on how what the Zune desktop client is required for. What i'd be interested in knowing is if there's any way to download content directly on the phone through the web browser. i'm almost certain there's not. That's kind of a big deal with me as i'm frequently downloading the random podcast or song that i know isn't going to be in the Zune marketplace.

hehe You took out that last part out of the tweet. I was going to say, since he apparently has money to spend on an overpriced, redundant device, he might as well spend money on something that will probably be more useful in the HD7 even if it's out of contract. :-p

lol, the big "Sent from my IPAD" thing was distracting from the focus. Editorial discretion :-P

I appreciate you guys taking the time to address my question. I most definitely will consider the pros and cons, but ultimately will purchase the HD7. Although I am quite happy with my HD2, I can not help but think it is quickly becoming dead in the water. When I spend money on a premium smartphone, I expect it to be supported fully for the life of a two year contract. It's unrealistic, but I expect it..... ...... Sent from my HD2 (is that better?)
Windows Central Newsletter
Get the best of Windows Central in in your inbox, every day!
Thank you for signing up to Windows Central. You will receive a verification email shortly.
There was a problem. Please refresh the page and try again.