New Surface PCs and (no) USB-C, Andromeda and xCloud, and more on #AskDanWindows 54
Could Microsoft use xCloud and Andromeda together?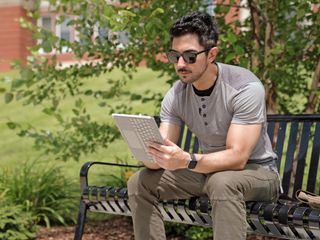 Why are Windows Phones still getting OS updates (and do they do anything) and can you use the new Surface Headphones wirelessly with an Xbox? Plus, I discuss the contentious Type-C issue with the new Surface Laptop 2 and Surface Pro 6 and using xCloud with Andromeda.
Grab a coffee and tune in!
Audience questions Episode 54
Why did my dead Lumia 950XL just receive an update? - Gabriel I.
With the recent xCloud announcement, do you see this as a launch alongside Andromeda? - Steven L.
Will the new Surface Headphones be able to connect wirelessly to the Xbox? - @DarkKnightJavi
Do you know why Microsoft decided to leave USB Type-C out of the updated Surface models? @DeadWords44
Thanks to everyone for the questions!
Email me!
Don't use Twitter? After much feedback, we are happy to announce you can forward your questions to AskDan@WindowsCentral.com to submit your requests!
AskDan forums!
Hate using email? Join me on our #AskDan Forums at Windows Central! I'll occasionally jump in there to try and answer questions or take ideas for new episodes of our web series.
Ask Dan Forums at Windows Central
You can also find previous episodes of #AskDanWindows here on the main landing page.
Get the Windows Central Newsletter
All the latest news, reviews, and guides for Windows and Xbox diehards.
Daniel Rubino is the Editor-in-chief of Windows Central, head reviewer, podcast co-host, and analyst. He has been covering Microsoft since 2007 when this site was called WMExperts (and later Windows Phone Central). His interests include Windows, laptops, next-gen computing, and for some reason, watches. Before all this tech stuff, he worked on a Ph.D. in linguistics, watched people sleep (for medical purposes!), and ran the projectors at movie theaters because it was fun.
Good info in here, but it's indicative of why so many (myself in particular) are frustrated with Microsoft's consumer presence right now. They release some "premium," $350 headphones because they had a device to pair it with...but delayed the primary device. They didn't want to spend money on a proper refresh of the Surface line, but they kept everything but the base model's prices high, while using a generation-old CPU. Microsoft is awful at playing the market conservatively, and it's killed them repeatedly (Zune, Band, mobile, Groove, games, mixed reality, Cortana). Xbox seems to be the one exception, where Microsoft's pushed REALLY hard to make it work. Why they have such little initiative to support the rest of their products is confusing. They make good devices and services, then just play too scared to get them to succeed. They wrote off losses on Surface, but pushed forward. That's good, but they're incredibly unimaginative with the devices these days. Wanting to save money, but have a "new" product is disappointing.

As far as hardware goes, Microsoft is in self destruction mode!
I wouldn't buy any more devices from them until they show some concrete consumer commitment.

It's not like Surface line is doing bad at the market right now, it's the exact opposite. Get the best, always. Moreover the OEMs depend on Windows 10's growth and as far as I can tell, Surface will always deliver the best.

"I wouldn't buy any more devices from them until they show some concrete consumer commitment."

lol Microsoft releases: Surface Pro 6 Surface Laptop 2 Surface Book 2 (2 models) Surface Studio 2 Surface Go Surface Headphones (!?) Just became 5th largest PC seller in the US. But yeah, this whole hardware scam could end any minute. GTFO.

Watch what you say Dan! It may happen!
Microsoft is a tepid and above all a software company, and history has shown that. I wouldn't be surprised if they kill the Surface product line in 2019 in spite of its success...

So which part of the Microsoft name leads you to believe they're a software company? Oh, what a f*****g nightmare!

Those are all legacy PC form factors. Something Microsoft has no reason to make. Being #5 isn't good, that means they are taking sales away from their partners. It won't be surprising if they wind down their Surface line next year as that analyst continues to predict. If they decide to not pursue new form factors, why bother with Surface any longer?

Those "partners" were the ones who built the previously bad image of Windows devices by going into a crazy race to the bottom with chinese OEMs, focusing their lineup on cheap and terrible devices while leaving the premium market to Apple and Apple alone. Surface is what reverted this trend, unless they want to kill Windows entirely they'd be crazy to leave again to OEMs to build hero devices to the OS.

Those OEMs are doing a much better job now and Microsoft needs them. They certainly don't like Microsoft taking their market share, especially the more expensive devices they likely get better margins with. Every Surface Microsoft sells is taking an XPS sale away from Dell, an Elitebook sale from HP, or a X1 sale from Lenovo. They don't want these manufacturers pushing Chromebooks harder.

This scroogish behaviour is starting to hamper many areas, as I said before profit hunting is not sustainable. They are going to have spend money to grow areas and one area that is severly under utilised is accessories; therefore I am hoping the Surface Headphones is just the mark of a Surface ecosystem of products and accesories, which in turn can be leveraged by other OEMs to sell more Windows based devices.

What's the big deal about USB-C anyway? My SGO has USB-C and I need to use a damn dongle with every thing I attach; Logitech dongle, USB sticks, cameras, and external drives. I wish it didn't have USB-C.

It's a fair point. Some don't care at all in which case, disregard. Still, what's the big deal about mini DP? Why even have that in 2018 vs Type-C which can do display (plus power, plus data).

Because Surface should be forward thinking. While dongles are required today, eventually everything will be USB-C or wireless. Microsoft should be leading this charge with their aspirational PCs, not waiting in the back.

My dear old lumia 820, still alive and kicking, had wireless charging. Wireless charging is light years from being new.

My theory is that the Surface Team was working on a redesigned Surface Pro 6 and Laptop 2 to pair it with intel 10nm however as we know intel hasn't left 14nm after all this time and that made the Surface Team to quickly do a CPU refresh since it was a long time since they released the Pro 5 and Laptop 1 and the move to quad-core was to big to ignore.
If intel 10nm was a thing I believe we would have got a redesigned Pro 6 and Laptop 2 with a bigger battery in a smaller chassis and Type C with thunderbolt 3.

I ordered my SP in September 2017, not long after it was released. The SP5 is not an "old device". Most people in the business world like to keep their computers for 4 or 5 years. Releasing the SP6 shows MSFT has confidence in the Surface team to swap out the processor without disrupting the global distribution channels. I think one primary motivation was to allow Enterprise buyers to improve the security of their systems from specter and meltdown by using the new Intel processors. I think Dan is correct about the cost. Dell, HP, and others change chips all the time. Now that Surface is in the top 5 in market share in the US, they need to have the capability to quickly swap out processors even if there are only marginal improvements in performance.

I do not think Intel is cooking up anything fantastic with 10 nm. Less power and better performance sure. But the real issue is thermal control, battery life, and connectivity. Since Intel has not released a 10 nm processor, you can not design the thermals. I am sure Intel engineers and MSFT Surface team engineers are talking about the new generation of chips and someone is mocking up the new motherboard. But until you know the chip can be made you really don't know the thermals. Is it true that Intel is supplying all the modems in Apple's new iPhones? Will the MSFT Store continue to improve and allow us to buy data using the eSim on our SP7 using USB-C charging?

The update did not fix the image search function using Cortana on my 950... You still can't view a selected image. Sucks

Yeah, I know Windows Phone is getting updates. I'd like to meet someone in an alley for the fact one phone started updating in the middle of a hurricane, too.

At release of the Surface Go I was very enthusiastic about them, but I am getting my doubts. My 80 year old mother in law wants something larger than my old Lumia 1520 to show of pics and videos. Amongst them 360 spherical ones, equirectangular. Windows Movie & TV supports this playback, but Photos doesn't. She wants to see stuf on YouTube and VeeR; no apps for Windows. Then of course being able to cast to a 4K TV; not possible. She wants to turn the lights on and off from her smart phone and likely more coming up in the smart home frenzy. On top, the Lumia 1520 has screen issues since a couple of days. Please give me some good reasons not moving her over to Android.

There are none at all. Get her a Galaxy S9+.

My Lumia 950 XL has a USB Type-C.

I still use my 950. works for me. I bought my Surface Pro last year so I don't need to buy a new one. I have two surface docks (at my home and office). My next purchase is likely to be the Go LTE, but it will be a while (after the first of the year). I think swapping out the processor shows enough maturity at the Surface Team that MSFT was comfortable they would not disrupt the distribution channel. Notice how quickly they are distributing devices globally. There is no significant change in price and you do get a better chip that has better protection form meltdown and specter (I believe). And MSFT has been able to quickly track inventory and add a new SKU to the channel without much apparent turmoil. Good to know my 950 will still be working once Andromeda rolls out next fall. Hopefully. In any case, MSFT should have the Android launcher app and Cortana pretty well integrated. For me, my 950 syncs to my $250 5-year-old radio I installed in my 20-year-old work van.

As far as Andromeda is concerned it may never materialize. There is no app ecosystem to support it... PERIOD.

Andromeda device is compelling to a lot of people it appears to be a Mini PC
with a folding screen with a built in cell phone. A hybrid that you can put in your
pants pockets. Microsoft has many old Windows Smart phone fans users
including me who would buy this device. however it may be a niche product that
may not sell in large numbers. I think enough of them will be bought on a world wide
basis for Microsoft to continue selling them. I suggest that Microsoft's software
Engineers enable the Andromeda devices to run Windows 10 mobile's current
smart phone Apps so the Andromeda device has some apps when it debut's
this would also encourage developers to put apps on the Andromeda. It appears
that the Andromeda devices Apps will Windows 10 store Apps and it will run some
win/32 Desktop PC programs in emulation if it uses an ARMS CPU. this is OK
with me but will others like it as well.

This all makes sense if you understand that Microsoft is planning a MAJOR push for the "Andromeda" device and will redesign the entire Surface line to accommodate it next year anyway.
There was no reason to spend the money for only 1 year of use out of any new chassis design.
Lots of new stuff coming next year for all the manufacturers that will require (in some cases Radical) new chassis designs; New display tech, TB3 enhancements, new wireless protocols and modems (WiFi 6), 5G support for cellular, and of course, new CPUs and GPUs and memory, storage, and even new ARM devices.
This year was "build up the back-end in Azure". Next year will be "push the consumer hardware to USE the new features in Azure".
MS does not have the hardware engineering, manufacturing ability, or sales numbers in the Surface line to push out 10 radically new devices every year like Dell or HP or Lenovo do. It's disappointing, but that's the way it is.

Sure about andromeda? I am very cynical about it ever appearing given the long lead time, lack of "important" apps and the announcements re foldable mobile devices from competing operating systems. Watch for Nadella to bin it.

It's a real shame Andromeda wasn't released before Christmas. Microsoft would have had a sure sale from me/Santa. Instead I'm not even sure if we'll ever get to see it.