#AskDanWindows Episode 9 – Will the Microsoft Band 2 be sold in more countries this time?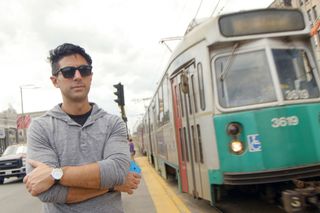 It's another weekend so time for another #AskDanWindows episode! We're a bit late this weekend due to our videographer Mark Guim lending a hand to our friends at iMore (something about a new phone launching).
This week I am taking nine of your questions sent over email and Twitter. Let's get to it!
AskDanWindows Episode 9 Questions of the Week
Do you think Microsoft will release the upcoming flagships unlocked for those not on AT&T? – Tim F.
Do you have an idea if the live tiles on w10 mobile will get a refresh, or will they remain as they are on wp8.1? – Moon A.
Have you heard any info whether Microsoft will ship its rumored Band2 worldwide and not just to the US and UK market? – Jef D.
Is Microsoft going to support WP8.1 after WP10 is out and about / Can MS upcoming flagship phones be flashed back to WP8.1, GDR2? - Alex G.
Do you think there will be ever a high-end dual-sim windows 10 device? - Faisal A.
Will you change your current Windows Phone to a new one and which would be your choice 950 or 950XL? - Csizmadia J
Heard any rumors about the possibility to flash Windows 10 Mobile onto the Surface RT/2? How likely do you think this is? – Julian R.
With Microsoft putting Cortana and office/skype on other platforms what benefits are there to sticking with windows phone? – John W.
Is there any indication that Microsoft would implement some sort of phone purchase program similar to Apple and Samsung? - Nick
So there you have it! Remember, if you have a question use the hashtag #AskDanWindows on Twitter, and maybe we'll pick yours.
New email!
Don't use Twitter? Well after much feedback we are happy to announce you can forward your questions to AskDan@WindowsCentral.com to submit your requests!
About that office…
For those of you wondering about our office, we are in the final stages of setting it up. Once completed, we'll do a video office tour and also highlight some of our equipment (like the 32-inch 4K monitor by HP in the back), so stay tuned! The video is shot and look for it sometime on Monday!
Missed previous episodes? You may be surprised what I have revealed. You can find previous episodes of #AskDanWindows here on the main landing page.
Windows Central Newsletter
Get the best of Windows Central in your inbox, every day!
Daniel Rubino is the Editor-in-chief of Windows Central, head reviewer, podcast co-host, and analyst. He has been covering Microsoft since 2007 when this site was called WMExperts (and later Windows Phone Central). His interests include Windows, laptops, next-gen computing, and for some reason, watches. Before all this tech stuff, he worked on a Ph.D. in linguistics, watched people sleep (for medical purposes!), and ran the projectors at movie theaters because it was fun.
Really hoping for an unlocked universal 950/xl. EDIT: In other news some phone launches and suddenly the ​videographer is too busy.

Yeah that videographer should have made it a priority to film the Windows Central part first. Remember: Windows First, Cloud First, Mobile First world!

Love it. "We'll have to wait and see." is the new "Seems faster." LOL

Actually that'd be the new Soon TM

I want watch the video but now I'm just finish the class. I 'll wait later

What do you think of the 550? That phone for me is a downgrade from 535/540 given that the leaked specs were true (Well, except for the LTE of course).

I​t's like the Lumia 640 but with USB Type-C

Agreed. I think I might only consider one if it was to come with a green back...

I just really wish that they improved the processor, or the clocked speed at least.

Snapdragon 210 is just little bit slower than Snapdragon 400 in Lumia 640. That processor runs very well on Lumia 640. Snapdragon 210 is still has the same quadcore A7, but clocked slower.

Can we assume these are going to have FM radios as in the past?

Obviously. But obviously better with headphones.

Dual sims? Count me in! Used to carry two phones for work but after awhile I just gave up as People kept handing out my personal number as it was listed as an emergency contact on the office list as opposed to the work issued one. It was bloody irritating, some people are just thin skinned when handling tricky customers.

+920 I've been eyeing the Note 4 Duos as a replacement, but if dual SIM will be available, looks like I'll be staying...and hoping app gap closes quickly. Announcing Microsoft Payments during 950 reveal would be nice too.

Microsoft Payments (or something similiar in function) is a no brainer really as they tried the partner ala carrier route and that hasn't worked. Now that Apple Pay is becoming ubiquitious it is now more important than ever to get into the mobile payments market. I've been stuffing my oyster card (tap 'n go top up payment card for public transport) underneath my tpu gel case ever since I got my phone lol; it is extremely handy and awkward at the same time as instead of holding a card you've got to hold up the phone and press it against the top up machine. So I just take my card out and top it up, place it back in. The other draw back is that the card slowly creeps up and covers the camera lens. It reminds to be seen which route they will go. The biggest draw back I can see with all-in-one method is running out of battery in the middle of journey, as that will mean not able to touch out at the exit (some stations have barriers so you're going to be stuck lol.. which would be rather amusing the first time but the novelty will quickly wear off) and when a transport rep approaches you to check if you paid but the phone is dead - on the spot fare (paying double basically so your going to have to ask for receipt, call up next day for a refund of the penalty occured on the phone payment as if you don't touch out you get charged a penalty fare) or penalty (depends on the transport rep really as most are understanding providing you're not snarky). Edit: Yup, just as I thought - check https://tfl.gov.uk/fares-and-payments/contactless/other-methods-of-contactless-payment/apple-pay

You mean nfc payment using credit/debit card? Would love this. Feature has been available for almost a year now with my current mobile operator but it's not so convenient since I have to transfer money to an account on operators' service first and I had get a special SIM card in order to enable it. Nevertheless it's been a good taste of things to come

Great video, Dan. I think the Lumia 950 and 950 XL look very nice. And the bezels actually look pretty small in those leaked pictures from yesterday, which is nice. If I was actually able to afford one, I'd probably just get the 950 because I don't think I could get used to a 5.7 inch screen.

Same, I'll be buying the Lumia 950 and sell my 1 yr old Lumia 930

Great questions and answers! Thanks Dan! I'm curious to your opinions on the new flagships when you get to handle them. Also, I'm glad that you answered the question about 8.1. I wondered that myself. I don't know if I would upgrade to Win 10 just yet, but it;s still good to know.

thanks Dan I always look forward to this video segment..good stuff!

I was looking for this on Friday. If the 950 is an ATT exclusive I would at least hope the 950XL will be sold in the US as well and go to T-Mobile. I have already mentally prepared myself to get the LG G4 since it's very cheap at $479 and remains the only flagship of 2015 with an excellent camera(and that insane manual mode) and expandable storage at this time. Or scenario B.I leave T-Mobile for ATT but only if I can find a comparable rate plan which I highly doubt. I just hope Microsoft surprises me next week. Posted via the Windows Central App for Android

I'm not sure if it's totally sure yet but I've seen multiple references to future decides being sold straight from MS in US with universal radios

"A new phone launching". Lord iPhone, the phone that must not be named :p Thanks for the video Dan :D

Let's hope AT&T offers both the 950 & 950XL for consumers. I wonder if Microsoft plans to launch new W10 Mobile flagship devices each year? I'm really hoping for a Lumia 1520 successor flagship in 2016.

Satya said they will release 3 phones per year: 1 enthusiast flagship, 1 for business and 1 value budget phone.

I think he said 6 phones a year. 2 for each category. Posted via the Windows Central App for Android

6... One budget would be horrible for growth. Should be a release of one within ea category in the Spring and Fall.

I think it depends on the quality of that said budget phone. If it hits a lot of check boxes, no problem with just one.

Where's the office based? Ik mobile nations is based up the road from me here in Florida....

Yeah really up....like up in the sky

Just want to say that I really enjoy these videos. Thanks!

Which will be more powerful/efficient? The iPhone 6s with the A9/M9 or Lumia 950 with SD 808/810 3gb RAM. I've heard nothing but positive things about the A9. 810 not so much...

A9 is the most efficient with only a dual core made on Samsung/Global foundries 14nm FinFET technology and also Exynos 7420 big.LITTLE made with very good yields! Snapdragon 810 v2.1 is what's in the new 950 XL made on 20nm TSMC with yield problems the first half of the year and have to wait and see if v2.1 has less problems? NEXUS 6P & Lumia 950 XL both are using v2.1

Well of course you hear nothing but positive things about the A9 considering it's only for Apple and Apple even makes things like holding for a context menu sound like something amazing that's never been done before.

A9 seem to have heating issues, it's turning off the flash in newer iPhones

Answer to one question was not clear and complete..
.
For the Question " With Microsoft putting Cortana , Office & Skype on other platforms , is it still worth to buy Windowsphone" . You answered by keeping Flagships in mind. But what about buyers of 750,850 like that . Microsoft is going with Historical Snapdragon 400 Soc , while others are going with Snapdragon 610 , 615 , 617 , 618 , 410 , 420 & 430 soon... And Microsoft offer lot less than Android manufacturers provide at low price like OnePlus , Motorola , ZTE , Nextbit etc....

Great video Dan. Love the show. And thanks for answering my question about the purchase program. Cheers!

Dual SIM! Take my money, Microsoft. Just take my money.

Still bummed on possible ATT exclusive. Really did not want to go back to android...oh well.

I can't wait to get my 950XL. MS store save me one, since they know i want one. Those people at MS store in my town, are AWESOME and provide the BEST service ever. They also, buy your exiting phone and give you credit towards any device you would like. I will exchange my wife's 1020 with 950. Also, I am waiting for ""ELEPHONE"" duel boot flagship phone as well, that runs Android and Windows 10. that phone suppose to come out in Oct as well. its a beautiful phone with some killer specs for only $299. we just have to wait and see. I hope we will se many brand's flagship phns on the market, that will get people talking and wanting.

A financing option would be nice. I simply don't see myself willing to throw $700+ at an off-contract phone. I'd like to get an XL, but if there's not an AT&T-carried option or financing, I'm not interested in paying out of pocket at once. Too many other things I want and need to get right now to be throwing chunks of money at a phone. As for these next few months, my expectations are in the toilet. Not having Astoria and Islandwood going at launch will be a major letdown that seems to be coming. That means a continued issue with apps, and that's problematic. They can't grow the platform while delaying apps when it's failed twice because of apps already.

This is the reason that flagship devices are not popular here in India. Very few or almost no devices are offered up on subsidies and contracts, and most people cannot or will not spend so much on a device at once. Yes, there are few people who buy them, but then they are not enough to make a flagship popular.

700+ Canadian dollars maybe. This is not an iPhone, it's not going to cost that much.

Leaks last week showed that the 950 is supposed to be about $750, with the 950 XL around $850. However, those are conversions from another market, and might not translate to the ACTUAL U.S. prices. Still, if they're $650 and $750 instead, that's still matching the iPhone prices, which isn't going to do them any favors with marketshare.

Agreed, they should sell these at a discount to jump start the sales.

So the chip contains lots/all radios... Does that mean it should be fully compatible with Verizon?

Er no, rest of the world uses GSM only a handful of countries have CDMA. It is not economically viable to include CDMA radios in all regions when there is no need for such a radio. Therefore it will either need a custom SOC or an add-on chip per say.

Er, yes. They MIGHT make a version for CDMA but I've seen universal radios mentioned quite a few times

"something about a new phone launching" LOL

This is not a question, it's more like spam. Please refrain from replying.

Dan, please find a new hairdresser/barber. If someone gave me a haircut like that, I'd refuse to pay.

Dan's hair looks pretty cool. Besides, if you can't say something nice don't say anything at all.

Love the videos Dan. Thanks heaps :)

i like the new phones but I hate the programed capacitive buttons at the bottom of the screen. I dont really mind them but i hate that MS wont remove the blacked out area where the former ones were located. I hope they remove the area and give the people more screen real estate or even make the phone shorter but remove the blacked out area. We already know that they are cheap but keeping this area makes the devices look cheap in my opinion.

I'm sure they would if they could but they need the space for internals.

Video link is broken in the app.

Thanks for taking time to answer these questions. I am surprised at how often legacy products are asked about. The rest of the world simply abandons legacy hardware and software while Microsoft has the reputation of not doing it so quickly; so I understand why they are asked. In this case, anything Windows 10 and phone based should probably occur swiftly and all at once. It's like the 32 bit vs 64 bit hangups. Just do it! It will allow Microsoft to focus on all of the upcoming stuff - presumably stuff which won't require any more core/ kernel changes that mean a new OS! :D Too much to hope for? hehe.

What makes AT&T so special that they only get the Lumia devices and big flagships? T-Mobile, step up to the plate and give YOUR customers the same Lumia experiance. Tired of always hearing about ATT Lumia and nothing for the rest. I've said it before and I'll say it again, not everyone likes iPhone or Andriod.

Because AT&T is the only carrier actually willing to sell them... Its sad that other carriers treat WP as the red headed step OS :(

So, my question: will AT&T offer the XL or just the 950. I'll be disappointed to the point of ....Android (?) if I have to pay M$ for an un-subsidized XL instead of getting one as an upgrade through Ma Bell!