Asphalt 8: Airborne adds Xbox achievements, new cars and more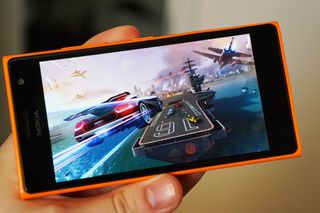 Asphalt 8: Airborne for Windows Phone has been updated, adding a number of new features, including Xbox Achievements. The game has also added a number of new cars, kits, and more.
Asphalt 8 has eleven new cars, including the Tramontana XTR and the Arrinera Hussarya. There are also new pro kits to help you maximize your car's potential. There are three new winter-themed tracks and a new location. You can also use the new token system to get exclusive cars, refill your fuel, or buy Boosters. You can earn tokens by playing events, or purchase them from the in-game shop.
Download Asphalt 8: Airborne from the Windows Phone Store
Thanks to everyone for the tips!
Wooloo , gameloft is on a roll !!!

I know right? We got like 10 Xbox games in a very short time! I will be the happiest brotha alive if Dungeon Hunter 4 comes in this huge wave of Xbox Live love.

And I'll be the happiest brotha alive if modern combat 5 gets one :D

That would be nice, but online backup for your saved games (like Asphalt), would be even better. Also they should merge the servers and let us play against our Android friends.

You can have your backup by connecting it to fb

Connect via Facebook to your Droid friends and save your progress..!!

Merry X-Mass from Gameloft :P

vohooo Gameloft is back with a bang. #Xboxlive.

Gameloft is raining (Xbox) games on us. ;)

Yeah, and Since modern combat 5 is just $2.99 now and most probably will be an Xbox live game in future makes it an easy buy :-) Gonna buy that

I hope other companies jump on board too. I would LOVE to play Second Chance Premium or Sword of Rapier with Xbox Live achievements/leaderboards.

+1 for Second Chance Premium

Wish they will update six guns man its too old version.

Noooooo!! I don't want to download this heavy game..big problem!!

Because it's Xbox Live and he just can't resist it! xD

Haha. Same here. Uninstalled yesterday. Now have to install again :P

Why? Chievos were confirmed a few days a go on xboxachievements.com

Slow internet connection or running low on memory.. my guess

Same here now I have to download that whole game on 2G network and I can't resist it because it is now Xbox game

Download it on your PC and then install it m8

I am going to download XAP on UC. Previously three times I had done this, downloaded this game on UC now this will be 4 time

Download as a XAP..I just did via UC Browser and no worries after hard resets..!!

Yup that was my plan. Now 4% download had finished

How do you download an app using uc? It always throw me back to the Store whenever I reach the game page

I do this.. Open the website on opera mini(it doesn't throw you back to store in opera).. Hit download and install manually.. And then copy that URL . Now switch to UC, go to downloads, there will be a ' + ' option at the bottom of the page.. Paste the URL there,and your download will be up and going ;) .. I don't know if there is a better way, Any1 ?

Just open the link in UC and change the Browser preference to iPhone or Android..!! It's by default that if ye open a WP Store app or game in ANY Browser and the preference is set to Mobile or Desktop..It will take you to the Store only..!! So change the Preferences..!!

Can u help me... When i go in the store i have no options to load the game from sdcard.... How can i get that feature??

First make sure you have a game on your SD card( .xap file) then go to store, then options ( three dots) then a new option"install local apps" will appear. You can then load the game by opening it. If its not working, try restarting your phone or moving it to 'downloads' folder on your internal memory.

Install it anywhere..It will read the XAP..!!

The option "install local apps" did not appear... But when tired to open the .xap file from a file explorer it said:Can't install company app There's a problem with this company app. Contact your company's support person for help"

It doesn't work that way, you can install it only by using the"install local apps" option. If it didn't appear, then login to your outlook account and download this, and thentry again- https://appstudio.windows.com/Job/GetAet Hope this works

Thanks a lot!!! It worked

Can u help me wid another problem??? I downloaded the game "Gunhouse"... But after installing it wasn't in the app list i tried restating my phone and even formatted my sdcard but still no game... When i go to store link it says app is installed... I hope u could help me!!!

Go to the store's page on the app and click on the "View" button and see where it takes ye..!!

I looked in the games hub it isnt there.... I tried the view option it just takes me to start screen and it doesn't come up in storage sense

May be you can use the find your phone option in your settings, and try to send the app through your PC. I may work that way.

Well I haven't had this problem yet, .. Opening the link in store gives u a 'view' option if the app is installed right. If so may you could you that. Or if u want to uninstall it, check whether the app shows up on storage sense, if it does, u can uninstall it there.

Some apps have different names after they are installed and look in the Games Hub too..!!

Didn't work for me. I got the AET file and it asked if I would like to add a Microsoft workspace account. I said Yes but still I don't see the option to install local apps. Tried restarting as well. I'm using OS version 14219 Dev Preview on a Lumia 920.

Microsoft Workplace Account..?? That option appears when ye are unlocking the device as a dev..!! It that a XAP File or not..??

Yes it is. Its Nokia Reading app's xap which I've downloaded so that I can install it whenever I reset the phone as Microsoft said it would discontinue the app from next year.

Hey c'mon man..You know that we need an active internet connection when installing apps from local storage..?? Do you..?? And only when the Store or whatever accepts the XAP..The particular app is installed..?? If it's discontinued then the store won't install it..!! If you try to install a 1 GB RAM requiring app on a 512 MB device it won't..!! I have some sorta illegal XAPs which don't even appear on it..So..!!

Thats useless... Try this.... First download the .xap file on ur pc or laptop then connect u r phone and copy the file in ur sd card (outside all folders i.e root) then restart u r phone.... Wait for atleast 5 mins before opening the store .... After 5mins open it then it let load fully... Then click on options (3 dots) u will see there 'install local apps'... [U have to copy the app from u r pc or else it wont work!!]

I have a 920 so no SD card. Transferring from PC might be the key. I downloaded the xap directly onto my phone using UC browser.

Then try coping the xap file in the root of u r phone

Yes indeed,I just downloaded the update for asphalt on UC and moved it to the root folder, it didn't get detected. Then I copied it to PC and then back to my phone, it got detected then. ;)

Hey Mr. Useless..I have a XAP folder in mah SD Card in which I keep all the important XAPs and my old,,lagging 520 reads it perfectly..!! Downloaded the new Asphalt 8 XAP in the UC Browser and it read it the next instant..!! Problem might be in your SD if ye have any..!! Use a Class 10 Card..!!

I have class 10 card.... I was just explaining bout the first time

It does even if it's downloaded directly on the phone..!! Did for me..And will for you too..!!

Using file manager, copy downloaded xap file to SD card (in no folder) from UC folder. Then restart your phone.it ll detect xap now. If you don't want to restart then transfer xap file to pc and then again transfer it to your phone.

Guess that option is not available for phones which don't have expandable storage such as the 920. Only posible way to manually install the XAP would be to dev unlock the phone using the SDK.

No m8, I have a 1020 and I do this all the time. Transfer it from your computer to the' downloads' folder.

So if the put the XAP in the downloads folder, the store automatically detects and installs it? Can you elaborate on this a bit?

Put the xap in the downloads folder from your computer via ur USB cable, then it will detect the xap. However to install it , you have go to Store ,then go to the options (3 dots). There'll be a new option 'install local apps' waiting for you, open it and install your app ;)

Too lengthy for an average WP user..!!

Yeah you're right, your method is a lot easier, thank you :D

Or simply just put uC in speed mode, that's what I always do

Just enable speed mode and go to WPStore site in UC browser. And then search your app/game. And than tap on install manually.

BTW have any1 here tried playing multiplayer on local WiFi? It doesn't seem to be working with me, tried it with a Droid friend.

Could get 2 more achievements if it did..!!

#Xbox live is a good trend)

This is just amazing...so many updates and #Xbox m loving it...

This is excellent news, it shows developers are growing in confidence about windows, and with windows 10 looking to be a massive success, the future is indeed looking good :)

Good, a lot of games are getting Xbox Live support recently

Gameloft is on a roll, wohooo #Xbox live

Need to charge my Moga and play this again!

I fucking love now gameloft!

I'll have to DL this game again. I hope they will also update/add Xbox to GT Racing 2 also (fingers crossed).

Nice.. Now bring it to Modern Combat 5..

What about The Windows Version?

It must be updated sooner than soon, they always do that

My achievements unlocked for 15 in a row! Thanks Gameloft!!!

Good work Ms and gameloft. This is what wp needs!

You high or Santa disappointed you??? Or both???

Is this update available on Windows 8.1?

I knew that they should be rolling out new features pretty soon as they had stated before.....

Omg, I'm stuck with Order & Chaos now. Why gameloft keeps giving me so many good reasons to play their games.

Great to see one of wp main differentiators being pushed again as it should have been.

Can anyone tell me how much free space is needed for the update?? I've 1.7GB free storage, still it keeps telling me 'not enough space on phone'!! Can anyone suggest me anything??

It has consumed just 1.30 GB in my phone :/

1.28GB in my phone too...

Install it from PC...or clean ur storage by deleting things u dont need

Yup, it started updating after freeing up 2GB+ space on sd card.

I'm uninstalling the new Top Gear game and a few apps that are collecting digital dust just sitting on my phone.

digital dust? XD That made my night!

Digital Dust......comment of the week. You get a free visit to see Santa in the North Pole, lol

Yeah Xbox Games are finally gaining some love! I hope Microsoft doesn't kill this trend like everything else.

Omg! I can't... It will download again the entire game...

It seem like most of WP games now are integrate with xbox

What a nice Christmas gift! I didn't play it because of the lack of Xbox features but now, let the races begin! :D

didn't you switch to an experia?

Yes I did switch my daily driver to an Xperia and I'm very glad I did ditch WP. But I still own, among others, a Nokia 930 whose sole purpose is to play Xbox games. Some of us have more than one phone you know? ;)

I'm one of those. But I figured as upset you were with the OS and with the Nokia devices acquisition that you would abandon the platform altogether. Wasn't trying to call you out, just found it interesting that you still have a WP

Yea liar..You switched..!!

Which doesn't mean I sold my WP devices. Because I didn't and the Nokia 930 I have is used only to play Xbox Games for example. My Nokia 1020 is a dedicated camera. And the Z3C is my daily driver. Some of us actually have more than one phone ;) (Also there's no money to be made in WP resales anyway. Only iPhones are worth in resale price. So I never resold any phone. I considered doing so to the 930 but the value of the phone on resale is too low).

btw how is the zc3 camera relative to the 1020?

Ohk bro enjoy the games..!! No hard feelings I suppose..??

I can say DJCBS has mentioned many times that he is in possession of 930. So no, he is not a liar.

That was jokingly said..!!

Rimac Automobili added!!! Whohoooo!!!!!!!!!!!! :)

Man this is great! But we need more beautiful games!

I am coip. I am here. I am grinning because Asphalt 8 now has Xbox achievements and Asphalt 8 was the game that spurred the #SaveXboxWP movmeent 13 months ago. The entire timeline is here.

All I'm here hoping for in dungeon hunter 4 to get an update and Xbox live

It's raining Xbox live support from Gameloft

I'm banned in asphalt 8 due to unlimited credit cheats, what should I do?

Unlimited credit cheats ?

Make a new ID or edit the save data via WP Power Tools..!!

Could someone tell me how a game gets xbox features on windows phone. Because I find it weird that almost every game on iOS has Game Center and android has play games features but only limited amount of games have xbox. Why is that happening?

Not all of the games on iOS has Game Center..!!

To get Xbox certification for a Windows Phone game the developer must include specific features into the game (leaderboards, achievements, etc.) and then submit it to Xbox certification testing.

I already have the game installed and havebput many hours in. I downloaded (@800mb) the update on the store, opens program and it downloaded about 300mb more in game. Game closes when update finishes, I reopen game and black screen for a few seconds then back to games hub. I restart phone and same symptom. Anyone else seeing the same? I'm afraid if I uninstall/reinstall I will lose all of my progress.

Have you logged in with your fb account,? on doing so your game data will be saved online. You can log in to continue playing your game from where you left off.

Thanks for reply, no I have not. I'm seeing in wpc forums that people have restored even without fb logon used. Going to try and post back

You don't have to log in to your fb acc to save the progress.

I was able to restore from a cloud save after uninstall/reinstall. It is definitely from gamelofts cloud and not tied to facebook or local backup.

Cool !, and congrats I guess :-)

1)-Cloud Save
2)-Facebook Tied Save

When I opened the game, suddenly I got a lot of new achievements! This makes me a happy windows phone user. Btw, merry christmas everyone!

Finally with achievements!

Does anyone understand this new token system? It seems like another way for asphalt 8 to make money. I've dropped a fair amount on this game.. But I feel like its just a pure money sucker... Also gt racing 2 still doesn't work :(

Now I have a reason to play asphalt 8 again because of those Xbox achievements.

Quick Question : Do XBOX games on Windows phone support global leaderboards? Tiny troopers is my first XBOX game..I don't see any global boards..

Screw them, i want to pay for it and enjoy the game like i did with asphalt 7. This ftp crap forced me to delete and rate the game 1 star.

Thanks Ryan ;)
In case you are here sir

I finished the game already!! -.-

Can I know what I the use of Xbox achievement's?? I don't have a Xbox n m planning to buy Xbox one soon. ​

It just adds your achievements to your XBOX Account and takes you higher in worldwide ranking..!! Just a way to compare/compete/challenge worldwide to everyone/anyone..!!

Keep playing games and increase your level..Unlock new things and customize your avatar with that..!!

What about Minecraft, Microsoft? -.-

Let them know you want Minecraft on Windows Phone to have Xbox integration: @Mojang @Minecraft @lumia @joebelfiore @jeb_ @XboxP3 @toddbrix #SaveXboxWP

WOW over 800MB, OK I hope the new WP 10 has app stream from OneDrive cause that's a shit load of memory for one app!

Thank you gameloft now restrict the online only access for mc 5 that would be great.

Yassssssssssssss!!!! Posted via Windows Phone Central App for Android!

I'm also facing the same problem. After update the game is not opening at all! It simply exits me to the games hub. Are you guys sure that uninstalling & reinstalling will resolve the issue without losing my game data??

It will download 283.84 MB of data again.

Move it to phone memory..

No wonder the update delayed, but am glad it did not take that long to come out..what's left is for me to update it.

Please Microsoft asphalt 5 get free only one day..... Christmas gift...

19 achievements achieved by just updating. :D

How total achievements are there? Mine is updating ...

What happened to the moga controller support?

it is asking for my carrier, and my carrier vodafone india is not on the list. what it needs carrier for?

Why it is crashing on Lumia 630 dual SIM Win phone 8.1... Help me need solution.

Send it to phone memory play a while restart ur phone then move it to sd card. You will b fine

I am thinking when I update this, which achievement I will b missing?? Lol

It's fun collecting a bag of Xbox achievements right after downloading and running the game. Only a few left.

After This update it's not working on Lumia 1510

Microsoft and Gameloft are on a roll. Hopefully, this will show other developers that Microsoft is committed to Xbox Live on WP and the platform as a whole and will convince them to follow suit.

Whats the new location? I didn't find anything?

Multiplayer become fast.. No need to wait long

"winter-themed tracks and a new location" Where are these new tracks?

@deutscher2 I think island track is one of those winter themed tracks with gift packs on the side of the track.. Don't know about new track

Still not working on Windows 8.1

Where's the new track, sector 8?

Why isn't the update availble for windows PC 8.1

Despicable Me: Minion Rush will also have Xbox LIVE achievements soon. ;)
Windows Central Newsletter
Get the best of Windows Central in in your inbox, every day!
Thank you for signing up to Windows Central. You will receive a verification email shortly.
There was a problem. Please refresh the page and try again.