Asphalt 8: Airborne offers new cars, daily tasks, and more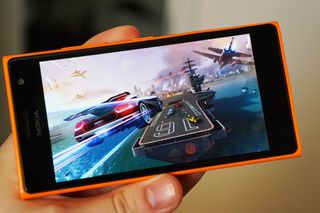 Gameloft has updated its best-selling racing title Asphalt 8: Airborne, adding new cars, daily tasks, and more to the free-to-play game. The update is available for Windows Phone 8.1 and Windows 10 Mobile, with a separate download for Windows 8.1 and Windows 10 on the PC.
Here's what fans of the game can expect with the latest content updateL
NEW CARS: The Mercedes-AMG GT3, Jaguar F-TYPE Project 7, nanoFlowcell QUANT FE and other sports cars will progressively make their appearance on the starting line. Follow us at www.facebook.com/AsphaltGame to be the first to know about their release and more!
ENDURO DOUBLE DOWN: Prove you can withstand till the very end in an ever-changing, tough, daring challenge. Double or nothing is the way to go! Risk your progress in order to win BIG!
DAILY TASKS: Missing some credits or tokens to buy your dream car?! Complete the daily tasks to stack up rewards!
R&D Series: Push the Mercedes-AMG C-Coupe Touring Car 2014 to its limits & get a chance to make it yours!
I cant download this app for lumia 640 xl after i updated it to win10. It says not supported in your device. But it was supported while i was in windows 8.1 .

Just go to the Windows Store and search for Asphalt 8. It is available for Windows 10 PC, Mobile, and Xbox One.

Took them so long yet it's been about a month this update was released for iOS and Android

Technically 100% better than not at all

States it's for Windows 10 mobile.. Yet it says my device can't download it & I have an Lumia 950 XL
Update: I had to go to the store app and search for it, there I was able to download it.

I just love the support this game gets on our little platforms.

yo it works on L1020 win8 and win10 hahaha

I used to like this game until they started adding too many options, menus and changing stuff around

can this game played offline? I heard that they removed offline support

The game will tell you that if you wanna play offline, you have to download some data first. It was buggy previously on 3g connection, and I couldn't check it this update since I haven't started playing yet :D

Oh men I just updated that app yesterday

Doesn't work at all on my 930 since the latest insider update

79mb on the store then 657mb when you start the game

Also this update now crashes the game for me every time i try to start the game
Windows Central Newsletter
Thank you for signing up to Windows Central. You will receive a verification email shortly.
There was a problem. Please refresh the page and try again.