Assassin's Creed Pirates makes its way back to the Windows Phone Store [Update: for just $1.99]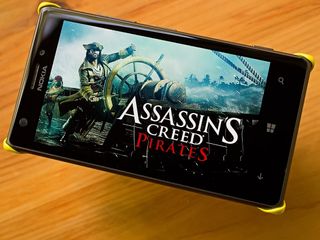 Last month Assassin's Creed Pirates was released for both Windows Phone and Windows 8 devices. Shortly afterwards, the Windows Phone version was pulled from the Store due to widespread crashes and errors.
The developers over at Ubisoft have apparently patched things up and AC Pirates is once again available in the Windows Phone Store.
The game has you playing the role of young captain Alonzo Batilla as he sails the Caribbean, breaking all the rules, challenging empires and building his own personal fortune.
Unfortunately, the re-release fails to add a trial version to AC Pirates with the full version (not available for low-memory devices) running $4.49. You also have a Windows 8 version that will also cost you $4.49 (not universal).
We'll try to get a full review up on the Windows Phone version shortly but in the meantime, you can catch Paul Acevedo's thoughts on the Windows 8 version of the game here.
Thanks, everyone, for the tips!
Update: The two games appear to be on sale with the Windows Store stating this deal will last seven more days.
Assassin's Creed Pirates – Windows 8 and RT – 945 MB – $1.99 – Store Link

(opens in new tab)

Assassin's Creed Pirates – Windows Phone 8 – 940 MB – $1.99 – Store Link
Windows Central Newsletter
Get the best of Windows Central in in your inbox, every day!
George is the Reviews Editor at Windows Central, concentrating on Windows 10 PC and Mobile apps. He's been a supporter of the platform since the days of Windows CE and uses his current Windows 10 Mobile phone daily to keep up with life and enjoy a game during down time.
No universal and no trial .....nope nope nope nope

I heard that the Android version got limited time free...

Last I checked, it was free on Android.

Waaat that's a big bullcrap

For now, I'll pay for it just to have some to come to WP ecosystem.

It can't be limited on android because once it goes free on play store it's free forever and yes you are right it is free Posted via Windows Phone Central App

It still is feee and it will stay free

Microsoft's universal app system ain't working.....This should be a universal app...smh

we don't need anything new we need the app to be smooth. wp8.1 app compatiblility is not good. oher deva haven't updated their apps yet.

Xbox music ? What's new,I haven't received the music app update yet.
Edit 1 :- Just checked , downloading:)

Lumia help+tips updated too ;-)

It is a little more smooth and a bit faster

The music in the game? Oh of course not. Silly me, you've gone all off topic. Keep it relevant.

Wtf.. No support for 512mb ram devices .

Yup anyway I don't think it would run on a 520 but there are better 512 ram phones

I got Lumia 625 so no worries :)

Ummm... I beleive a Nokia 625 only has 512mb ram?

I don't understand the entitlement of expecting high end games on low end devices. You pay cheap, you get cheap.

SYM ..i also have a 925 but I rarely plays game on that

I agree. There are restrictions like this on android games too.

If you expected to play Assassins Creed on a 512 Mb phone... You are sadly mistaken

Open store and see one assasins creed title is available to download on 512mb ram .. Bro

That one Assassins Creed game was originally made for non touch Symbian smartphones in 2008 and ran on devices with less than 100MB RAM. If it didn't have 512MB RAM support, that would be a shame and a rip-off. It is ridiculous that Gameloft has had that game on the mobile market for almost 7 years. I don't blame them though, if it keeps making money with very little investment on their end, there isn't a need to make a sequel.

Hoo .. First time I post a comment without anyone before ! So I'm first. Ok --->[]

Lol..... Better luck next time pal.... ;)

Lol Posted via the Windows Phone Central App for Android

Now STOP CRYING and rate the game with 5 stars.

Why is it free on Google Play?

they don't have only this game.

still not available here in Brazil

The game has gone free on android nd iOS today..

You mean a while ago Posted via Windows Phone Central App

This game is seriously one of the best mobile games I've ever played. SO much fun. They just need to fix it for the Nokia 2520.

Download age of empires on the store now.....

I love this game on my Surface. It's definitely worth the cost. Support XBL games and stop crying about a trial for everything. I can only guess that most games are hardly breaking even on WP let alone the extra time and cost of XBL certification on top of a demo.

i wont support xbl Games on winphone . Cause The quality is pending. Xbl belongs to game for windows Live and Xbox itself . But on winphone its just a cause to make the games more expensive . And I am a gold member ! That's how you support xbl . Not with buying stupid games

Many of them are free though. So you cant get cheaper than free.

I am a big fan of the AC series, BUT : 1. This app has gone free on Android and iOS 2. Not universal??? Really??? NOT UNIVERSAL??? Even though it is not free I would consider buying it, but since it is not universal (really, why? Why not make it universal?) I think I'll pass.

No trial.. Awww don't complain. The developer knows you'll love it and they know it will work on all phones. No need for a trial just spend your money and when it doesn't work just let wpcentral know and they will refund your money. Great app haven't paid or installed it yet but thanks developers

With Xbox....Cool !!! #SaveXboxWP

My mind cannot fathom how we STILL can't do a straight search in the Store to find a specific app like this one... I can write the exact name of the app, and get a "we can't find an app with that name" message, but following your link gets me there, no problem! WTF?!?!?

Never understood that either!

Awesome, instant buy! Ubisoft doing a superb job with Xbox on WP.
#SaveXboxWP

Get age of empires. Never know when it will be removed. Waiting on the next age games. They mentioned another one.

"the Windows Phone version was pulled from the Store due to widespread crashes". Not on all devices. This game has always been available in the Store on the Lumia 928.

It was on 1520,930 etc. The higher end devices.

Instabuy! At last a proper game, none of that fremium bs.

Weee, downloading now. Leta hope it works on the 1520 now?

Now i have played the game. Installed it to the internal storage of my 1520 and it works as should. Hov ever I feel the fps is a bit shaky for a phone of tho caliber. The game looked better on my 1020.

I'll stick with my windows 8.1 version for now hope ubisoft have a change of heart for universal download.

What ? They Said it will be Free ! Fuck U Ubisoft ! ...

Just came here to say this. Wasn't it reported here?

And not even for 512 ram , poor 520 and rest big worldwide users :'(

Downloading castle siegde *-*

Putting my longest finger up for that 512 mb not supported sign :[

It's free on Android and iOS with in-app purchase... Why not the same on Windows Phone ??

Because in-app purchases suck and we don't want a good game ruined by freemium-itis.

I'd rather pay money for the game so I don't have to deal with freemium crap.

Not sure if it's just in Canada, but the game is $1.99 for me right now.

Same goes for Germany 1.99€

No update showing for me in the UK, but the original version is now back in the store (and still doesn't work on my 930!)

from 4.49$ its now 1.99$. Wow. You should wait 10 mins It might become free then /s

Lol, no gain. Still it shows as not available for my Lumia 520, someone had to remind them to make it 512 ram compatible too :)

Sadly not how Red Stripe Deals work http://www.windowsphone.com/en-us/store/collections/red-stripe-deals/db5...

I just bought the game, but it showed that it cost only $1.99.

When I had my gift card with ample amount of balance in it, the game was withdrawn from the store. Now that my gift card has expired, the game has come back. Damn !! I can't buy it now.

Should have returned with content update. IOS version has the Antartic add-on to coincide with AC: Rogue...

It's $1.99 in the store ATM

It's a red strip deal this week, that's the reason for the price cut

Very good game, way batter then free to play Age of Empires mess...

I just discovered that you need to be online to play Aoe! I'd that true?

Yep. And it is one of those "set it and forget it" games that tries to get you to pay to speed things up.

Dang, I was excited about it, note I'm disappointed and uninstalling :( :(

Now just someone needs to remind them to make it 512 Mb ram compatible game

Guys please fix your 512 not supportes banner....it says this title does not supports. Thanks, WPC App for Android- Lenovo IdeaTab A3000

Make it free!! I am poor man!! Cant spend 2$

Should be free considering it's free on other platforms.

Agree, I'm not a fan of AC, but this is just racism... Somehow

Not paying stuff for that shitty Game .. No voice Action no real assassins creed stuff .. Just shipping through small levels .. The graphics kinda look okey

I wanted to buy it. but I have a 720. I was much waiting for this game. hopefully will buy on my new laptop which I will be buying soon

Update- can't get it here in the US, Says item not available

This game has absolutely nothing to do with assassins.

A trailer not showing windows phone support and no trial. No 512 support..

Sigh.... You by a cheap phone, and you get what you pay for

Inexpensive is the word. All my windows phones are spec'd up pretty good. Just want to buy my son a windows phone amongst a house full of android phones. It bothers me these 512mb phone limit the kids from playing games so it makes me want to get him an android.

Please help.
I cant open the store, its been a week now

Are you f-ing kidding me? I payed 5 euros for a broken game last month and now that it's finally back they make it cheaper...

Too bad they wont refund us the difference eh?

Well its currently a Red Stripe Deal, that's why its cheaper ATM.

Well that was fast... Price reduction always welcomes more users, but....

Any ideas when they will make a version for 8.1?

It stopped in the middle of the download. Tried to restart. Still getting errors. Can I deduct the $1.99 as donation? What's Ubisoft's tax id?

Too bad I paid full price for it back when I didn't work on my 1520... Oh well, now it works...

Well that price reduction leaves a very bad taste for me. Especially when I think about the people that bought it one month ago without being able to play it.
Still awesome game, even for full price.

Does Xbox live login? On Windows it doesn't work yet... Posted via the Windows Phone Central App for Android

Pay twice? Typical Ubisoft. I'll stick to Age of Empires.

Before, No Xbox = No buy. And, No trial, No buy. Then, Free on other platforms, No buy. Not universal, No buy. Maybe the truth is No money, No buy. Typical of WPusers/WPC commenters nowadays. Whines a lot.

I love AC4: Black Flag so i'l buy this with my eyes closed. Now Ubisoft, gimme the AC4 compannion app so I don't have to ask my friend for his Galaxy S3 to check on Kenway's Fleet

On sale for $1.99 on WP but free in the iOS store?? Boo!

I just purchased it and not 5 minutes into it after assuming control the textures and graphics started tearing and swirling around like an oil base painting doused in turpentine. I'm using a Nokia Icon with WP 8.1 DP. This I not a good way for Ubisoft to start Assassins Creed on WP.

Is it just my phone or the graphics are just appalling?!? I have a Lumia 820 and sometimes I can't even read the text O_o
Windows Central Newsletter
Thank you for signing up to Windows Central. You will receive a verification email shortly.
There was a problem. Please refresh the page and try again.