ASUS Transformer 3 Pro vs Surface Pro 4: Which should I buy?
By Richard Devine last updated
ASUS shows a glimpse of what we'd expect in the next Surface Pro, but does that make it better than the one you can buy right now?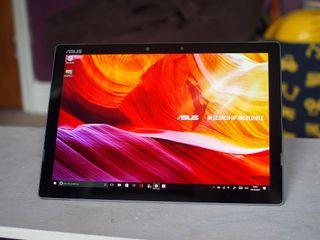 The Surface Pro 4 is about a year older than the ASUS Transformer 3 Pro (opens in new tab), but it's as close as anything comes to the default option for a high-end Windows 10 2-in-1.
Neither of these are particularly cheap, but they share a lot in common and even have some important differences. But does older mean less worthy of your money?
Let's start with the respective hardware specs.
| Category | Transformer 3 Pro | Surface Pro 4 |
| --- | --- | --- |
| OS | Windows 10 | Windows 10 |
| Display size | 12.6 inches | 12.3 inches |
| Display resolution | 2880 x 1920 | 2736 x 1824 |
| Processor | Intel Core i5 or i7 | Intel Core m3, i5 or i7 |
| Graphics | Intel HD 520 | Intel HD 515 (m3), Intel HD 520 (i5), Intel Iris (i7) |
| Storage | Up to 512GB SATA3 m.2 SSD | Up to 1TB SSD |
| RAM | 4GB or 8GB | 4GB, 8GB or 16GB |
| Battery | 39 Wh | 38.2 Wh |
| Dimensions | 298.8 x 210.1 x 8.35 mm | 292.10mm x 201.42mm x 8.45mm |
| Weight | 800g | 766g (m3) / 786g (i5 and i7) |
| Wi-Fi | 802.11ac | 802.11ac |
| Bluetooth | 4.1 | 4.0 |
| Ports | USB 3.0, USB-C Thunderbolt 3, HDMI, microSD | USB 3.0, miniDisplayPort, SurfaceConnect |
| Price | From $999 | From $899 |
Image 1 of 2
Image 2 of 2
When it comes to handling and using both of these, it's almost a wash. Neither are exactly thick and heavy, and they're near enough identical in size and weight for it not to be terribly important. Both also have glorious looking high-resolution displays with pen support, so there's not a lot to split them there, either.
So, how can you decide between the two? One of the big differences is the support for standards. Or rather, support for the USB-C Thunderbolt 3 standard. While the Surface Pro 4 has a first-party connector for hooking up to a first-party dock, the Transformer 3 Pro does not. It uses an industry standard connection for charging and data transfer, which opens up your options a lot more.
And while both have external display outputs, many might prefer the HDMI on the Transformer 3 Pro over the miniDisplayPort on the Surface Pro 4. Then again, there will be plenty who prefer things the other way round.
Image 1 of 2
Image 2 of 2
The Transformer 3 Pro also uses the ever more popular Intel RealSense camera array. This, of course, enables Windows Hello, but the Surface Pro 4 can also use this important Windows 10 feature. RealSense has a ton of application possibilities outside of just this, and we'd rather have it than not.
Where the Surface Pro 4 probably has the edge is mildly in battery life and in its appearance. The finish on the Transformer Pro 3 scuffs and scratches with minimal effort and can look quite messy quite quickly. Disappointing for an expensive product. The batteries are about the same size on each, but in our experience, it was the ASUS 2-in-1 that fares a little worse.
Finally, the keyboards and pens. The pens are almost identical and equally good. The keyboards are a little different, and the ASUS one is marginally better. That's not terribly surprising since the company has been making great laptop keyboards for so long, but you can get a fingerprint scanner on the one for the Surface Pro 4.
So, which should you buy? Long term you'll probably be less frustrated with a Surface Pro 4, especially when you look at it and it doesn't look like you dragged it through a field. You'll also get most of what the Transformer 3 Pro (opens in new tab) offers and pricing is on par with each other.
But, the Surface Pro 4 doesn't offer Thunderbolt 3 USB-C or HDMI connectivity as standard. That alone could be a decider depending on the rest of your equipment. But to get more connection on the Surface Pro you need the Surface Dock.
The bigger question is probably whether you jump on either of these or wait until the Surface Pro 5. Neither of these are disappointing in any significant area, but Microsoft's next hand might be the one to really play.
Richard Devine is an Editor at Windows Central. A former Project Manager and long-term tech addict, he joined Mobile Nations in 2011 and has been found on Android Central and iMore as well as Windows Central. Currently you'll find him covering all manner of PC hardware and gaming, and you can follow him on Twitter and Instagram.
Not a single image of the back of the Transformer, after making that the deciding factor between the two? OK. I would want to see what these does scuffs and scratches look like. I've never been a fan of the Surface Pro line 's decision to go for light metal, same for the Surface Book. So, it would take something really rough looking on the back of the Transformer for me to vote SP4 in the looks department. It seems ASUS needlessly pumped up the price by going with the m.2 drive, wonder why. I'd also want to see the base configuration. Better yet, if like to see identically priced ones, so I know what the $1,000 gets me with each product. That the SP4 can have more storage and memory, or a slower CPU, doesn't mean much when I can't know the cost differences. Also, are the ASUS CPUs Skylake or Kaby Lake? I suppose Skylake, if they have the same GPU included on the mid-range stuff...

Judging by my experience with my last 2-in-1, the Asus Transformer Book T300, I'm not buying an Asus product again any time soon. Despite it's i7 processor it was slow as molasses from day one. Battery deteriorated quickly; it was down to just one hour of web browsing after just one year. The hinge mechanism broke and coupling started failing after about a year as well, meaning that keyboard connection was dicey and cabled connectivity even more so. Plus those two harddisks in the keyboard meant two pop-up folders every friggin time the slate was attached to the keyboard. Ugh!

I have the same one and really haven't had any issues other than sometimes it not starting correctly (maybe a function of forcing 8.1 and then 10 on it) and the sluggishness you speak of. Although I was not an extremely heavy user of it, so I probably can not attest to the sturdiness pf the hinge. The only regret I have about it is paying 500 for it around 2-3 years ago when the simular model is now around half that.

Apparently I was wrong, I have a T-100T. Maybe the build quality was a bit better on the first ones?

The real ? Here for me, is how the performance throttles on the thunderbolt powered Transformer when you plug it into an external gpu dock. Can Windows Central run some benchmarks and tell us some real world results. Like, for instance......the Transformer can maybe run Forza on the lowest settings possible at 15-20 frames / second.......but if you plug it into the Razer GPU dock (with Nvidia GT1080), it can push out 60fps, 1080P.........etc, etc. Another words, does the idea of a tablet docked with an external gpu actually work like we think it does.......and do you think that Microsoft would make such a sock for the Surface Pro?

Please add Crystal Disk Mark 5 for performance comparison of each internal storage (+ microSD)
Now it is in the Windows Store (Contennial app), we should include that as standard.
I have seen a comparison between Surface Pro 4 and Acer Switch Alpha 12; and Surface Pro 4 won big time due to its internal performance.
Source: http://www.lovemysurface.net/surface-pro-4-vs-acer-switch-alpha-12-perfo...

I had and original Asus Transformer and good lord the build quality on that thing was abysmal. Unless something has drastically changed and Asus is making high quality hardware I'd never buy another one of their products. As for the Surface products that is some high quality shizzle right there. I own 2 original Surface (Pro and standard) and even on those old devices the build quality was great. The new Surface devices are leagues better than my old ones too.

I've never owned an ASUS computer. I have one of their monitor hooked up to my Xbox One and it looks fantastic. However, I've always considered their computers below Dell, HP, and Lenovo. I hope they've improved over the years.

I have an Asus laptop. I would say their quality is decent. I've had it 3 years and no major physical problems. Just a few pixels in the screen that are a little lighter than others but barely noticeable. I am not real hard on my equipment though. Battery life is still OK. Probably 2/3 of new. I will say, however, that their driver support for newer versions of Windows is sub-par.

I really like both my Surface Book and SP3, but the Thunderbolt is the deciding factor. Want a tablet that could turn into a semi-decent gaming machine? You can add the Asus rog external video card box to the Asus. Yes it ups the price dramatically, but it's an option the Microsoft machines dont currently have.

for me both are the same OVER my budget!

The new Lenovo Carbon hybrid (not the Helix) is a great contender as well. The biggest thing we've noticed is that the Lenovo will actually provision through SCCM properly where the Microsoft Surface, and moreso the Book, is very difficult to work with. Granted, not a consumer perspective, but an important note for some folks out there.

Carbon hybrid? Are you referring to the X1 tablet? i.e., the one very very similar to these?

Yes. Sorry. I have a first gen Lenovo X1 Carbon laptop so I just got used to calling it a "carbon". The new Lenovo X1 is a hybrid - honestly not sure if they still use the word "carbon" or not. My team has been very impressed with it so far. I'm considering replacing my older X1 with the newer one - although I'm not sold on the flap on the back (like the Surface has). I'd rather have a more solid laptop style hinge like the Surface Book or the previous gen Transformers.

There is a separate X1 carbon laptop and X1 tablet. At our company we stopped using the x1 carbon laptops and just use the T460s which is getting pretty darn close in terms of weight/travelability. The X1 tablet (no "carbon" label) is the surface-like hybrid device. I've been using mine since May and have been mixed about it. When new, it was great. It won't have the performance of a surface pro being that it uses M processors, but you just have to have the right expectations going on. Speakers were VERY soft (and sometimes, the headphone jack disables and I can't get it to re-enable without restart.). But after half a year, the leatherette hinge on the keyboard has started to fray. The worst part is the sliding connector mechanism which seems to have broke so slides out without pushing the release slider. So every now and then I have to push it back into place so that the keyboard connects. I planned for this to be my primary personal device for the next 2 years but don't expect it to hold up.

What pen technology is the Asus using??

I'm not sure where Richard got his specs from but the Transformer 3 Pro has upto 16GB of DDR4 RAM and upto 1TB of PCIE nVme Gen4 SSD (not SATA). https://www.asus.com/transformerbook/global/news_detail.html?code=entry06 As far as the pen, with 1024 levels of sensitivty, I'd wager that Asus licensed nTrig technology from MSFT. Wacom's AES technology offers more levels of sensitivty.

I wouldn't touch an Asus product with a 10 foot pole since QA is not in their dictionary, and their customer support is horrible. If I have a problem with a the Surface I can go to any MS store and get it replaced on the spot instead of spending hours on the phone with a part-time goat farmer from Bangladesh.

Well, you can't buy the transformer 3 pro anywhere so it's a moot point. Why they would announce and hype up a product that isn't actually available is beyond me. By the time it is available to buy the market will have moved on.
Windows Central Newsletter
Get the best of Windows Central in in your inbox, every day!
Thank you for signing up to Windows Central. You will receive a verification email shortly.
There was a problem. Please refresh the page and try again.