The Asus ZenScreen will give laptop and desktop owners a portable second monitor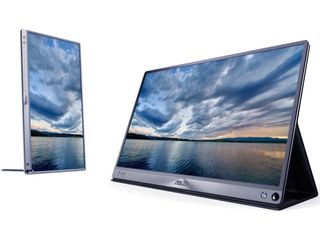 Asus has revealed the ZenScreen, a portable monitor that offers HD resolutions for laptop, desktop or tablet owners who need a second screen.
Asus says (opens in new tab):
There's no release date yet for the Asus ZenScreen, but it will be priced at €269, or about $300.
Windows Central Newsletter
Get the best of Windows Central in in your inbox, every day!
Seems really cool. Especially the pen thingy in the corner.

Agreed, interested to see a review video as could be handy for me

Is this good for continuum?

Not sure, but given it's USB C compatibility, it might be.

USB-c could theoretically work, but the fact the display is powered thru USB-c as well could be an issue,

The question is going to be if it uses USB video, i.e. DisplayLink technology, or it takes advantage of the HDMI capability of USB-C. I fear it is DisplayLink, and that doesn't work via continuum. That is mostly because there are no DisplayLink drivers for Windows Mobile I imagine. I have a current ASUS USB monitor, the MB168B+, and it is a great device. Surprisingly my Surface 3 Pro USB port doesn't have enough uumpf to power it, but the addition of a USB Y cable solves that problem. The Surface charge brick has a USB port that works fine so it doesn't even need an 'extra' supply. Wife's Dell XPS powers it fine right of a USB port. ​I'd really like to see ASUS or someone build something like this that supports HDMI in*. That's going to need to be powered, but once you have a 15" monitor, decent keyboard, mouse, you aren't very mobile anyway, so needing to plug in isn't a big deal, as long as the power supplycharger isn't huge. If you've used a WP in Continuum mode, you know you are going to want to power it as well, if you want it to last any reasonable time. *a company named GeChic does make some, but they are pricey.

A coworker of mine has the AOC USB protable monitor. It is pretty slick. Its even compatible with my Sabrent DisplayLink-based USB adapter I use for a 3rd display on my office laptop (to add a 4th ;) ). I'm glad to see that Asus is getting into the game. Price is a little too steep, however. The AOC can be had for under $150 US.

Asus already had portable screens. This one is an evolution.

That is interesting. I have been in the market for one of these for a while now and yet have not seen ASUS as a player. Even at the high end.

Just do a search for Asus usb portable screens - they have had them for quite a while. This is the first USB-C version I have seen, though.

I have the ASUS MB168B+ and it is great. The current ones all use DisplayLink (video over USB) which requires drivers. When you look at them watch the resolution. If you can live with 1366x768 they are very affordable. 1920x1024 runs a bit more. ;) They are cheaper now than when I bought mine. They do already make a USB-C version the MB169C+​, but the new one seems to have been redesigned.

You know what, I was going to build a rig at home, instead im going to build my own cloud with points in different countries and get a laptop and 2 of these (or something similar) so I can travel around the world , be mobile and work anywhere with an internet connection. Is there a way to connect 2 of these to a Dell XPS 15?

Yes, they use DisplayLink technology. At least the current ones do. You just load the drivers (Windows has always just picked them up and downloaded when I hooked one up the first time.) The XPS has enough USB ports you can easily run more than one. My Wife's XPS 15 runs the current MB168B+ just fine. I don;'t think there is anything special about the USB-C on this new one, beyond the physical connector. Hope I'm wrong and it actually uses HDMI but don't know. In any you should be able to use any of the Dell's USB ports to connect these, with the right cable.

Very cool stuff. Especially for people on the go visiting customers' offices. One cable, no extra power cable needed. I wouldn't mind a 17" model also.

Would there ever be a touchscreen monitor for continuum? Does the win10 support such a monitor?

Support for touchscreen continuum is planned is the last thing I heard. It might be possible with Anniversary update but I haven't seen anything about that.

Continuum does support touch input at least I remember reading an article on Windows Central Where a reader commented that he could easily use a touch screen monitor to use continuum on that through his 950xl. It was anniversary build itself. Posted via the Windows Central App for Android

Might have been me. I have hooked a 950XL via MS dock to a touch screen monitor (Dell S2240T​). You use the HDMI and USB cables from the monitor to the dock. Works fine. Not all that practical, IMHO. While I use the touch screen on my Surface, I don't tend to use it much on a large monitor when set up as a desktop. The keyboard and mouse seem more natural in that configuration.

Yes, Continuum is excellent in Anniversary Update. Just connected my 950 XL wirelessly to my Acer Aspire laptop, both running AU, and touch screen Continuum worked flawlessly.

Continuum touch control is already supported

Continuum supports touch screens.

Where are the previous versions anyway?

Check Amazon. ASUS USB Monitor

This isn't the first portable monitor, there are hundreds out there. Just google it. There are touch versions.

I know that. I would like this one to be touch

This is what I'm looking for

This looks like an update to the Asus MB169c+. I'm using the MB169B+ (USB 3.0 interface) and it works beautifully.

Would be cool; unfortunately it's Asus, and I'm not trusting their product quality enough to give them a second chance...

Just a different opinion. I have no problems with ASUS. Had a number of Zenbooks in the house that were excellent. Their Nexus 7 tablet is my favorite small tablet, I have the MB168B+ USB monitor and am very pleased with it. Even still have one of their transformer android 2-1 netbook-like things. All work just fine, are well designed and reliable. Every manufacturer has an issue now and again. Don't know how long ago you made that decision, but I've been very happy with them over the last few years.

If this had a decent battery onboard, and could power a phone through Continuum/USB-C, I'd consider it. $300 for just a monitor that is super thin, that doesn't do much for me.

Kindly make such displays in the 10" and 8" form factor so that it can be used as a tablet by connecting it with smartphones.

This is a no go... How can an entire computer like the surface pro 4 weigh less and come with it's own battery than this poor implementation. They can leave the weight the same but I expect a battery with more capacity than a surface pro 4 to be built into this device and weigh no more than the surface pro 4 itself.
Windows Central Newsletter
Thank you for signing up to Windows Central. You will receive a verification email shortly.
There was a problem. Please refresh the page and try again.