ASUS's new ZenScreen is the USB-C second screen you didn't know you needed
The latest 15.6-inch ASUS ZenScreen connects to your computer, tablet or phone... and props up using a pen.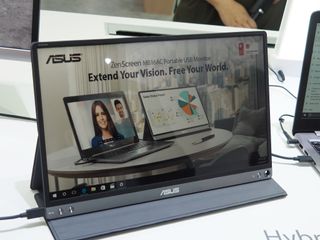 Plugging a second display into your laptop is nothing new. Even smartphones have had the ability to hook up to a TV or monitor via MHL for years. But ASUS's latest ZenScreen MB16AC (opens in new tab) display, shown at Computex 2017 in Taipei, takes this concept to the next level, with a lightweight, super-portable 15.6-inch panel with some innovative stand options.
Image 1 of 3
First, the nitty gritty specs: This is a relatively plain-looking Full HD IPS LCD display at15.6-inches, with a single USB Type-C port on the bottom-left edge, along with menu controls and a power switch.
That's about it. No internal battery, no extraneous plugs, ports or features. Just some relatively low-key ASUS branding, and the company's concentric circle pattern on the ZenScreen's the metallic back. Plug it in, and it just works, providing your laptop, tablet or phone with a second 1920x1080 canvas to work with, either as a mirror of your main display, or an extension of your workspace. On supported smartphones — we tried a Galaxy S8, which worked, and a OnePlus 3T, which didn't — it'll mirror the display, letting you share whatever's on your screen.
See at Amazon (opens in new tab)
Image 1 of 2
But the insane genuis of the ZenScreen isn't in what it does, but in the experience it delivers around it. It's 0.3 inches thin — comparable to an iPad Pro — but since there's no battery inside, it's ludicrously light, at just 1.3 pounds. For a screen of this size, it's easy to carry in one hand, and not impossible to fit in a large laptop bag.
A magnetic smart cover is bundled with the ZenScreen, allowing it to be propped up at a couple of different angles in landscape orientation. But there's also a pen hole in the lower right corner, which lets you slot a pen in there and stand it up in either portrait or landscape. It works with just about any pen — there's no special requirement. (You'll need to configure the display accordingly on your computer if you want portrait mode, though.)
The ASUS ZenScreen is an example of how sometimes, the best technology is just really, really simple. When it starts shipping in the U.S. in June (opens in new tab), it'll sell for $249, making it a very tempting purchase for road warriors.
Windows Central Newsletter
Get the best of Windows Central in in your inbox, every day!
It's also listed on the Netherlands Asus site.
https://www.asus.com/nl/Monitors/MB16AC/ Accessories include an USB A to C converter. This might be an interesting bit of specs-info:
*Auto Rotate requires the Windows OS and DisplayWidget to be installed

I was with Alex on the show floor at Computex when he snapped the photos for this write up. Was so blown away by the simple awesomeness that I literally opened up Amazon.com on my phone and ordered one on the spot. Then an hour later I realized why stop at one, and I ordered a second one (it can be the third display for my laptop I didn't know I needed). I've been traveling a ton this year for a week or two at a time stints, and while I'm proficient on a laptop I'm always yearning for that three monitor setup I have back in my office. This screen is stupily light for its size. It's going to live in my laptop bag and now I'm going to always have a full multi-monitor setup with me wherever I go. Stupidly awesome product. Can't wait for mine to arrive! :)

I've got a HP Spectre 13 laptop which has 3 x USB-C ports only (2 are thunderbolt) and a screen like this would br a pretty brilliant accessory (or two like you say) for an ultra productive portable work station.

what so awesome about it? Its just a portable, expensive display. For 250 you can buy a low end laptop / tablet and enjoy even more functions on the go with in built battery

1) That's just dumb. You clearly do not understand the obvious and simple use case for this product. 2) It seems like every comment you make is negative and/or critical. Do you need a hug?

If our resident troll finds fault with it, then that is good enough for me to declare it an instant buy!

Some people actually need to multi-task while on the go? I have two ASUS 3.0 displays for use with my Intel Skull Canyon NUC on the go. It's my portable CAD workstation, so hence why I need two displays. One lower res one 720p for email and webpage use, and the higher res 1080p one for CAD.

yes, because instead of a second screen, why not have two laptops! so much easier to move windows back and forth betwe... wait...

You didn't try it with a Windows phone? Does it work with the elite x3 or continuum at all?

On the Netherlands ASUS site it includes this in the specifications:
*Auto Rotate requires the Windows OS and DisplayWidget to be installed Also, under approval regulations:
Energy Star®, BSMI, CB, CCC, CE, FCC, KCC, RoHS, UkrSEPRO, UL/cUL, VCCI, WEEE, WHQL (Windows 10, Windows 8.1, Windows 7), RCM, TUV Flicker-free , TUV Low Blue Light, CU(EAC)

That could possibly be referring to just a laptop though. It's still too vague.

I was thinking that too, yes.

They didn't have one! Oops

If it doesn't work plugging directly into it I'd hope it works with a HDMI to USB-C adapter at least. Not just for the sake of Continuum but just in general for it as a product

In a hotel, I would prefer to go HDMI to USB-C so I could use the Dock, k/b & mouse and keep the phone charged.

Continuum devices use USB-C. Why wouldn't this work? And what would an HDMI to USB-C adapter do?

Yup, the question is, does it work with continuum?

Continuum with the display dock I think will work no question. Direct connection would be interesting if it works without the dock.

I'm just speculating here, but isn't it possible to connect the HP Elite X3 to the LapDock using a USB Type C to USB Type C cable?

Yes. It provides a bit snappier performance, plus it charges the phone. However, that doesn't necessarily mean it'll work plugging the X3 directly into this.

Yeah. Just thought it might be worth a shot 😊

That's pretty affordable. Sounds like it doesn't support touch but I'd love a screen like this, slightly smaller with touch functionality for an in-car project. You could run up Windows 10 for Groove etc. from a PC stick mounted behind the dash

I am currently planning something like this with continuum however as all my music is on my phone anyways. I plan to use one of the Raspberry Pi 7 inch touchscreens with a wireless display adapter. Still in the planning stages at this time. But it seems like lots of ppl are interested in the possibility of doing this. And it makes me think Microsoft missed a great opportunity here!

Yes, awesome product, been wanting something like this for ages. Now just need a smaller version to go with a 13" notebook.

@collins, i think you can use it with your 13" Notebook, it's just a second screen...

I'm sure you could, but if I wanted to lug a 15" screen around I wouldn't of bought a 13" notebook. Plus I don't like a two screen set up when the screens are different sizes, it just doesn't feel right as they scale differently.

Hmm continuum on win 10 mobile anyone ;p

More of this please, Been looking at Slidenjoy - seems its a con though as they seem to be collecting money and not delivering..This looks great!

Now add touch that works with Continuum on my Lumia and Ill buy it at once😁

Touch lol...that adds weight, this is a portable screen for road warriors, touch is fine for the main display powering this. Would be interesting to see the impact on battery life of the device powering this.

This is "Windows" Central... Why you guys tested it connected to Android instead of Windows Mobile???

Gets power from usb right? Don't think people can just convert from any source to usbc? Anyone know for sure?

I'm confused about power on this. If its pulling from USB, isnt that going to drain your laptop/phone battery pretty quickly? Does this assume you have the laptop plugged in and charging?

Touch and pen support, and I'll buy it! A poor man's Surface Studio monitor.

I think the pen is ONLY for support!!

I don't understand how it can be good for road warriors if it doesn't have a battery. Does that mean it needs to be plugged into power at all times to function?

looks like the only cable in the pictures above are the USB-C. i'm guessing its possible it gets all the power it needs from the device its connected to?

Now it's clear why it's a pity that the Surface Pro doesn't have USB-C.

Except this screen comes with a USB A to USB C converter anyway, so it will still work with the Surface Pro.

microsoft: usb c ports don't grow on trees,okay! but our adapter acessories do, for the right $

The Surface Pro has the option for a Surface Connector - to - USB-C adapter. Why is there a pitty?

for all those who say that you could get a cheap laptop or tablet instead, it's not the same. This is a dedicated display for laptops and works as a secondary display to mirror or project your screen. Also, buying a laptop requires you to bring the charger and the attached keyboard along.

I need this but I have a Surface Pro 4, so I need an usb-c to DP + USB adapter. Any info on this?

Asus has had these displays in the past. I used a similar one last year. Plug in USB and it just works.

I liked the idea. Next year I'm buying a newer tablet (8GB; Atom x7 or Core m3, whichever is more affordable), would love to have a lighweight second screen to attach it on. The only thing I would love a 10~12" one, 15" is utterly too big for me. Let's hope those chinese brands enjoy this and make a smaller one

It would be an even better product if it supported MiraCast; this way you can do on the fly presentation from your phone (just take the screen out of a bag or similar and voilà) or a quick Netflix session, or even do some serious office work using continuum through the phone and I would get rid of my laptop altogether. With a wireless option, this would be an instant buy criteria for me.

More components, more power required. Just get a miracast dongle from MS and keep it connected.

Already have the MS dongle but a) it requires both a HDMI and USB (for power) connection and b) it requires a screen to be plugged into to anyways. Rather have it all in one. Just wish it would come with a built in Battery variant.

It sounds like you're describing the Elite x3 lapdock, use wireless or wired, I'm sure the price will drop after the 15" model comes out.

I would say keep your hands on your wallets and wait for what is going to come with Windows on ARM in Q4.

Probably a device with windows on arm... and not a portable secondary monitor for your laptop. If you want a two screen setup you don't want a two computers.

Why not testing it with 950XL or HP Elite 3?

Meh, no pen, no touch.... no point." This size with those features?" Now that I would do in a heartbeat.

I wonder how the video signal is transmitted. Is this using the "display port" functionality that is a feature of USB 3.1 on a USB-C connector? Or is the driver on the PC doing compressed video encoding and streaming to USB and then to the screen? Since the display comes with a USB-A adapter, my guess is that it is compressed video streaming, and not acting as a DisplayPort monitor....

Not enough info to make a decision, sounds like it could be awesome, too many unanswered questions.
Windows Central Newsletter
Thank you for signing up to Windows Central. You will receive a verification email shortly.
There was a problem. Please refresh the page and try again.