AT&T pushing out Visual Voicemail to non-LTE Windows Phones?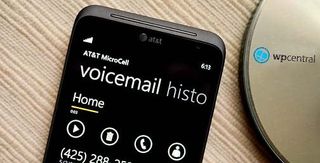 We ran across something interesting this afternoon where Romit Mehta over at Techie-Buzz noticed a Visual Voicemail prompt appear on his Nokia Lumia 800. Keep in mind that Visual Voicemail is supposed to be limited to AT&T's 4G LTE phones.
After entering the password, sure enough the Visual Voicemail page appeared on the Lumia 800's call screen. While it seemed promising, the voicemail page was stuck syncing new voicemail messages with no real functionality.
We tried this out on a Samsung Focus, Samsung Focus S and an HTC Titan and could not replicate Mehta's results. It could be a case where AT&T is testing the waters in select markets to offer Visual Voice Mail to non-LTE phones. Then there's always the possibility a technician over at AT&T hit the wrong switch.
We really like Visual Voicemail and wouldn't complain a bit if AT&T did throw the switch and let non-4G LTE Windows Phones have this feature. Let us know below in the comments if you've seen Visual Voicemail pop up on your non-4G LTE Windows Phone.
Source: Techie Buzz (opens in new tab); Thanks, Romit, for the tip!
Windows Central Newsletter
Get the best of Windows Central in in your inbox, every day!
George is the Reviews Editor at Windows Central, concentrating on Windows 10 PC and Mobile apps. He's been a supporter of the platform since the days of Windows CE and uses his current Windows 10 Mobile phone daily to keep up with life and enjoy a game during down time.
How To: VVM on AT&T (confirmed Samsung Focus Flash)
http://forums.wpcentral.com/general-discussion/187946.htm

I have a phone on AT&T's 4G LTE so it's hard to say whether this is a good point but the visual voicemail rocks. i'm busy with my hands all day as a hair stylist so I can't always be interactive with my phone.

Have the same thing on my Titan, Focus, and HD7s after forcing the update to 8107. You can see the visual voicemail prompt all you want, but unless you phone is provisioned for vvm it won't work. There is is a trick however that I believe some other members did to successfully enable vvm. Essentially they dropped their sim in a capable vvm phone (android something or other) called att, put the sim back in and voila they had working vvm on their non lte phones. However I could be completely missing the point of your article.

I was going to say that it's working perfectly on my focus S

Thanks for mentioning the work around but according to the source, the prompt appeared on its own.

Is the 800 the unlocked att version? There had to be some trigger, firmware, etc, whatever to have it show up.

I just use magikmaik. Works great!

Same here. Custom greetings FTW!!

I do as well and I love it. Simply love it. It beats the crap out of ATT has to offer IMO. Shows who calls or from what city or state they're calling from.
Also, if I had the gumption to upgrade, I could read the transcription of the message before listening to it. However, I like it just the way it is without the upgrade. MagikMail kicks ass.

I've had visual voicemail on my Lumia 800 since I got it about a month ago. I had my data reprovisioned and it automatically showed up a day later.

I wish Three would give its customers VV for WP. I'd love to have it on my Omnia 7. So far they've been pretty good at supporting the platform so I'm surprised they haven't given us that option yet.

Visual Voicemail has also been working on my Lumia 800 for weeks now. I didn't have to do anything.. I think.

I had the same thing happen to me a couple of months ago maybe.

What's wrong with ATT? My HTC Radar had internet sharing(no permission needed from T-Mobile), visual voicemail, and the latest update that fixed the keyboard bug. I lost all that when I bought an unlocked HTC Titan, but heck, I love this phone! So I'm sticking with it until Apollo.

Using voicemail = born before 1980
using cell phone as a phone = born before 1990

Enable 5GB LTE package for a day and you will have VVM enabled even if you go back to 3GB package

I forced my Focus to a higher version and VVM appeared but never synced. I was using the SIM from an iPhone 4 that had VVM, but it still never synced. Ended up buying a 900 so never really spent a lot of time trying to get it working.

Why does all the news have to be about AT&T? why not talk about all the good things t-mobile is doing with their network that'll benefit WP, haven't seen that reported once on here.

What's visual voice mail?

Displays voice-mail messages (from who and when, not actual content of message) and allows you to play it back from the Phone hub. No number to call.

i always thought visual voicemail was when you record a video and send to someone :P

Nop. Btw decline your invites in Duudle

True big boss.....like how do I get mms on my unlocked HTC titan on mobile.

Tmobile doesn't have LTE and you get vvm with them over a 3G network.

Yea and AT&T will have 5GFTW

Dreamer. We will be on LTE for 3 years minimum.

Still at least 5 years from that. And prices 2x as much as T-mobile

It show I have it on my 800 but it doesn't work, just syncs until eventual failure

Visual voicemail does not use minutes like traditional voicemail. I had it for about 2 years on the BlackBerrys I used before I got my Nokia Lumia 900.

Original poster here. Talked with ATT customer care for a long time. Turns out (no surprise) they have no idea how to handle this situation. It seems to me that I got that prompt because my SIM and data plan are for the iPhone 4S. He tried resetting, re-provisioning, removing and re-adding VVM and still, no-go. He wanted me to do a master reset, which of course I didn't want to do. At this point I cannot turn it off, and as a result there is no way to tell when I get a new VM either :-( May have to try some of those workarounds to make it work. :-(

I wish AT&T would get there act together. Frustrated...
Windows Central Newsletter
Thank you for signing up to Windows Central. You will receive a verification email shortly.
There was a problem. Please refresh the page and try again.